I loved Easter as a kid. My parents put on the best Easter egg hunts. My brother and I would go nuts every Easter morning filling our plastic baskets with treats. It was like a second Christmas to us. Who wouldn't enjoy waking up and finding chocolate and candy treats all over the house? I'm not ashamed to admit that even now as an adult, Claudia still takes the time to buy us kids little treats for Easter. I can't speak for my brother, but the big chocolate bunny and the Easter-themed novelty socks are my personal favs!
I do not know a single person who doesn't get excited when they go to the grocery store and see that Cadbury Creme Eggs and Mini Eggs are back on the shelves. It was around this time last year when I decided to do a little experiment. What would the Best Chocolate Chip Cookies in the world taste like with Cadbury Mini Eggs? Well my friends, they taste absolutely delicious! So delicious in fact, that I have decided to post them on the blog. Don't worry, Claudia has totally approved. And so has all my friends who have tasted them.
You will need: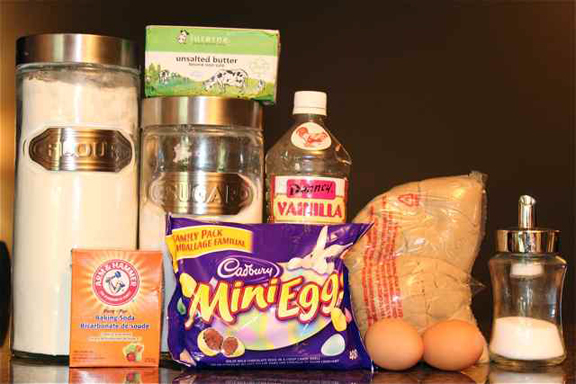 2-1/4 cups all-purpose flour
1 tsp baking soda
1 tsp salt
1 cup unsalted butter, softened
3/4 cup white sugar
3/4 cup packed brown sugar
1 tsp vanilla
2 large eggs
2 cups Cadbury Mini Eggs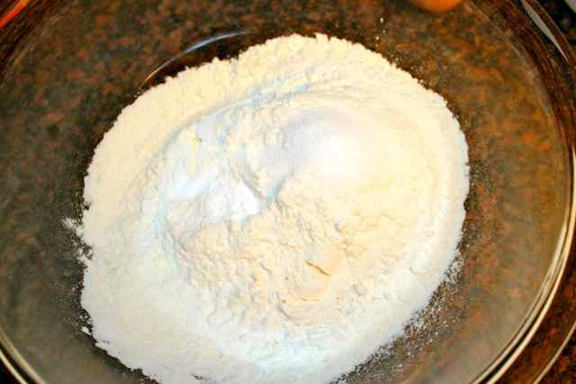 Combine your flour, salt and baking soda in a small bowl.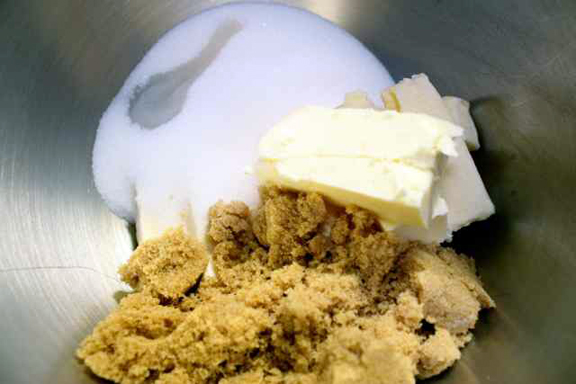 In a large mixing bowl, combine your brown and white sugar, vanilla and softened butter.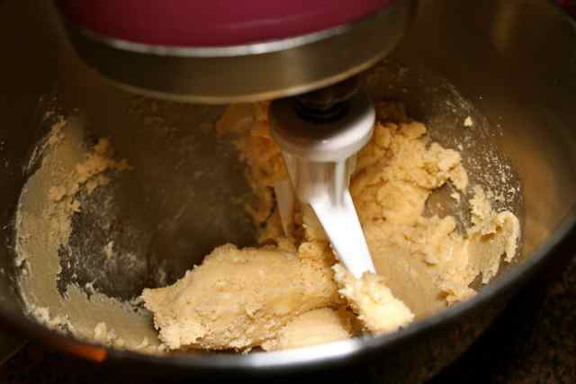 Beat until creamy.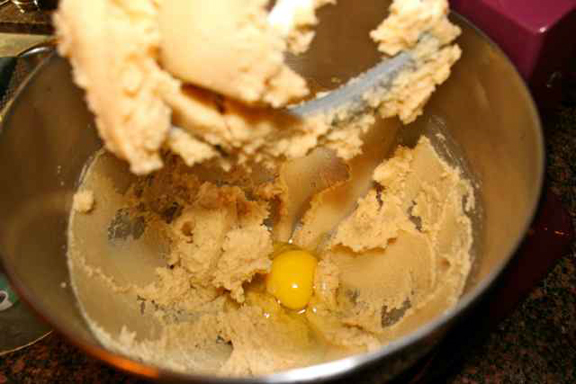 Add eggs, one at a time, beating well after each addition.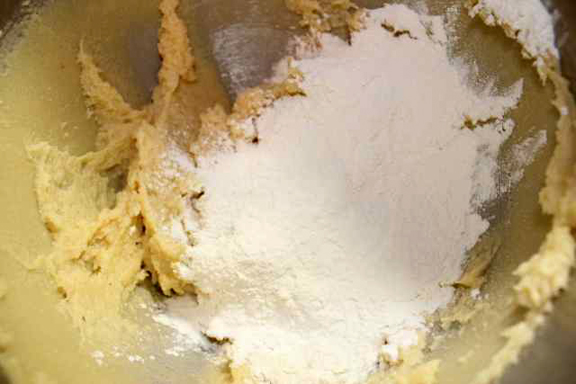 Gradually beat in your dry ingredients.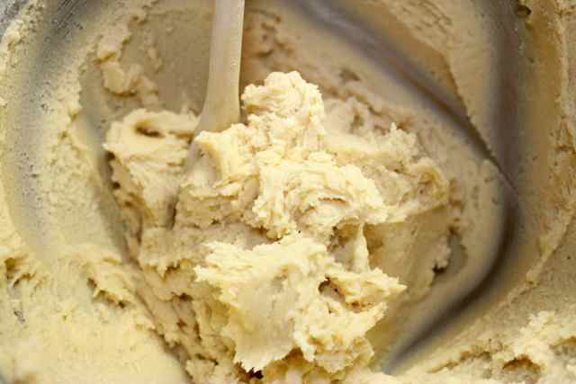 Your dough should look like this. Fluffy and soft.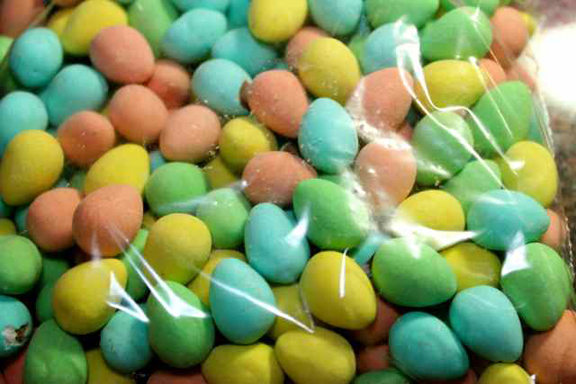 Now for the showstoppers!
Place your Mini Eggs in a plastic bag and hit them with a rolling pin, or hammer.  Whatever you have around the house.
I find this is much more effective than trying to chop them with a knife.
You want to leave big chunks.
Incorporate chopped Mini Eggs with your cookie dough.
I probably could have chopped these Mini Eggs a little more. But it's your own personal preference.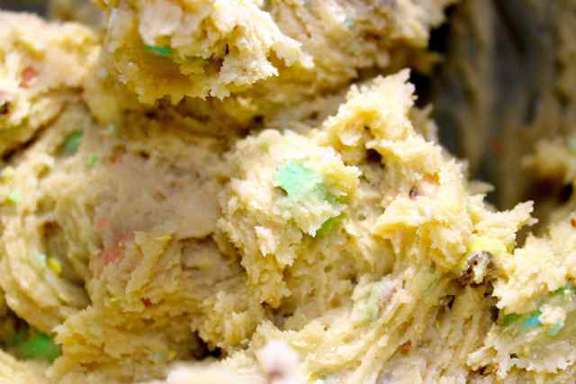 Mix well with a wooden spoon or spatula.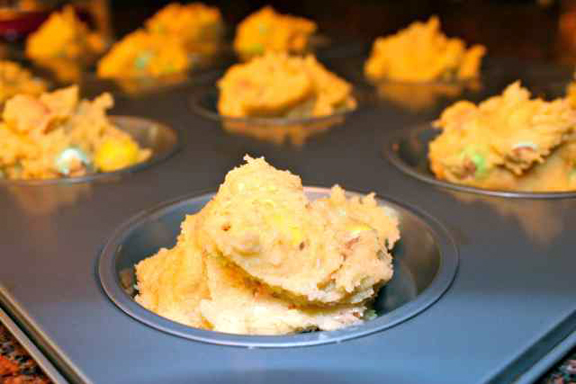 Drop rounded tablespoons of the cookie dough onto an ungreased cookie sheet or in a muffin top pan like I did in the photo above.
Bake in a 375 degree fahrenheit oven for 9-11 minutes.
Cool in pan for 2 minutes. Remove to wire racks and cool completely.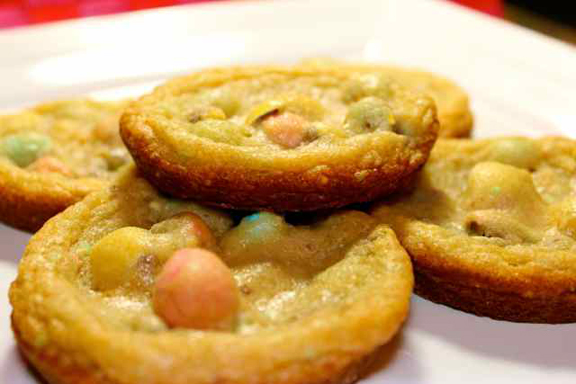 Viola!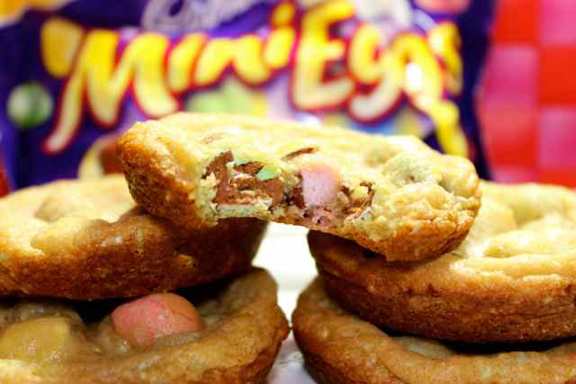 The hard Mini Egg shell breaks down in the oven perfectly to leave a soft burst of chocolatey goodness in every cookie.
Here's hoping the Easter Bunny is good to you this year.
Enjoy!