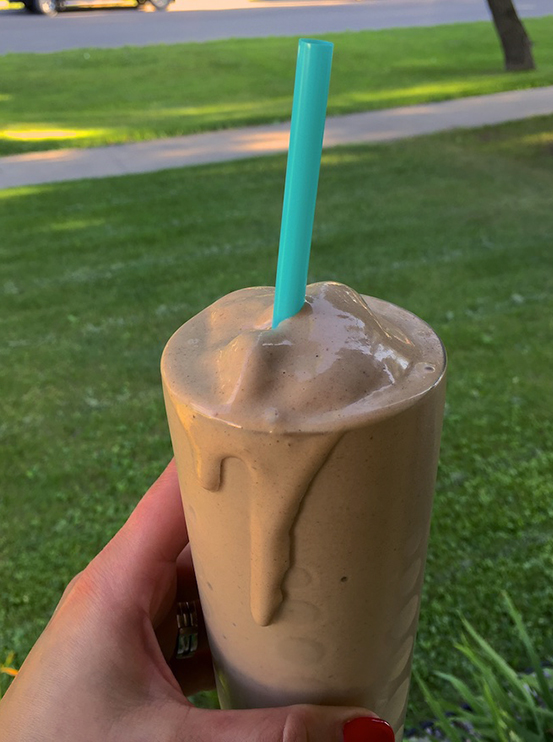 "Summer, summer, summertime!" I love me some DJ Jazzy Jeff & The Fresh Prince. You know, that time (1991 to be exact) when Will Smith was actually famous for being in a rap duo and not for being a major action movie star? I miss Junior High.
My blender has been in overdrive these last couple months. Not only have I kept my habit of having a smoothie every morning for breakfast, rather than those delicious Starbucks spinach, egg white and feta wraps, I've also tackled my ridiculous chocolate ice cream cravings after dinnertime with these insanely good (and healthy!) Chocolate Peanut Butter Banana Milkshakes. Yep, it is healthy, vegan (see, I like you people!), and packed with protein to curb your appetite and build muscle. If you're into that sort of thing.
The frozen banana gives it such a wonderful creamy texture that you don't even miss the ice cream in this milkshake. Also, I'm a little obsessed with Silk's Dark Chocolate Almondmilk, that they didn't even pay me to mention it here in this post. I use any excuse to incorporate it into my smoothie recipes.
The one thing with this recipe is that you definitely need a high-powered blender. Make this recipe your reason to treat yo'self and purchase one. I have a KitchenAid blender that we were lucky enough to receive as a wedding gift, and I have never looked back. Makes such a huge difference. If you have a favourite blender and recommend it, please feel free to share by leaving a comment after this post! I always love learning about your favourite kitchen gadgets. Gives me an excuse to go out and spend money!