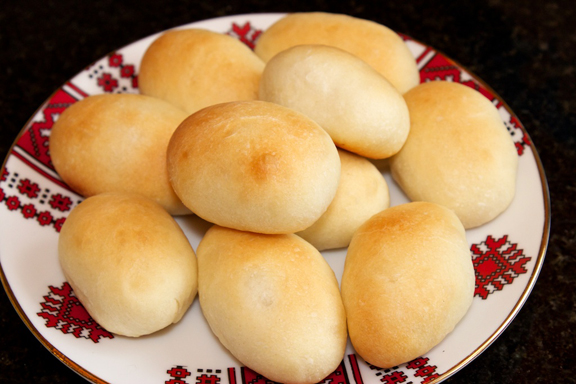 I cannot believe that Christmas Eve is tomorrow. Where does the time go? I'm not gonna lie…I'm pretty darn excited. The copious amounts of delicious food, gift exchanges, and the celebration of family and friends is what I love most about this time of year.
Tomorrow, my family is having quite the Christmas Eve feast. Since we're Ukrainian, we celebrate by having a huge dinner consisting of 12 meatless dishes. This year is the first in a long time where we will be having Pyrizhky, or cabbage buns. I never really grew up on these delectable little dough balls. My Baba, Grandma and Claudia never made them, so they were never a part of our Ukrainian feasts. This year, I decided to take some action and try to make them with Claudia. My soon to be Mother-in-Law was gracious enough to provide us with her recipe (and a bag full of samples!) to try. For our first attempt, they came out extremely well. Claudia made some tweaks, like boiling the sauerkraut, but other than that, we kept true to the recipe. This recipe makes approximately 13-14 dozen Pyrizhky. You can also use any other filling you desire, such as meat. However, we prefer sauerkraut.
You will need: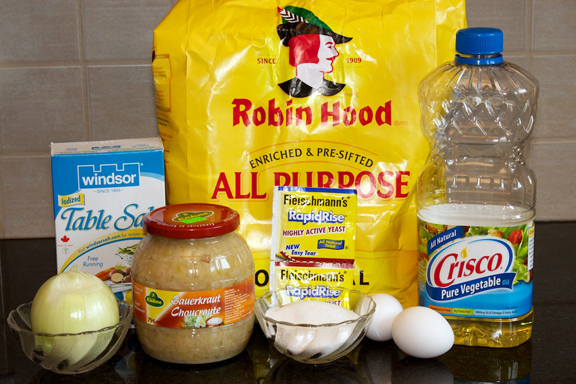 2.5 cups warm water
1/2 cup plus 1 tbsp sugar
2 packages of yeast
2 eggs
1 cup vegetable oil
1 tsp salt
8 cups all purpose flour
1 jar sauerkraut
1/2 onion
1/4 cup butter
1 tsp pepper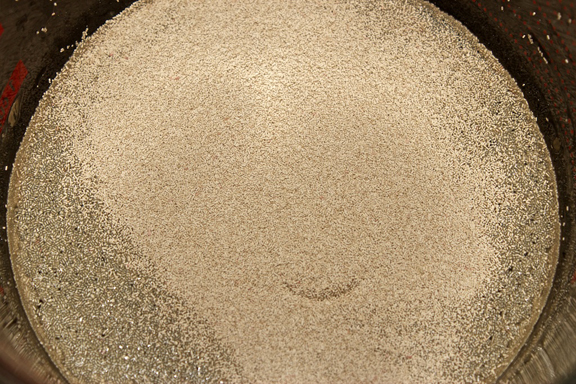 In a large bowl (large enough to fit 8 cups flour later), combine 1/2 cup warm water with 1 tbsp sugar and 2 packages of yeast.
Let stand in a warm place for 10 minutes to allow it to activate.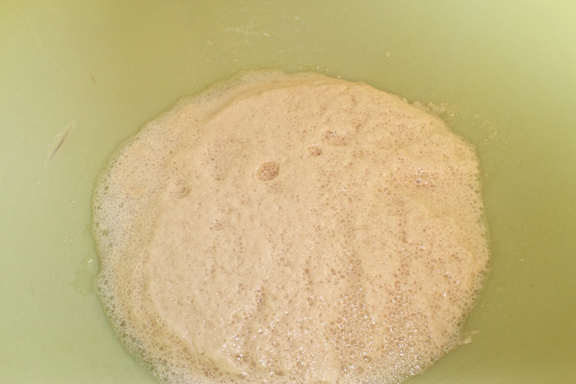 Should look foamy after 10 minutes.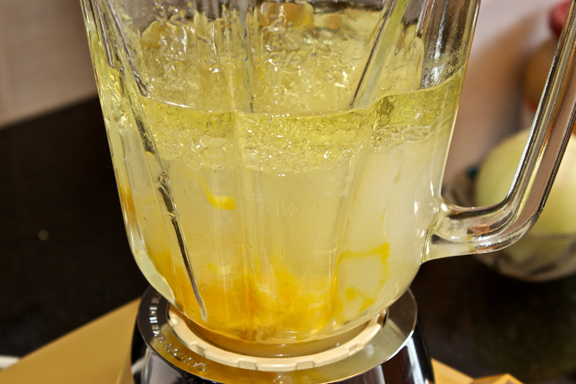 In a blender combine your 2 eggs, vegetable oil, 1/2 cup sugar, and 2 cups warm water.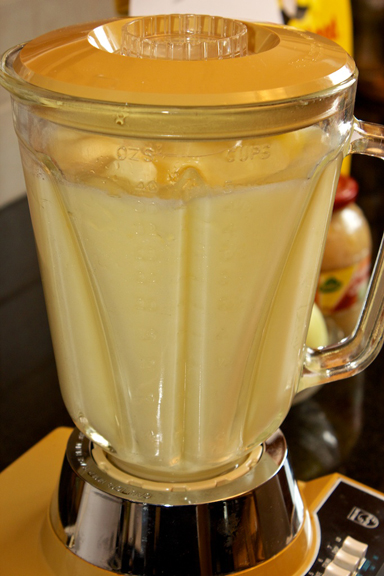 Blend until completely combined and a little frothy.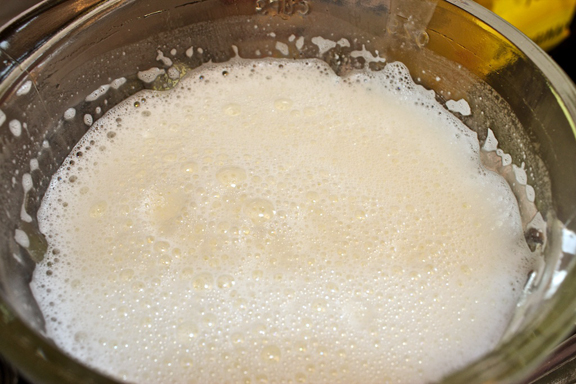 Should look like so.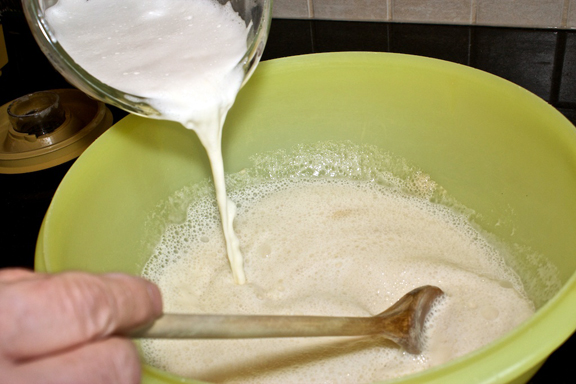 Add your mixture into the large bowl with your activated yeast.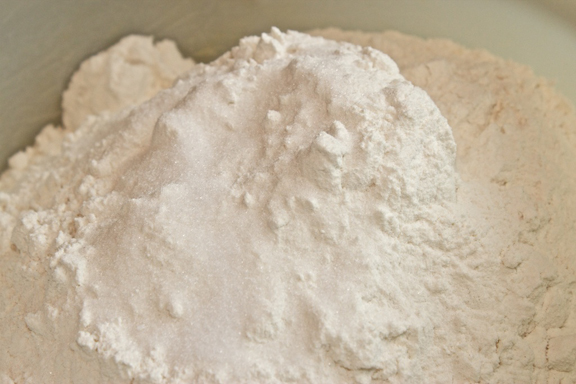 In another bowl, sift together your flour and salt.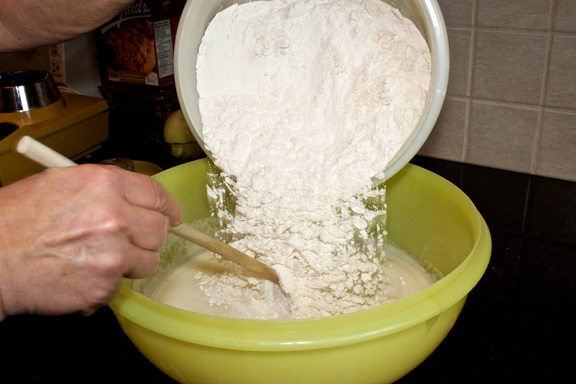 Add flour and salt mixture to your wet ingredient mixture.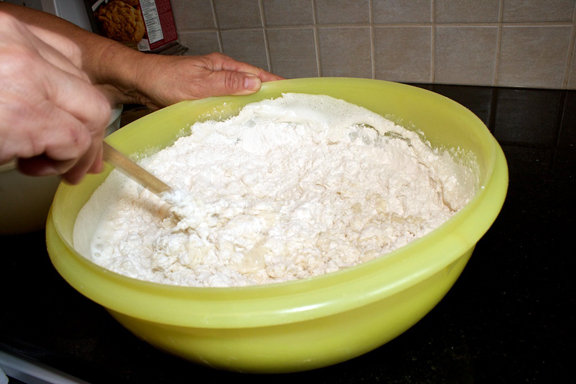 Mix well.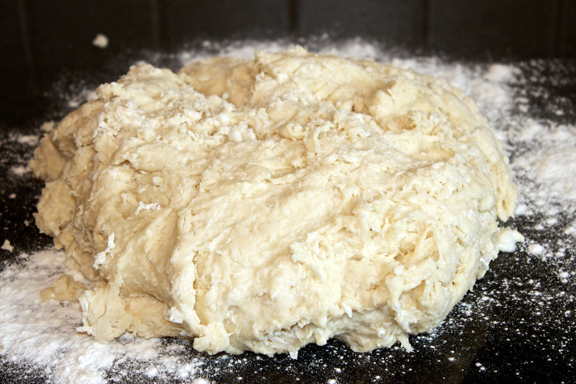 Turn all your dough onto a well-floured surface.
Knead very well. This is meant to be a very soft dough.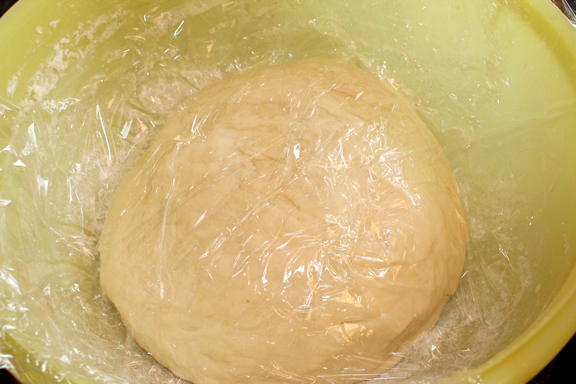 Once kneaded, wrap in plastic and allow the dough to rise for at least 30 minutes.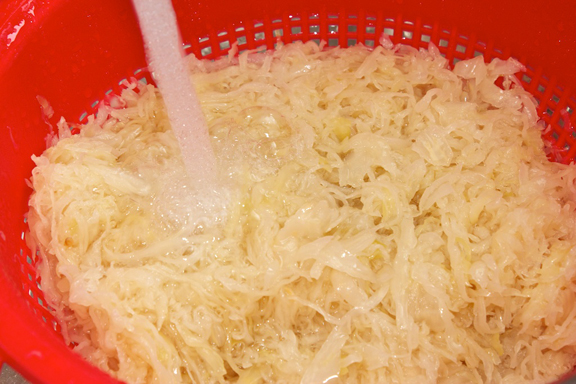 While your dough is rising, rinse your sauerkraut. Squeeze as much liquid out as you can.
The next step of boiling the sauerkraut is optional. Again, Claudia prefers a less intense sauerkraut flavour, but many do not. So, this next step is completely up to you. I prefer both to be honest!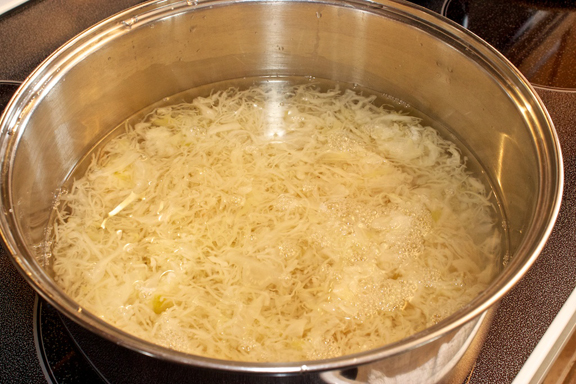 Fill a large sauce pan with water and your sauerkraut.
Bring to a boil and simmer for 10-15 minutes.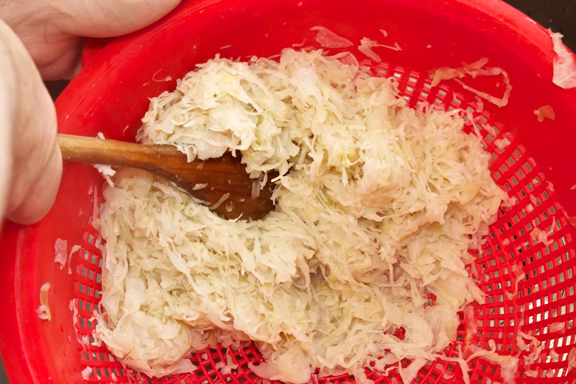 Drain well. Squeeze as much liquid out as you can.
In a food processor, finely chop your onion.
Empty into a bowl.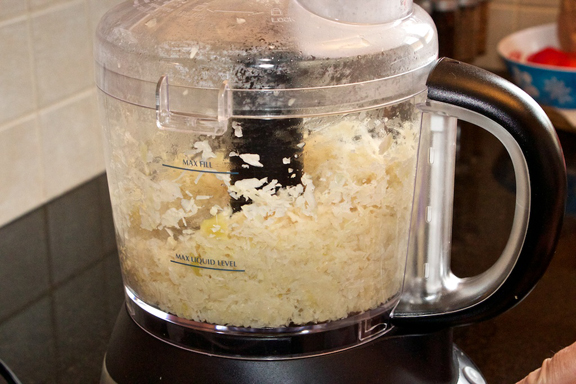 Next, place your sauerkraut in the food processor and pulse until finely chopped.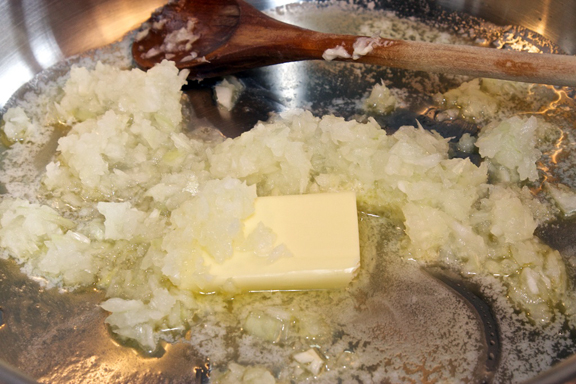 In a large pan, fry your sauerkraut and onion together in 1/4 cup butter.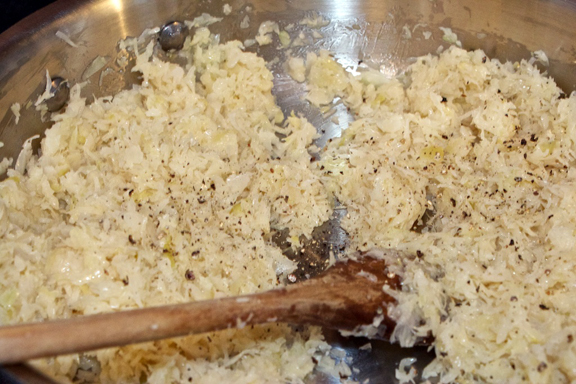 Add your pepper.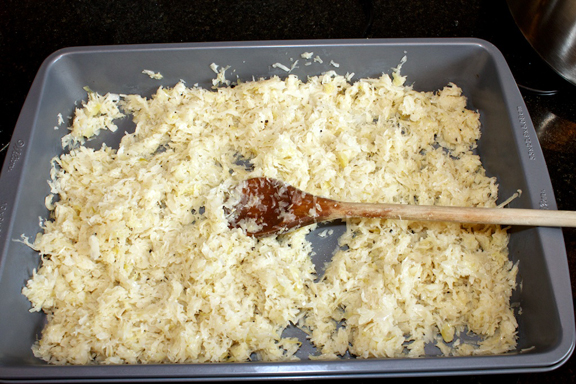 Place your sauerkraut mixture in a baking pan and set on the counter until completely cooled.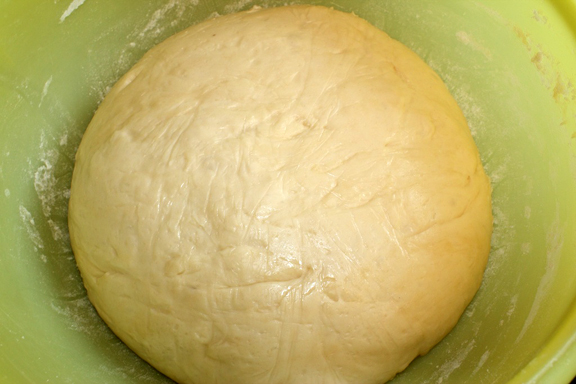 By now your dough should have risen nicely.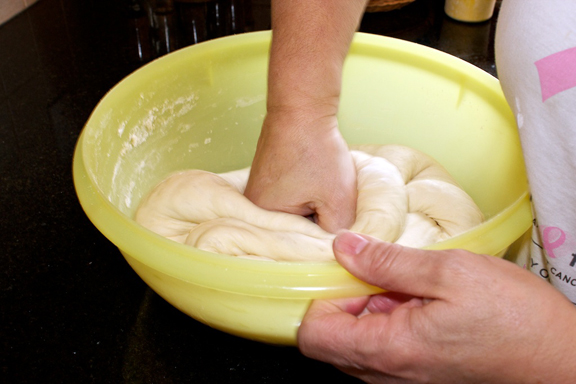 Punch it down.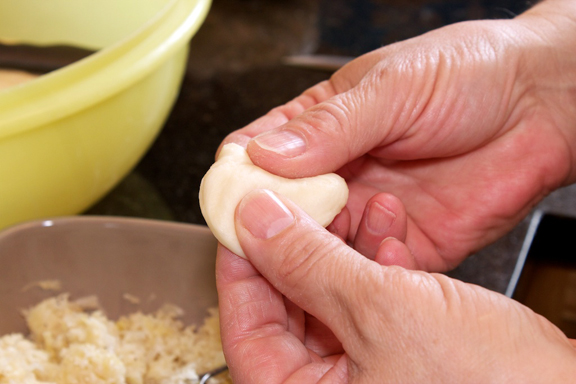 Cut or pinch off small pieces and flatten in your hand.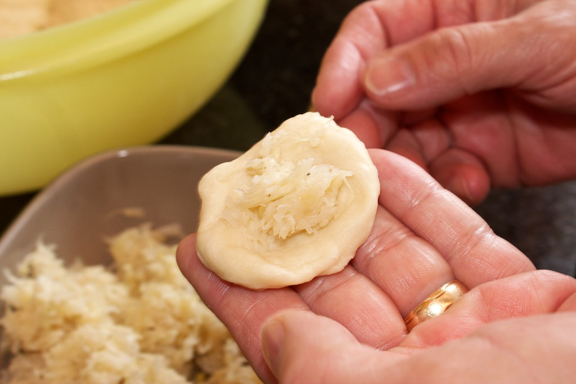 Place maybe a tsp of the sauerkraut filling in the middle.
Be careful not to have any filling along the edges as they will not seal properly.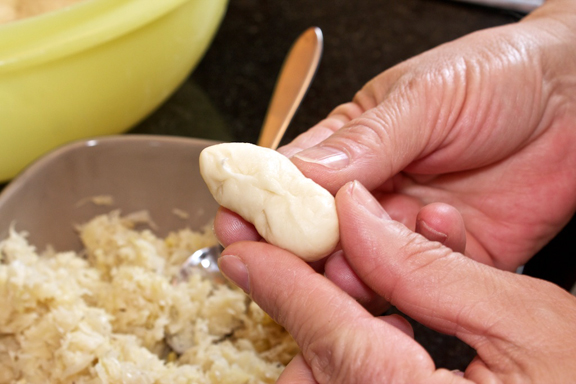 Pinch to close. Pinch well. This is an art – trust me.
Place on a parchment paper-lined baking sheet about 1 inch apart.
Bake at 350 degrees fahrenheit for 10 – 12 minutes.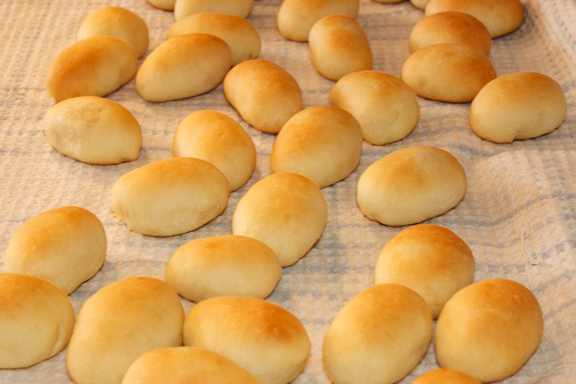 Allow pans to cool on a wire rack then transfer to a towel on the counter.
Store in ziplock bags or tupperware. You can also freeze these babies and thaw when you need them.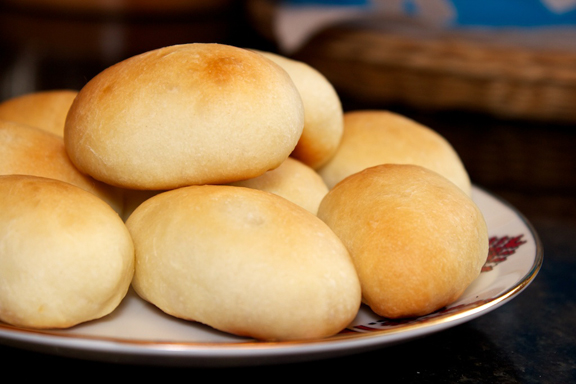 Pillows of deliciousness.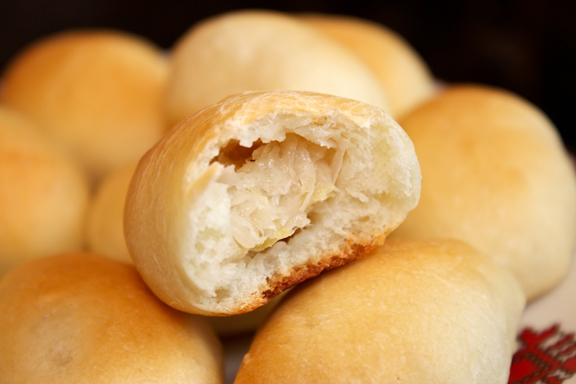 Happy Holidays from our family to yours!