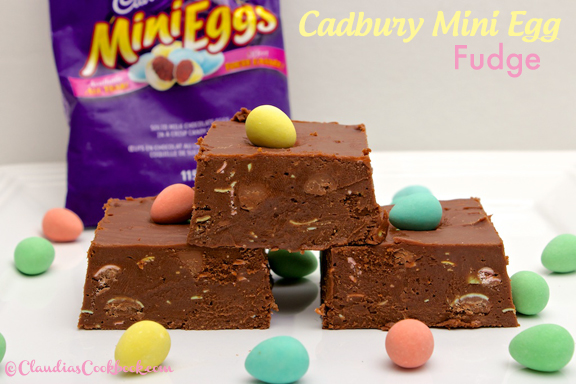 Remember the time I decided to go on a Smoothie Diet? Yeah. Let's pretend that never happened. I blame drinking smoothies 3 times a day for the lack of posts over the past few weeks. It actually wasn't all bad. I lost a few pounds and learned that I could drink spinach and not gag. It actually tasted pretty darn good! But boy, did I miss chocolate (and pretty much any food that wasn't in liquid form). At one point, I was even craving a salad. A SALAD! The world works in mysterious ways, my friends.
Well, I survived and I decided to make my triumphant return to you by featuring the most decadent, rich, chocolaty dessert on the face of the earth. That's right, screw you smoothies! This recipe is an adaptation from a recipe my future Mother-in-Law gave me over Christmas. It was given to her a few years ago by her friend who sadly is no longer with us. My future Mother-in-Law was nice enough to give us some fudge over the holidays and I quickly fell in love (with the fudge…well, and I guess with her too!). She was kind enough to give me the recipe and I had to adapt it to include one of my favourite candy's ever – Cadbury Mini Eggs! The original recipe called for chopped nuts, but I figured Mini Eggs were crunchy too – so why the heck not? I cannot begin to describe how unbelievable this fudge is. It's seriously the best fudge I've ever tasted. Like, EVER. And that's not the 2 week smoothie diet talking. It's soft, sweet and oh, so rich. A little square goes a long way. Topped with the fact that there are delicious morsels of Mini Eggs inside, well my taste buds simply can't handle it! I actually went into a mini chocolate coma yesterday. Truth.
You will need: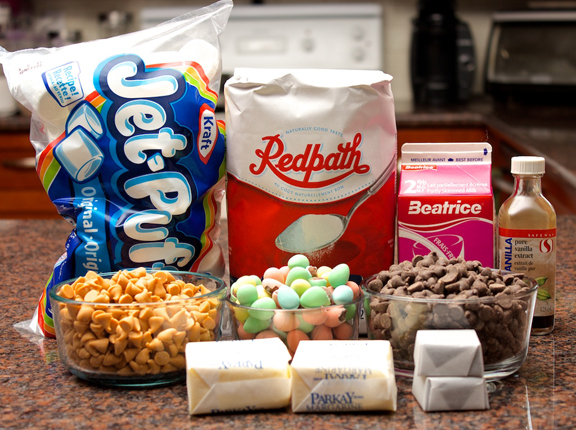 4 cups white sugar
1 cup margarine or butter
1 cup 2% milk
1 tsp. vanilla
24 large marshmallows
2 ounces unsweetened chocolate (chopped) (I used 2 squares of unsweetened Bakers Chocolate)
2 cups semi-sweet chocolate chips
2 cups butterscotch chips
2 cups Cadbury Mini Eggs (1.5 cups chopped, 1/2 cup whole)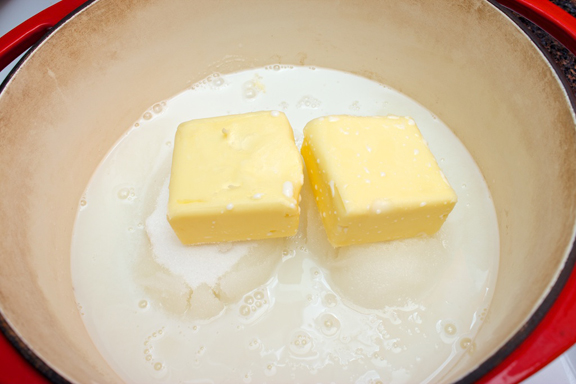 Place your sugar, butter/margarine and milk in a large sauce pot.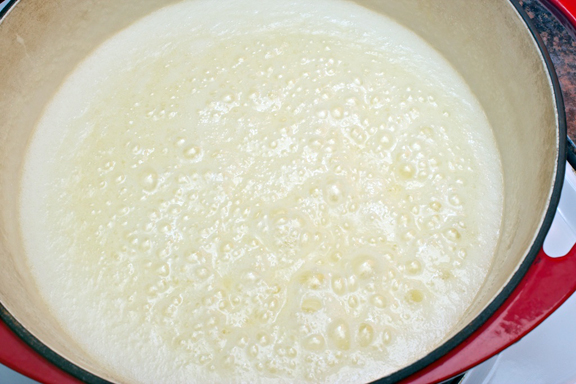 Over high heat, bring to a boil.
Reduce heat to medium low and simmer for 4 minutes, stirring frequently.
Remove from heat.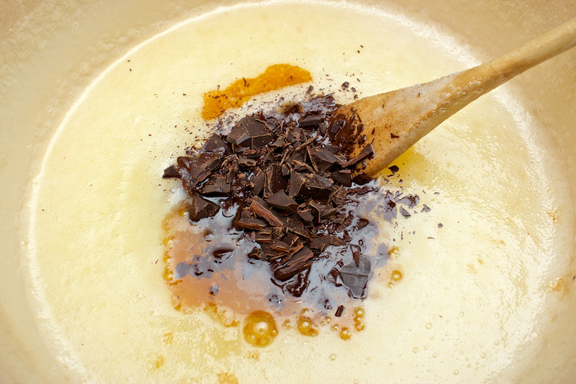 Stir in your chopped chocolate and vanilla until completely melted and combined.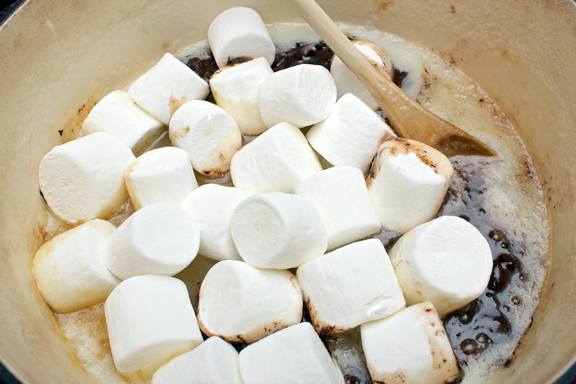 Next, add your marshmallows.
Stir well until completely melted.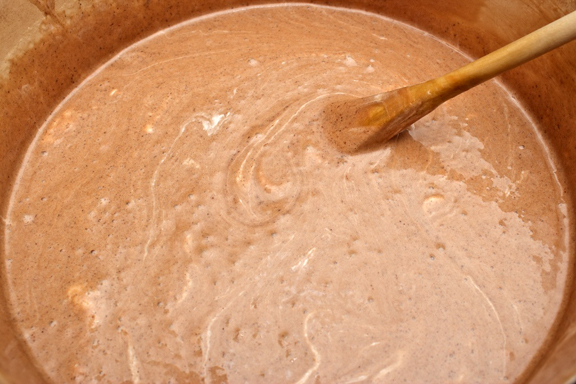 It may take a little bit but should look like the picture above.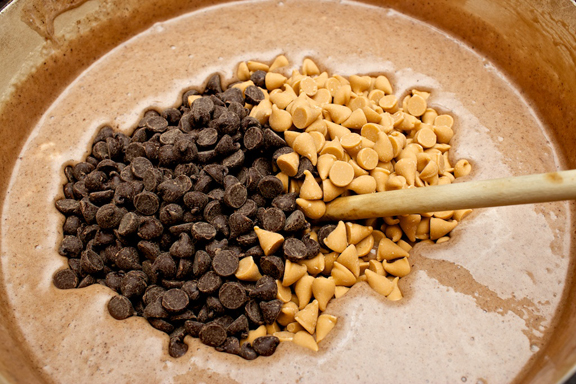 Next, stir in your semi-sweet chocolate chips and your butterscotch chips.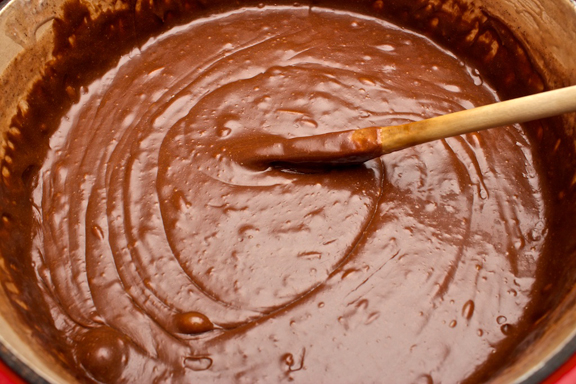 Stir until completely melted and smooth.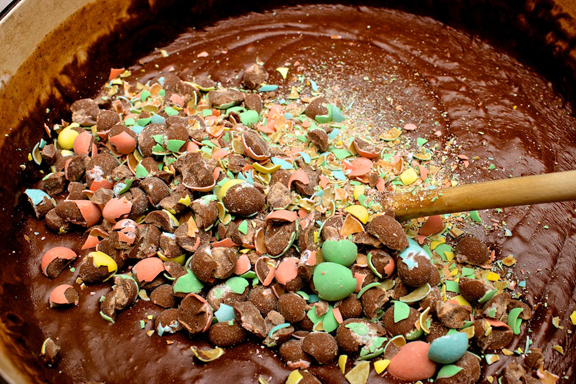 Now the fun part!
Stir in your 1.5 cups of chopped Cadbury Mini Eggs.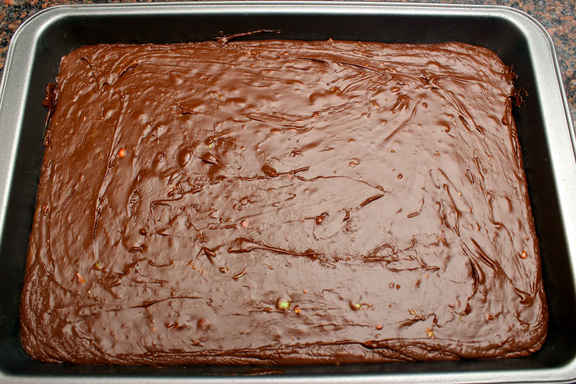 Pour your chocolate sinful deliciousness into a greased 13 inch x 9 inch pan.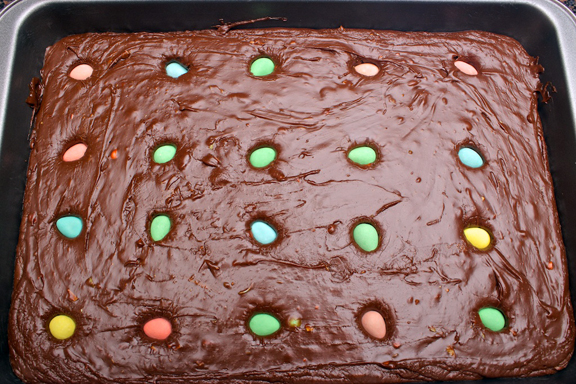 Dot with your remaining whole Cadbury Mini Eggs.
Let fudge cool on the counter uncovered overnight, or for at least 6-8 hours.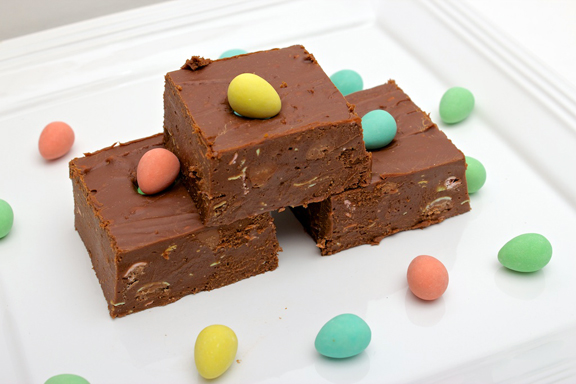 Cut up into squares and serve to your favourite people.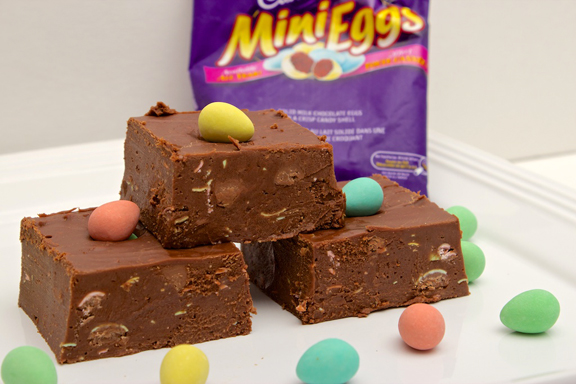 Or perhaps hoard it for yourself.
I won't judge you.
I would actually encourage you (do it! do it!).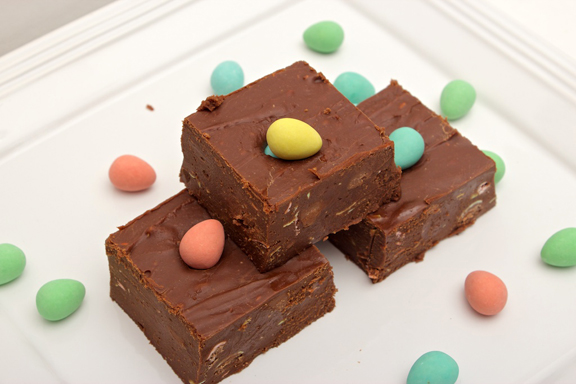 This fudge should be illegal.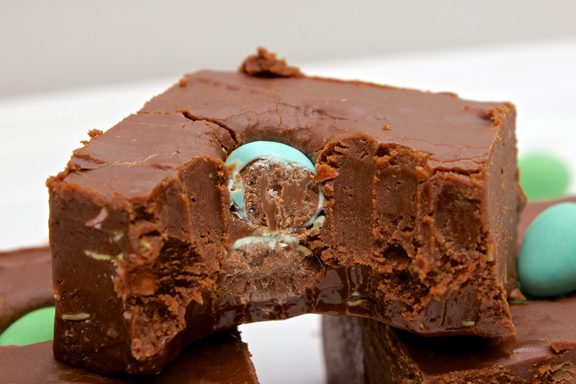 Enjoy!