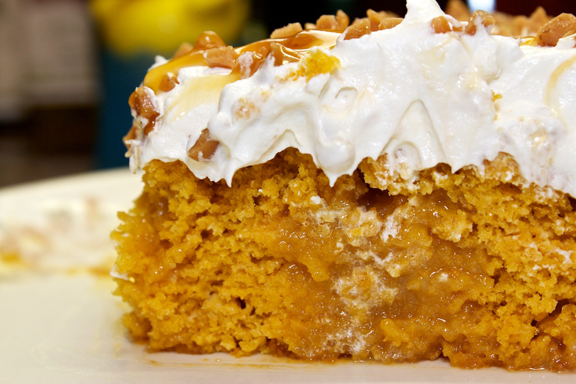 Our Skor Cake is probably one of the most popular recipes our website. And of course, it should be – it's delicious and so simple to make. In keeping with my autumn theme and total pumpkin obsession, I thought it would be fun to experiment with it a little. I was pretty darn happy I did too. I deemed this recipe "Pumpkin Caramel Dream Cake" for good reason. It's simple like our Skor Cake recipe, rich and full of caramel and pumpkin flavor. Perfect for the season!
I wanted to point out an adaption to this recipe – I decided to mix the caramel in with the condensed milk and soak it into the cake. However, if you want more of an intense pumpkin cake flavor, you can soak the cake in condensed milk by itself and leave the caramel for the topping only.
You will need: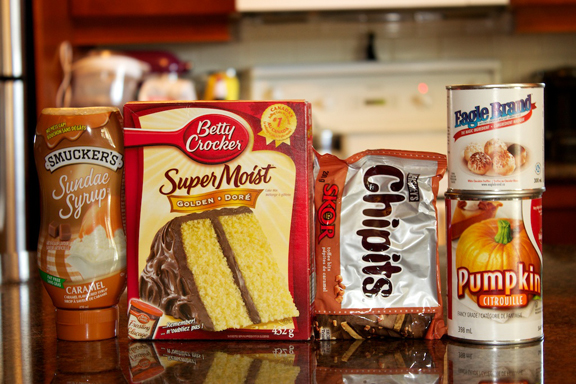 1 box yellow cake mix
1 bottle caramel syrup
1 can sweetened condensed milk
1-400 ml (13.5oz) can of pure pumpkin puree (not pumpkin filling)
4-5 Skor bars, chopped or 1/2 package of Skor bits
1 tub Cool Whip (forgot to include this in the photo – we used the 8oz size but you can use more if you'd like)
In a large bowl, combine the yellow cake mix powder and full can of pumpkin.
Do not add the rest of the ingredients on the back of the cake box (eggs, water, oil, etc)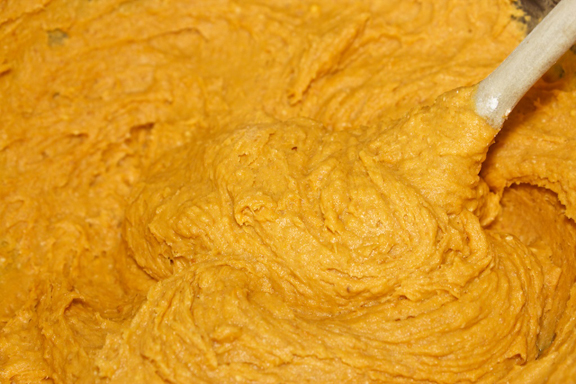 Stir well until completely combined.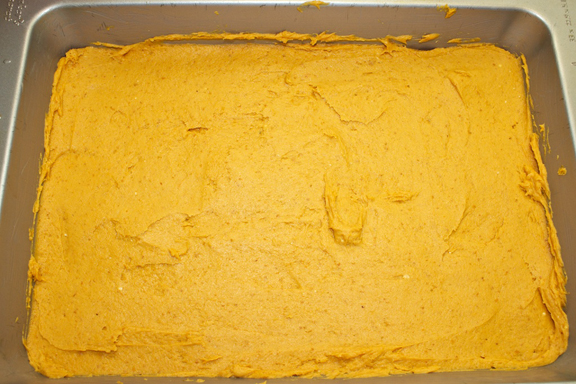 Spread batter in a greased 9″ x 13″ cake pan.
Bake following the instructions on the box (typically 25-28 minutes in a 350 degree fahrenheit oven).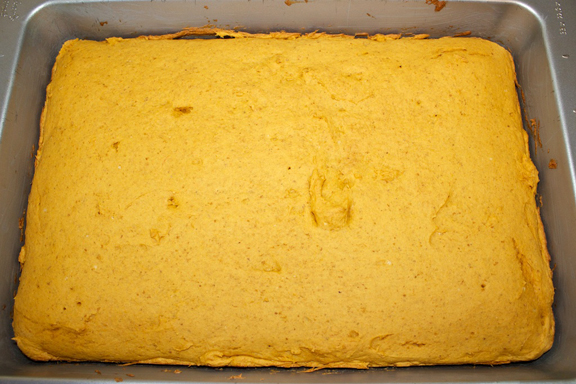 Looking good!
Let this cool for 5 minutes.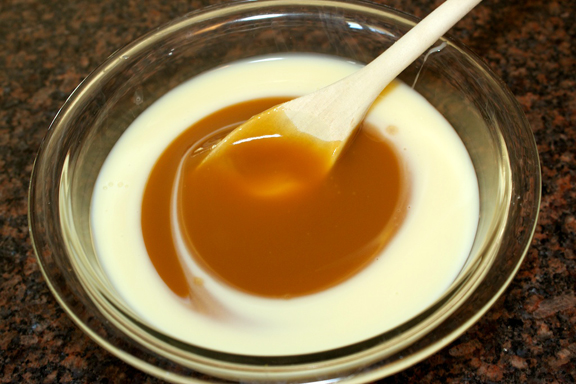 While your cake is cooling slightly, combine your can of sweetened condensed milk and 3/4 bottle of caramel.
Reserve about 1/4 cup of caramal sauce for topping.
Again – if you want to just soak the cake in condensed milk only for more pumpkin flavour in the cake and leave the caramel for the toping, feel free to do so!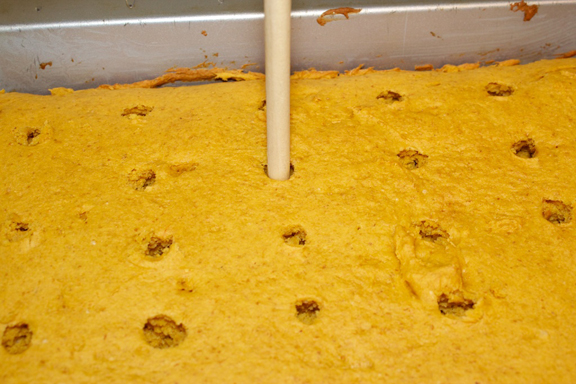 Using the back of a wooden spoon, poke holes in your cake.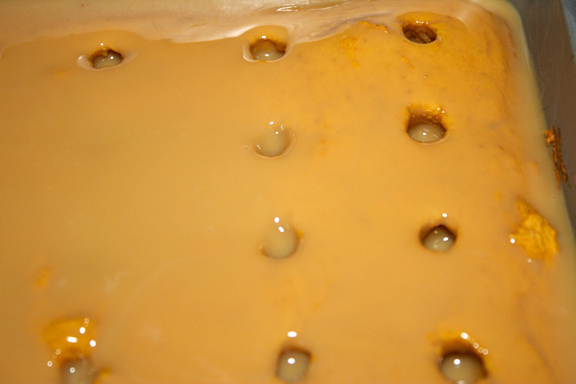 While your cake is still warm, pour condensed milk and caramel mixture all over the cake.
Let it soak in and allow for cake to cool completely.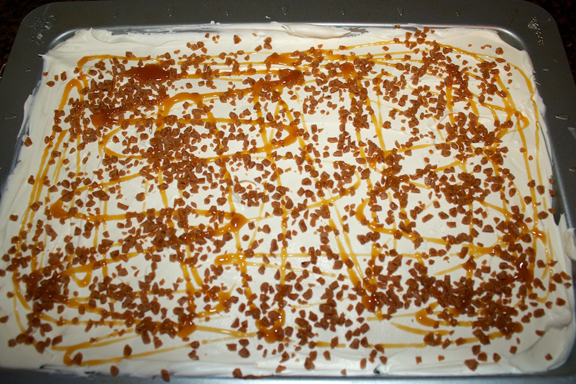 When cake has completely cooled, spread the tub of Cool Whip over the cake.
Top with Skor bits and caramel sauce.
Chill in the fridge for 30 minutes to an hour, or overnight.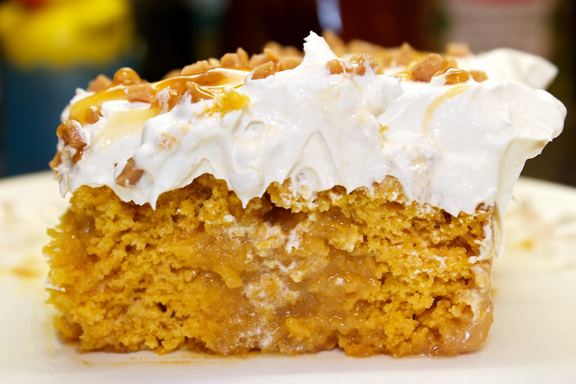 Gooey and rich.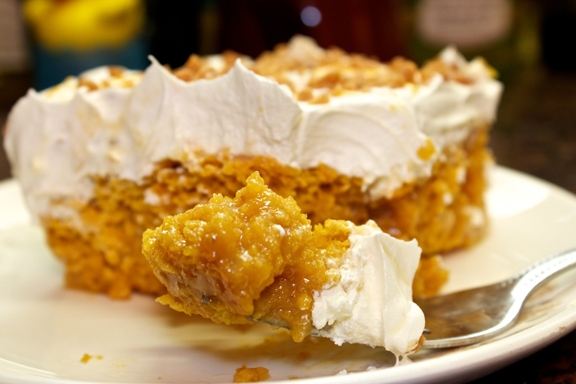 It will be extremely hard to only have one bite.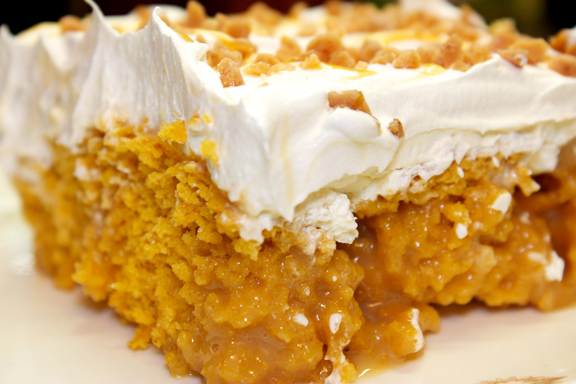 Enjoy!