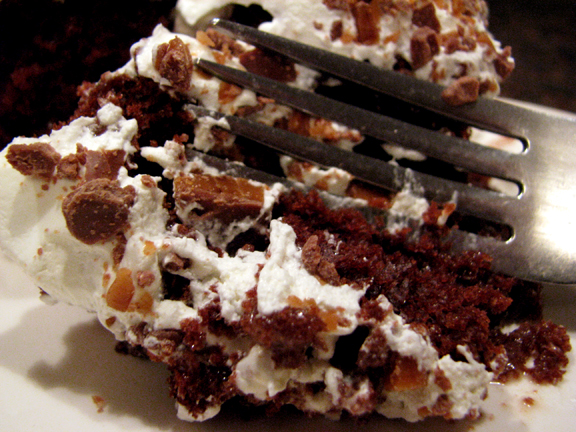 With the last week of Claudia's vacation coming to an end, I decided to make my all-time personal favourite cake. Sure…cheesecake is pretty good, and nothing can truly compare to an amazing piece of red velvet. But THIS cake is simply the best (sorry but I had to quote the Queen, Tina Turner there).
My brother and I were born 2 years and 1 day apart from each other. Growing up, we often shared birthday parties.  We actually still do to this day.  The one thing that Claudia did well was although we never really had individual birthday parties, we always had our own cake. Probably because she knew I'd throw a fit if I had a Superman themed cake and my brother would be the laughing stock of his friends if he had to have a Strawberry Shortcake themed cake. But I digress…
Skor Cake is now my staple birthday cake every year from Claudia. My brother also gets Skor Cake, but his typically comes from Dairy Queen in ice cream form. Again, even in adulthood, we still need to keep our birthday cakes different. I encourage you all try Skor Cake for your birthdays. Friends – you are worth it!
You will need: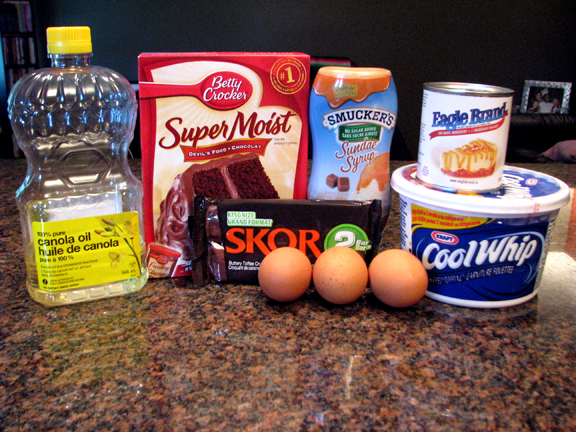 1 box Devil's Food Cake mix (Betty Crocker or Duncan Hines work best)
Ingredients to accompany the cake mix (typically eggs, oil and water or milk)
1 tub Cool Whip
1 can sweetened condensed milk
1 can/jar/tube of caramel or butterscotch sundae syrup (we prefer caramel)
4-5 Skor bars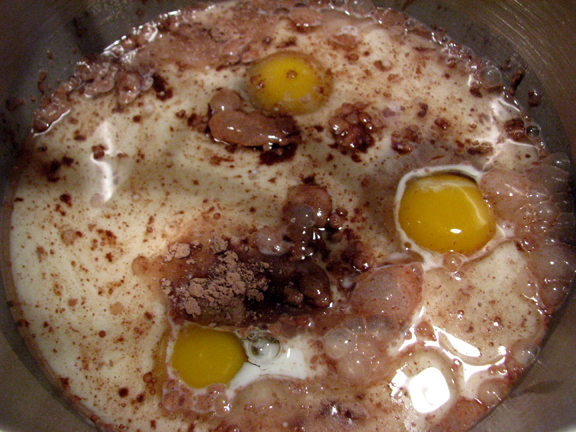 Combine all ingredients that the box cake mix calls for and follow directions.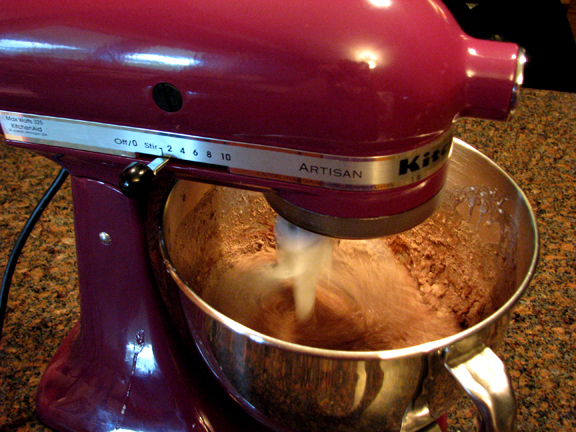 Here I combined all the ingredients in a bowl and mixed them for 2 minutes on medium speed.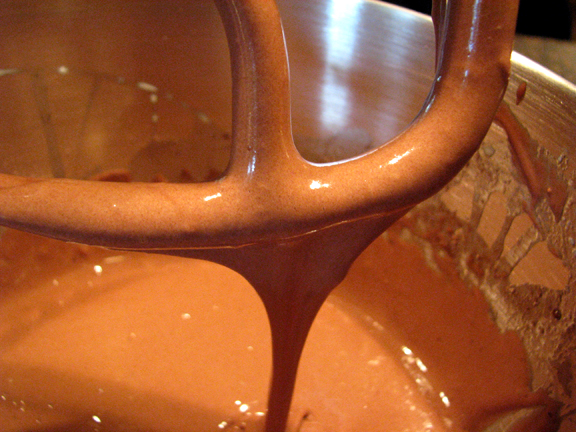 Cake batter is my vice.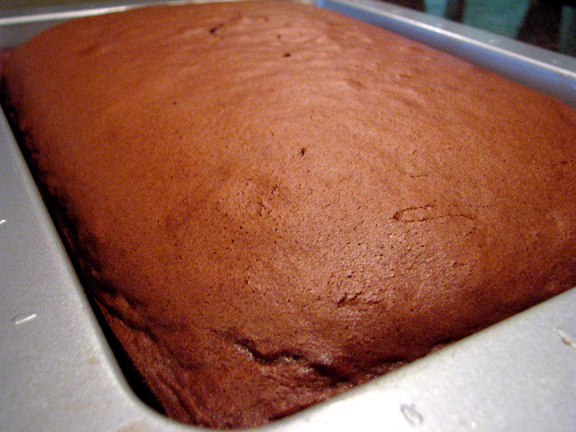 Bake cake as per the box instructions in a 9×13 inch baking pan
I baked this for 30 minutes at 375 degrees Fahrenheit.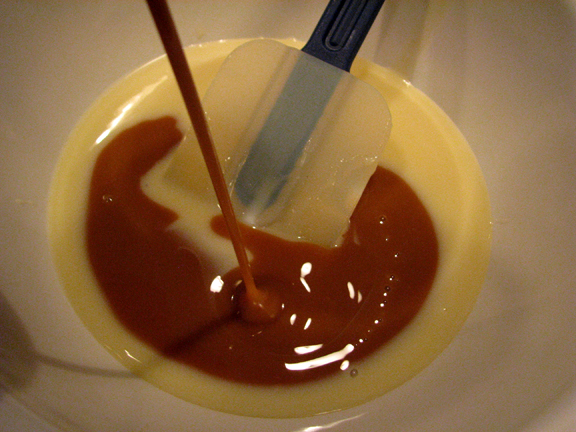 While cake is still extremely warm, combine your whole can of condensed milk and all your caramel syrup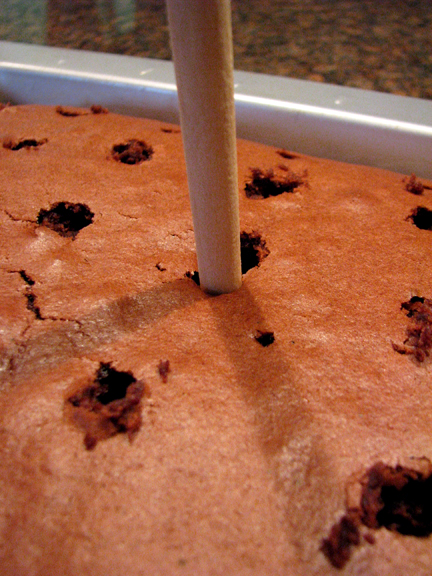 Again, while your cake is still hot, use the end of a wooden spoon and poke holes all over the cake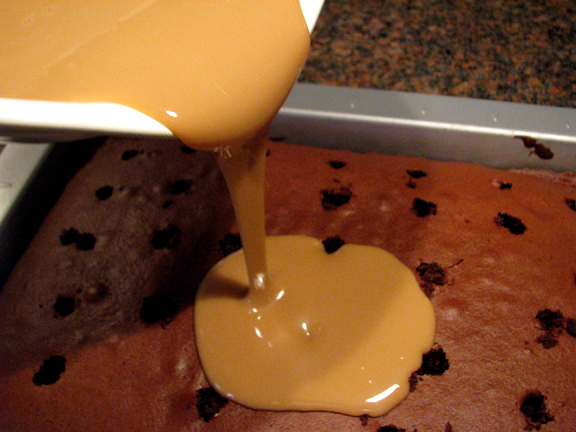 Pour caramel and milk mixture over the cake and allow to soak in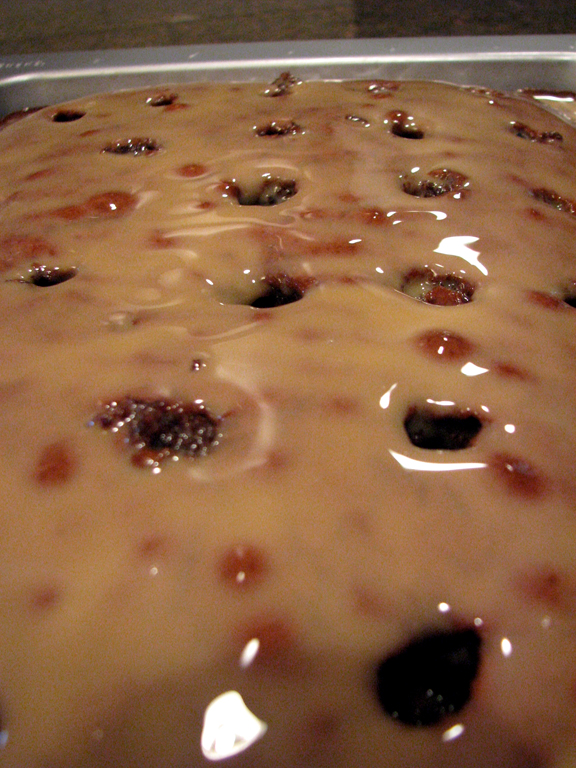 I could seriously eat this cake just like this!
But we're not done. Not even close!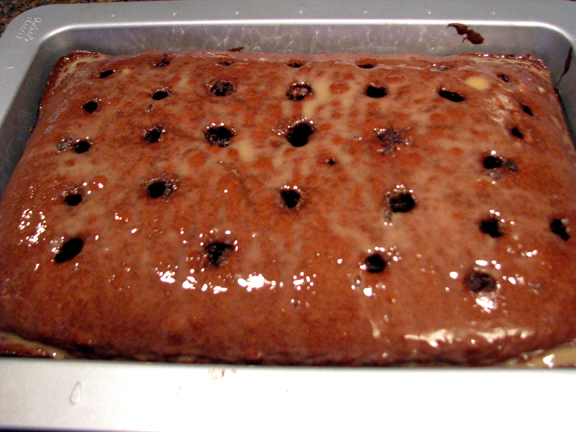 Allow the cake to cool completely. As you can see, the caramel mixture slowly soaks into the cake keeping it moist and seriously delicious
When cake is completely cooled, spread Cool Whip over top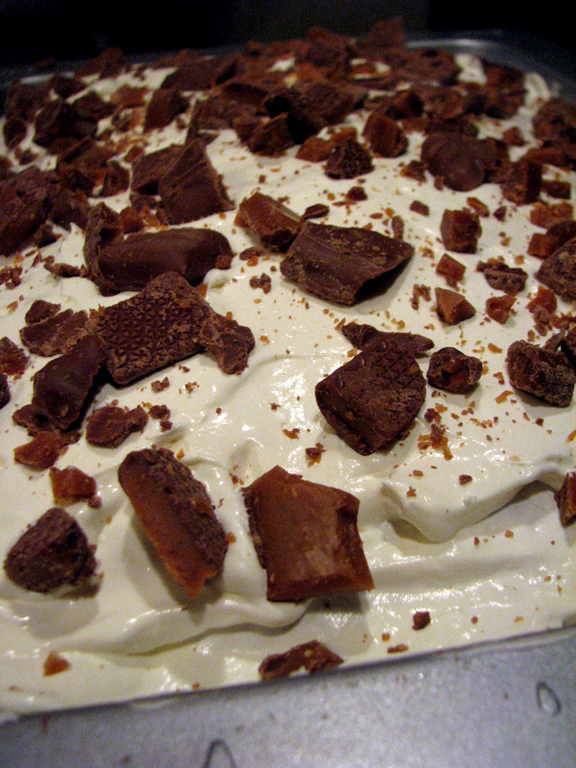 Next, top cake with broken up bits of Skor bar.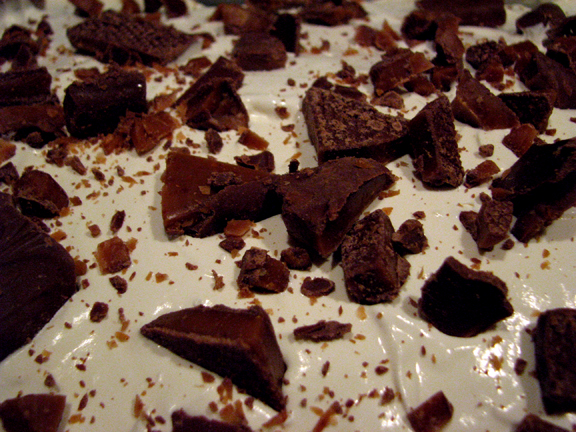 And you're done!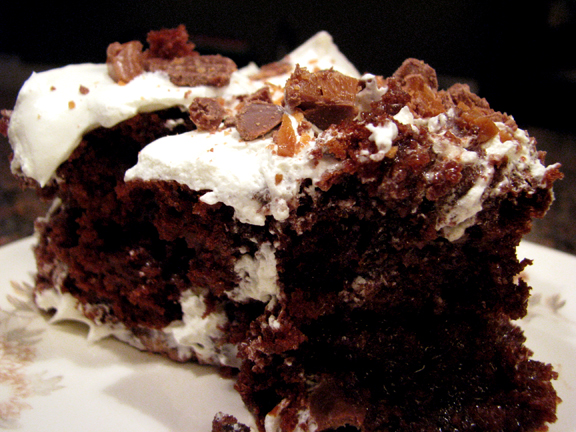 Oh wait, you're not done.
You need to try a piece of the best cake you could make for yourself…
…or a loved one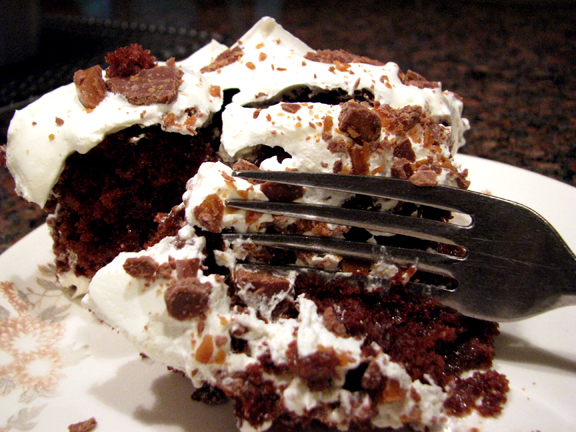 Gooey, sweet and chocolatey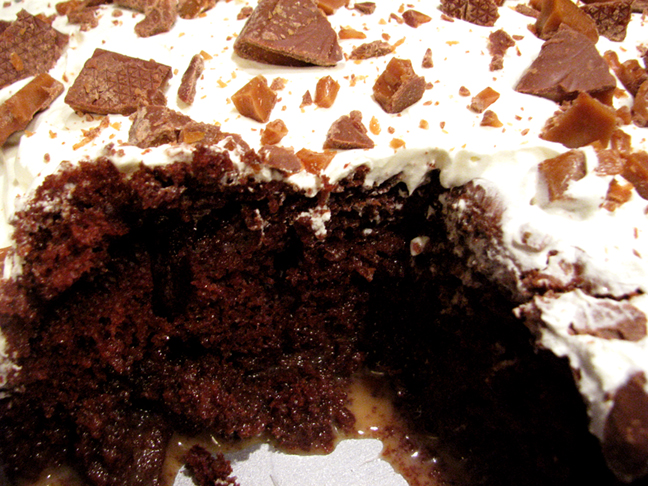 This should seriously be illegal.