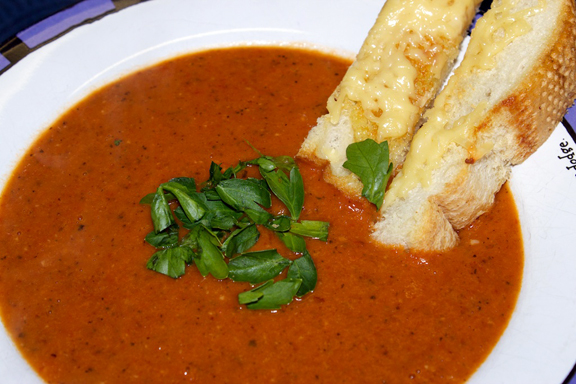 First off, Happy Thanksgiving to all my fellow Canadians! Today definitely feels like autumn. All the leaves are changed and have fallen on the lawn. We even had our very first snowfall of the season here in Winnipeg a couple days ago. It didn't stay long – thankfully. Today is windy and rainy and it really made me want to stay inside, keep warm and make a nice hearty soup. Not to mention after all the turkey, cabbage rolls, stuffing and potatoes I ingested this weekend, I needed something light to start off the short work week.
I can confidently say that this soup that I'm featuring is by far the best soup I have ever made. It's absolutely AMAZING. Rich and packed with so much flavour. The roasted tomatoes and garlic really do make a huge difference. Not to mention, it leaves your house smelling delectable for hours. The side of smoked gruyere cheese toast is also a great compliment to the roasted flavour. I was so happy I made this soup today that I raced to the computer to share it with you tonight. Delicious!
You will need:
15 whole Roma Tomatoes
7 tbsp olive oil, divided use
1.5 tbsp balsamic vinegar
3 tbsp brown sugar
1 tbsp salt
1 tsp fresh black pepper
1 tbsp red chilli pepper flakes
2 tsp Italian seasoning
3 whole heads of garlic (peels left on), plus 2 cloves, chopped, divided use
1 yellow onion, chopped
1 tsp of dried basil, or 1 bunch fresh basil, chopped
¼ cup flat-leaf parsley, chopped
3 ½ cups chicken stock
1 cup croutons (packaged)
½ cup grated parmesan cheese
1 loaf rustic-style Bread, such as Ciabatta or French
6 tbsp Gruyere Cheese, shredded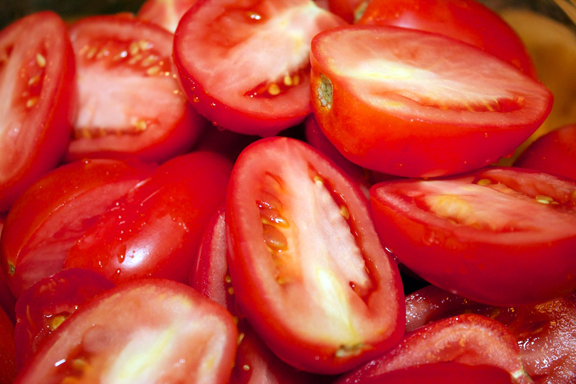 Cut the Roma tomatoes in half and place in a large bowl.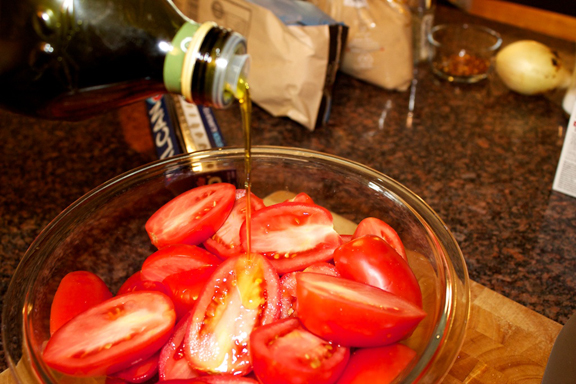 Add the 2 tbsp of olive oil and toss to coat.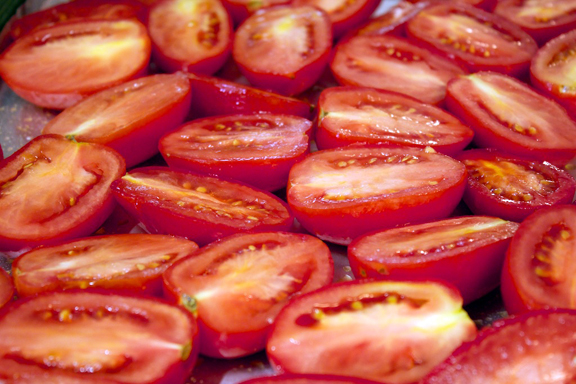 Add to a foil-covered baking sheet.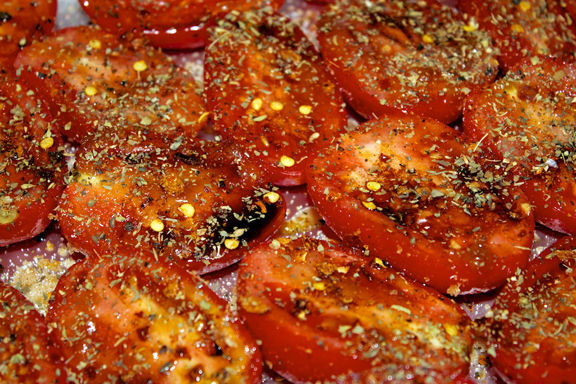 Sprinkle tomatoes with brown sugar, salt, fresh black pepper, red chilli pepper flakes, Italian seasoning and balsamic vinegar.
Roast in a 400 degree fahrenheit oven for 45 minutes.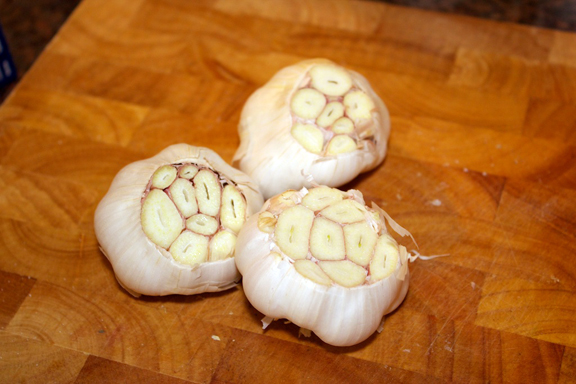 Cut the tops off of the 3 heads of garlic and add 2 tbsp of the olive oil.
Wrap the oiled garlic heads tightly in foil, and place them next to the tomatoes in the oven to roast for 40 minutes.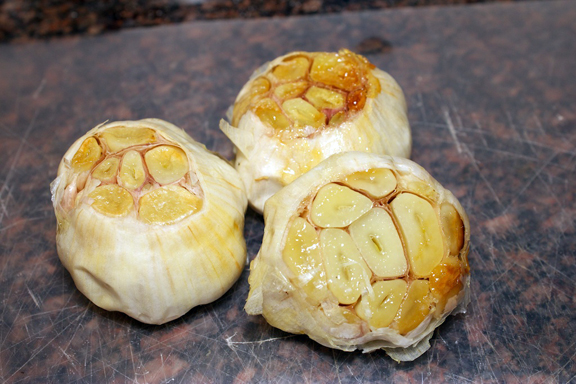 Once tomatoes and garlic are roasted, set aside to cool slightly until they can be handled.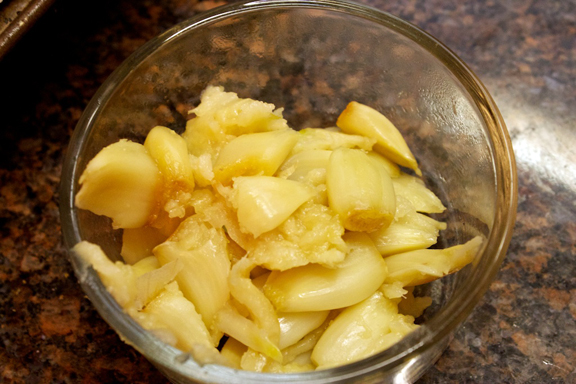 Squeeze the roasted garlic cloves out of their papers, discard papers and set aside the roasted garlic.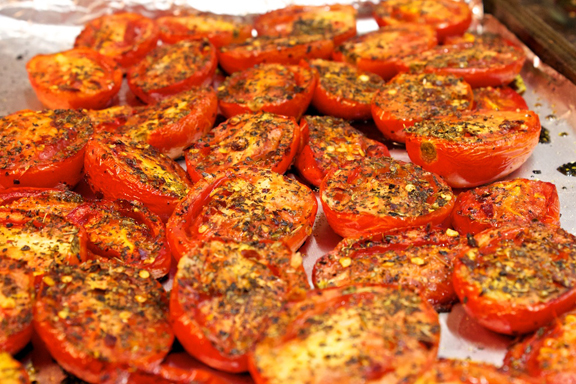 Your tomatoes should look like so. Yum!
(Keep oven set to 400 degrees, as it will be needed to make the cheese toasts later.)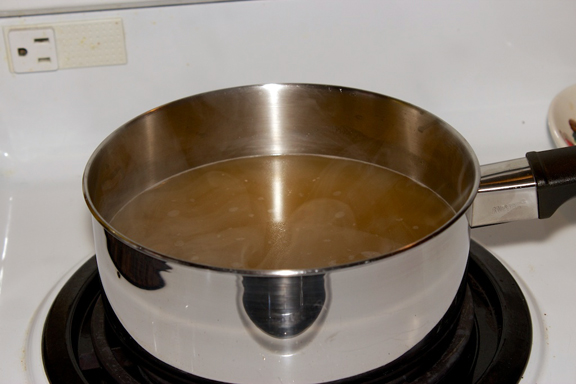 In a large sauce pot, warm your chicken stock on medium-high heat.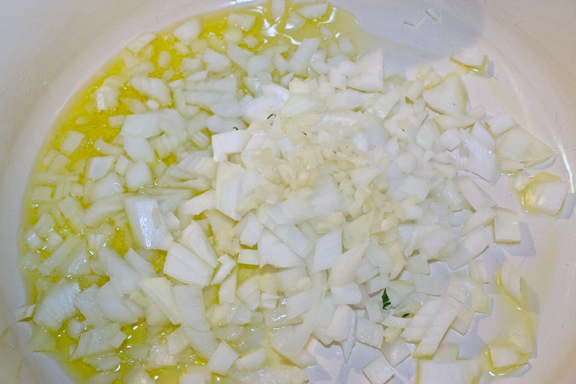 In a large pot over medium heat, add the remaining 2 tbsp of olive oil, the chopped onion and 2 fresh, chopped garlic cloves.
Allow them to become aromatic and translucent.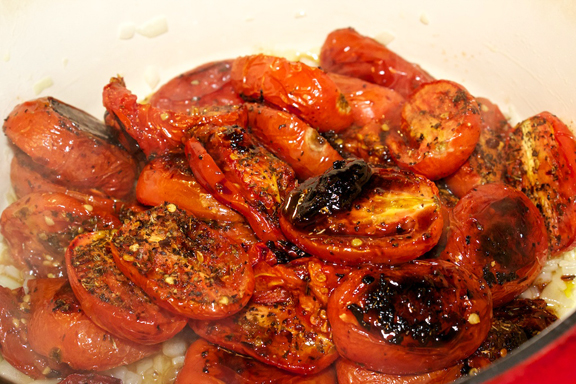 Then add the roasted tomatoes (and all of their juice from the baking sheet).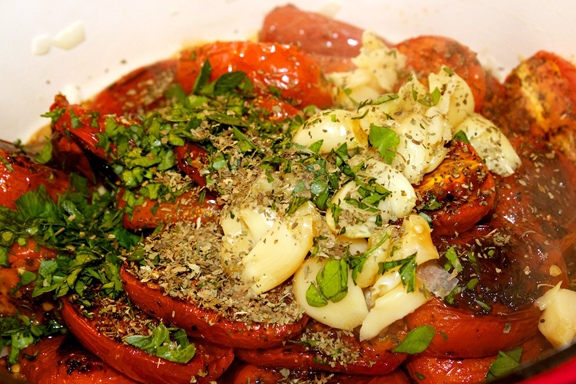 Then add the roasted garlic, basil and parsley and stir to combine.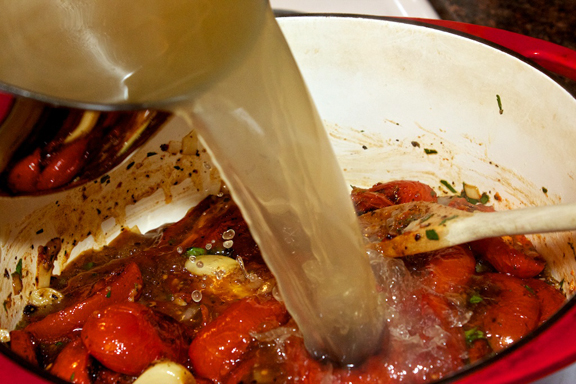 Next, add the hot chicken stock.
Finally, add the croutons and allow to gently simmer without lid, for about 20 minutes.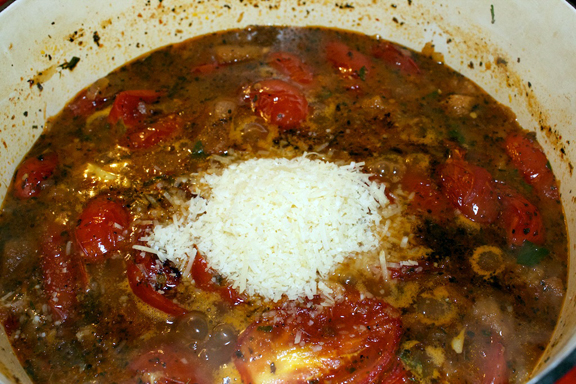 After 20 minutes, add the grated Parmesan cheese and stir well.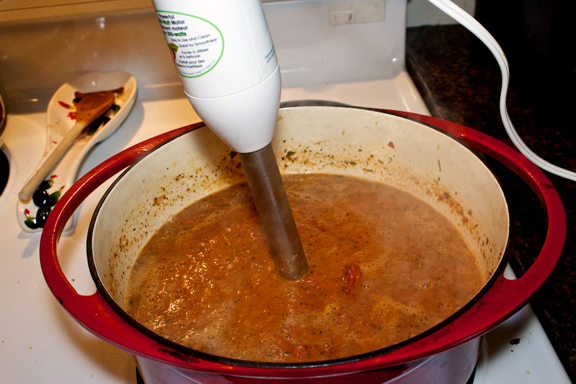 Next, using a hand immersion blender, puree the soup until smooth and all tomatoes are completely pureed (if using a blender, work in small batches to puree- be careful to not overfill the blender, as hot soup can splatter).
Keep soup warm while making the cheese toast.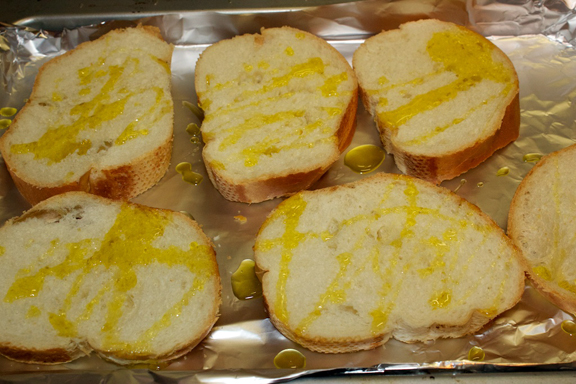 To make the cheese toasts, cut the rustic bread into six 1/2″ slices, drizzle with 1 tbsp of olive oil, and place on foil-lined baking sheet and into oven to toast until golden brown.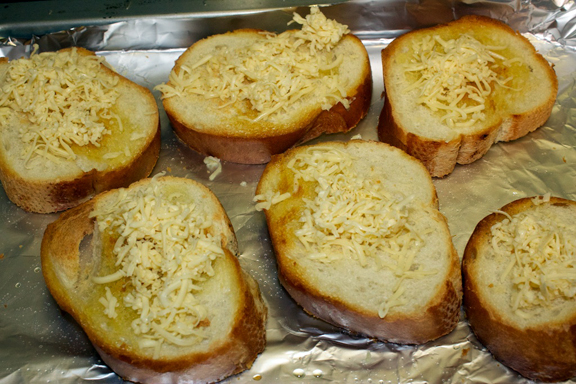 Remove bread from oven and top each with 1 tbsp of the Gruyere cheese and place in oven once again, just until cheese is melted.
Remove bread from oven and cut each slice into strips.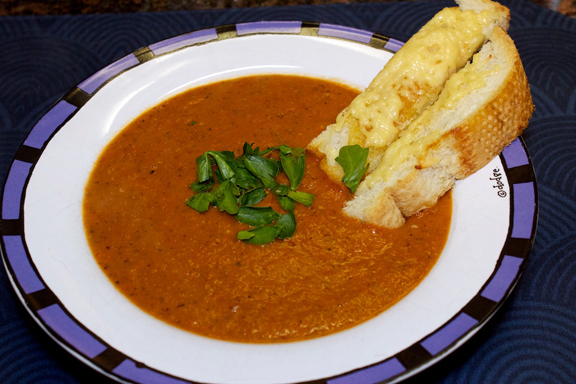 Ladle soup into serving bowls, and garnish with 2 pieces of the Gruyere cheese toasts.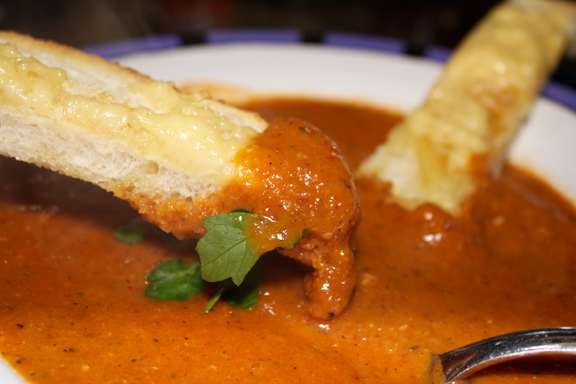 The rich smokey flavour of the cheese combined with the hearty roasted tomato and garlic make this recipe a must try!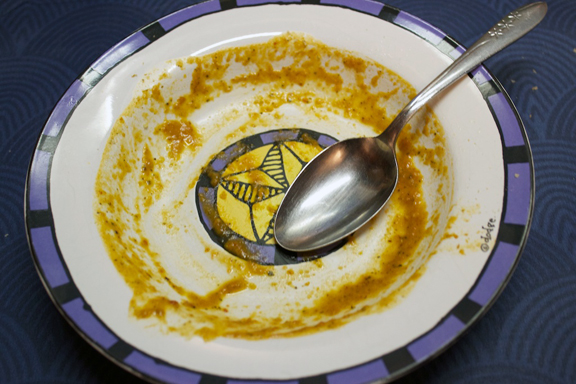 Enjoy!
Recipe adapted from: The Cozy Apron