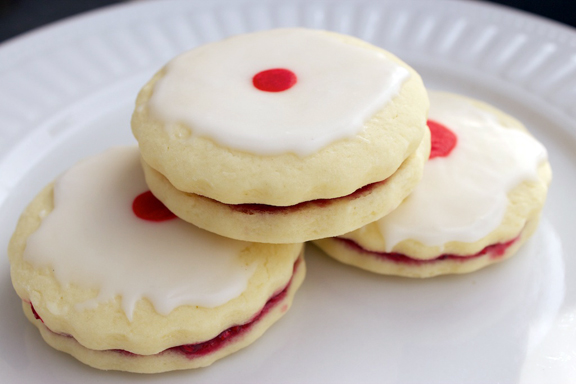 The first time I had an Imperial Cookie (or Empire Cookie as they are also called) was when I worked for Starbucks while I was in university. We had an amazing local bakery supply all our pastries and it didn't take much for me to fall in love with their Imperial Cookies. It has been a number of years since I worked for Starbucks, so I figured I would try to replicate one of my favourite cookies for the blog. This recipe is a hybrid between Canadian Living's Classic Empire Cookie recipe and the amazing Anna Olson's Empire Cookie recipe. I could not have been happier with the results. The cookies were soft, delicate and delicious. I also had the opportunity to use some of our newly made Raspberry Jam, which made these cookies even more delectable. Feel free to use homemade or your favourite store bought jam.
You will need: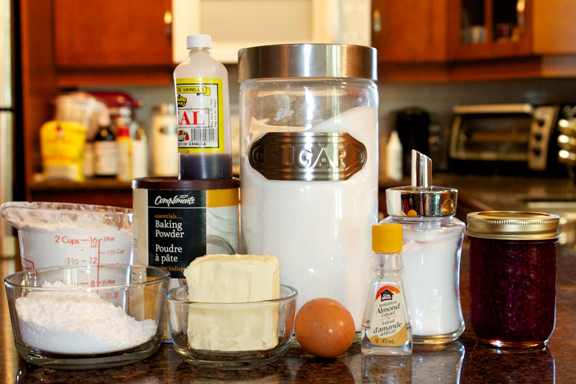 For the cookies:
1/2 cup unsalted butter, softened
1/2 cup white sugar
1 egg
1 tsp vanilla
2 cups cake and pastry flour, sifted
1 tsp baking powder
1/4 tsp salt
1/3 cup raspberry jam
Candied cherries or red icing (optional)
For the icing topping:
1 cup sifted icing sugar
1/4 tsp almond extract
1 tbsp hot water, approximate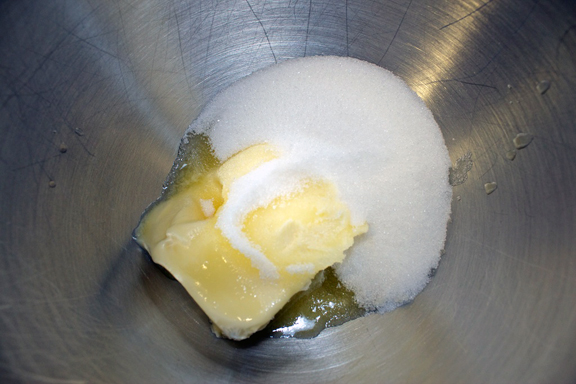 In large bowl, beat butter with sugar until fluffy.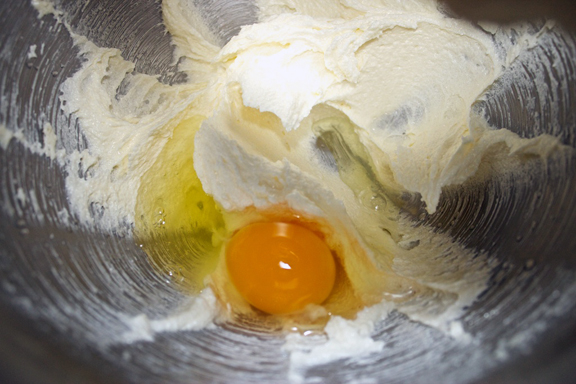 Beat in egg and vanilla.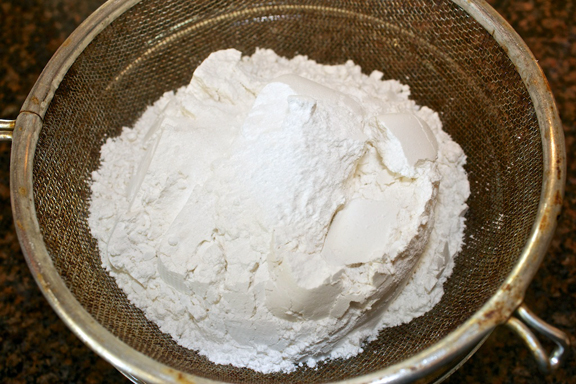 In separate bowl, whisk together flour, baking powder and salt.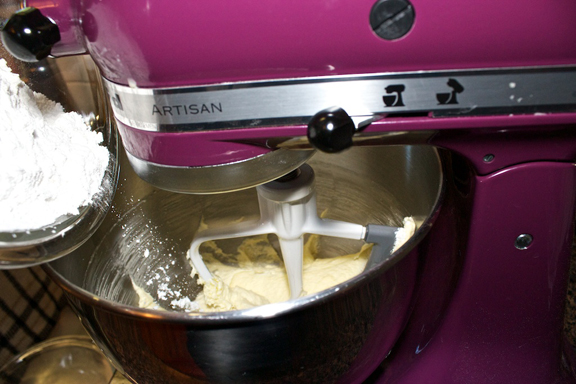 Stir into butter mixture in 3 additions.
Shape the dough into a disc (it will be very soft).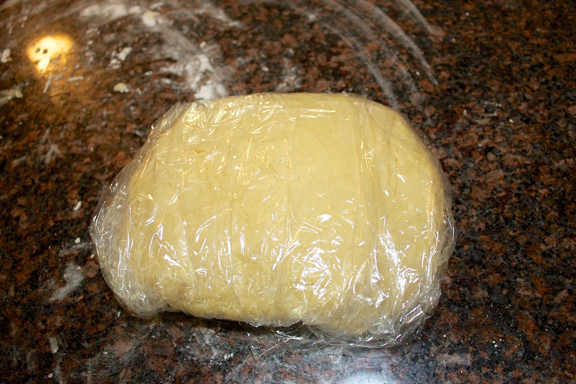 Wrap in plastic and chill in the fridge until firm, about 2 hours.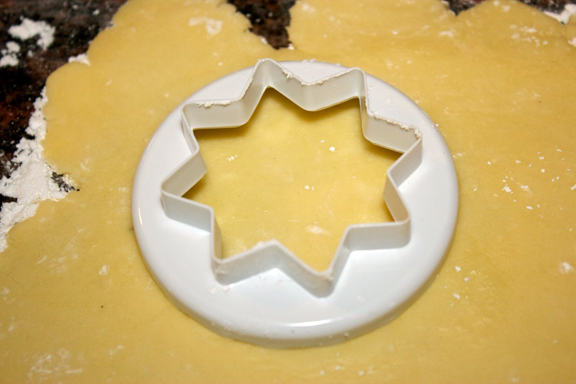 On a lightly floured work surface, gently knead the dough just to soften it slightly. Roll out the dough to approximately ¼-inch thick and cut out cookies using a 2-inch cookie cutter.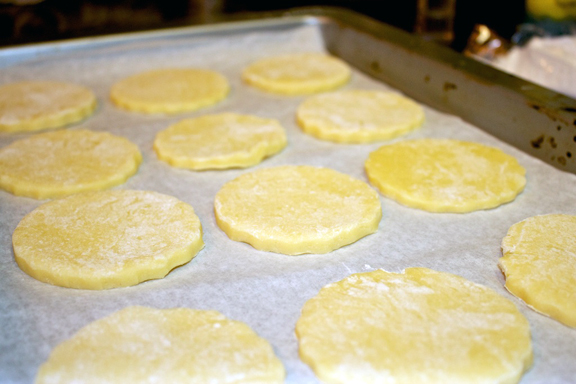 Place the cookies on the baking trays, leaving ½-inch between them.
Bake in a 350°F oven until edges are light golden, about 10 minutes.
Let cool completely on racks.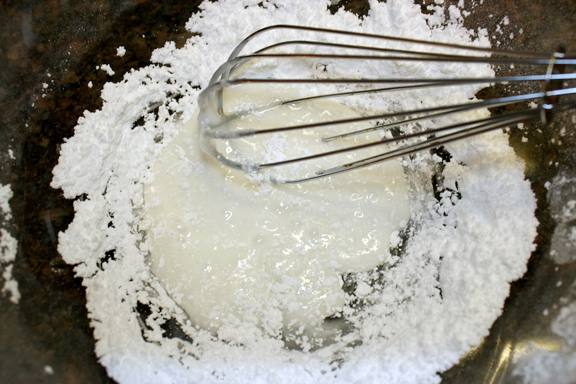 While your cookies are baking and cooling, you can now make the icing topping.
In small bowl, stir icing sugar with almond extract; drizzle in enough of the water to make spreadable icing.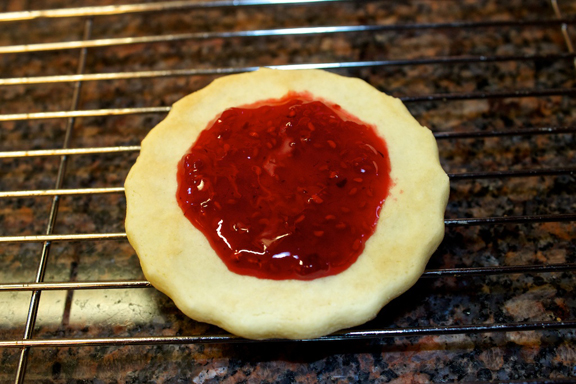 Once your cookies are cooled, stir the raspberry jam to soften and spread a little on a cookie bottom.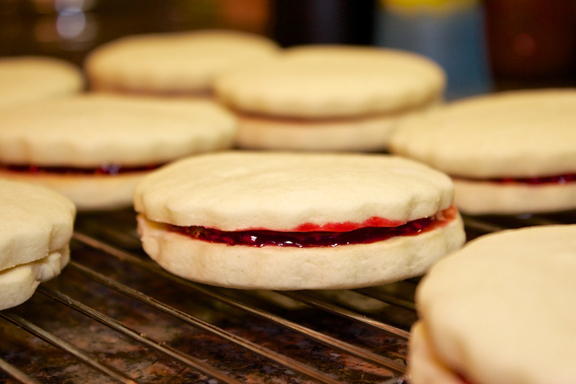 Sandwich a second cookie on top, pressing gently to secure. Repeat with the remaining cookies.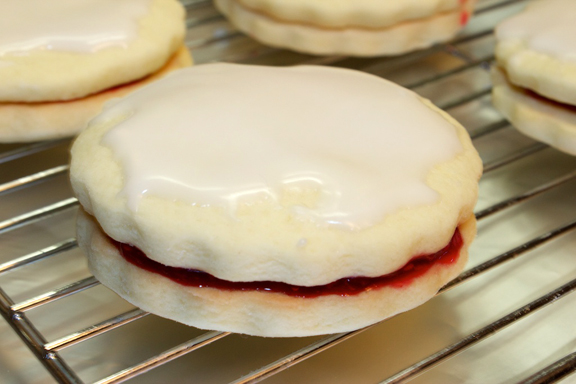 Spread your icing on top of each cookie sandwich.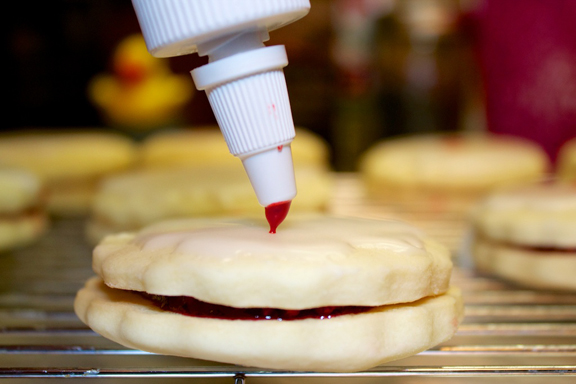 Top with a dot of red icing, or a candied cherry (totally optional).
I had no cherries so I settled for a dab of red icing.
Let cookies stand until set, about 1 hour.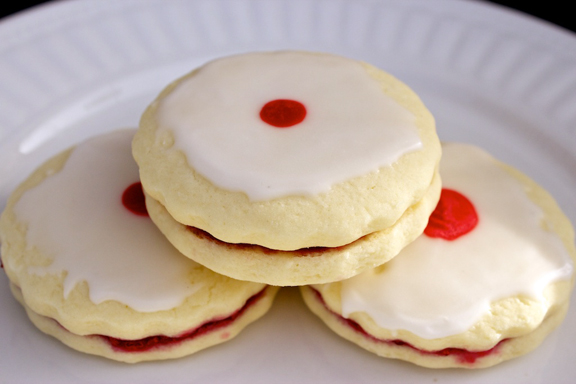 Serve to your friends, or hoard for yourself. I did.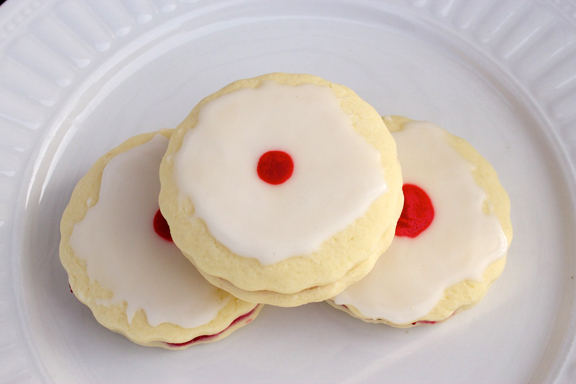 Elegant and pretty.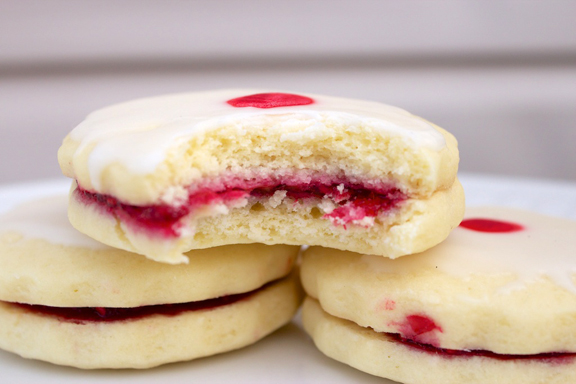 Tart and sweet.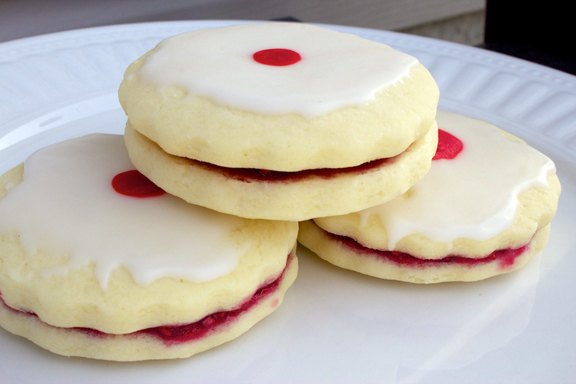 Enjoy!