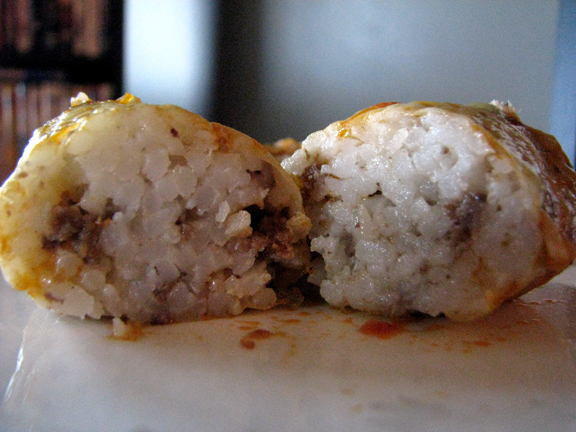 You don't get any more Ukrainian than Cabbage Rolls. I wouldn't be surprised if I was fed these as my first experience with "real food" as a baby. Not one special dinner has gone by in our family without cabbage rolls being served. There are many variations. But I can tell you now that nobody's cabbage rolls compare to the ones that Claudia makes. They are simple the best. Not too tomato soupy, not too cabbagey. They are perfect little delights. However, I learned in this blog process that I apparently haven't inherited the Ukrainian cabbage rolling gene, as I found the process extremely frustrating. My 1/4 Slovakian genes took over my hands and rendered me incapable of "tucking and rolling" the rice and cabbage. But do not fret kids….if you weren't blessed with the Ukrainian cooking gene like me, it just takes a bit of practise and patience. …and Claudia laughing at you when you curse the rice that fell from your hands and onto your clean floor.
For the best Cabbage Rolls in the history of the world, you will need: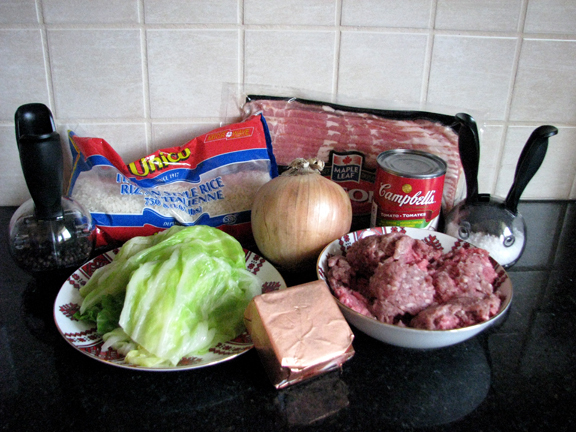 3 cups short grain rice
6 cups water
3/4 cups margarine (divided into 1/2 cup and 1/4 cup)
1 tsp salt
1 lb ground beef
1 onion
1 can tomato soup
2 heads cabbage (steamed, sectioned, frozen and then thawed)
1/4 lb bacon
Salt and pepper to taste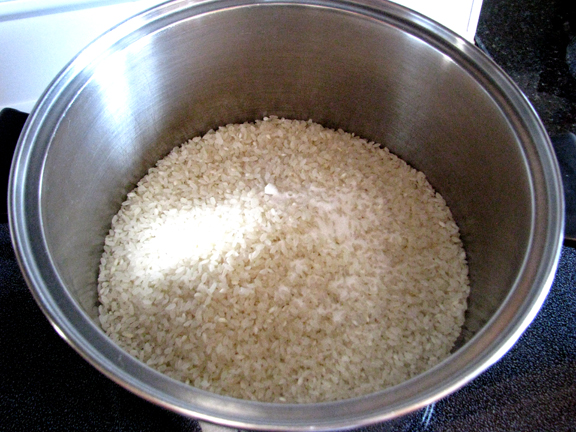 Bring 6 cups of water, 1/4 cup margarine,  and your 3 cups of short grain rice to a boil and simmer until cooked.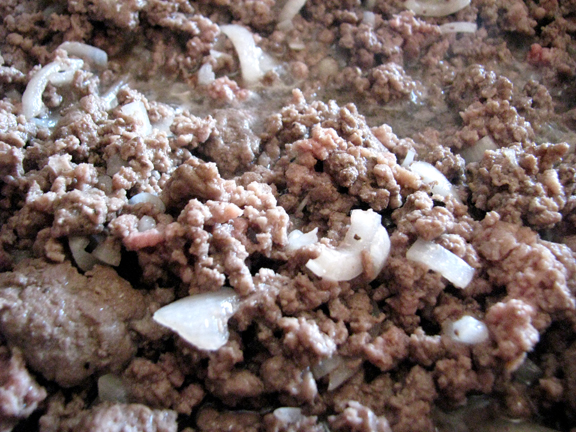 While your rice is cooking, brown your ground beef with 1/2 of your onion chopped.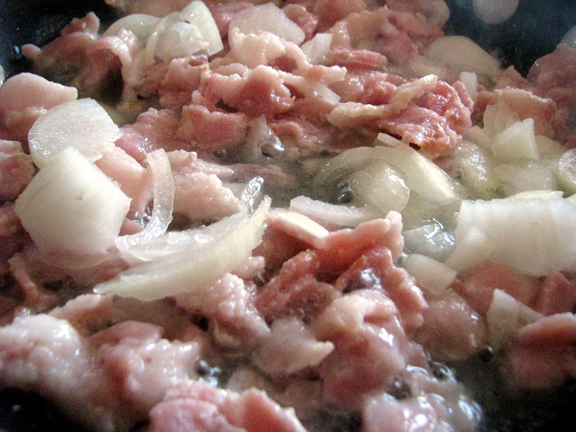 While that is going you might as well brown your bacon along with 1/4 of your onion chopped.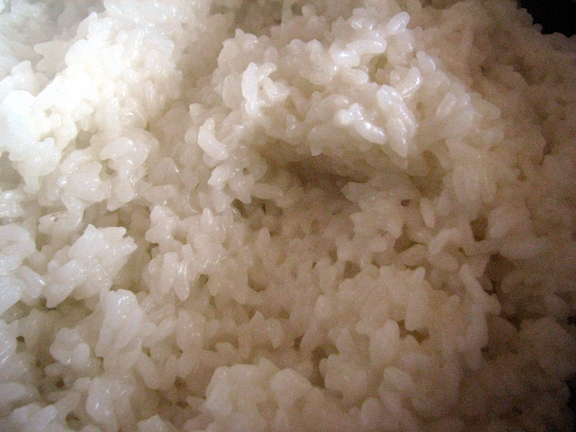 Keep your cooked rice in the large pot.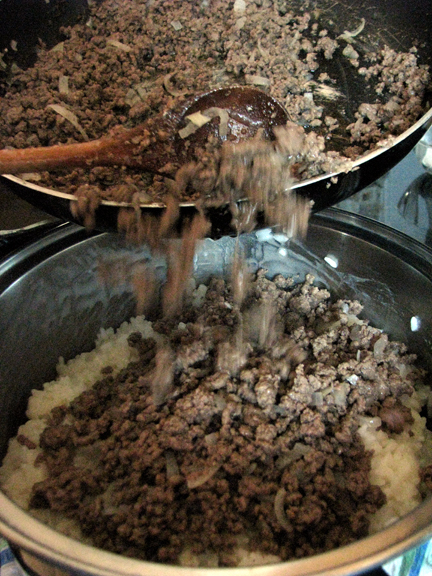 When your ground beef and onions are cooked, mix in with your white rice and set aside.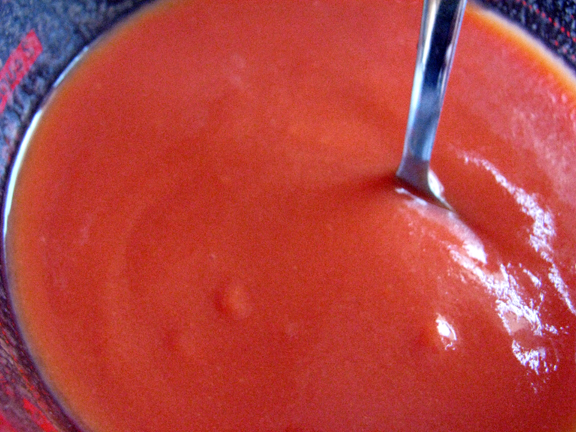 Mix your can of tomato soup with 1/2 cup water and set aside.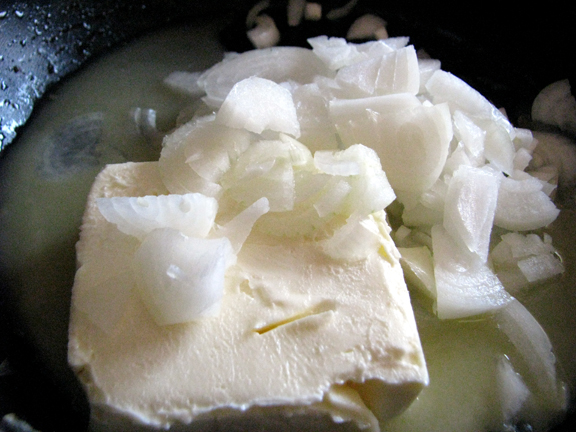 Next step, bring out the margarine (or butter) and melt with your remaining 1/4 onion chopped.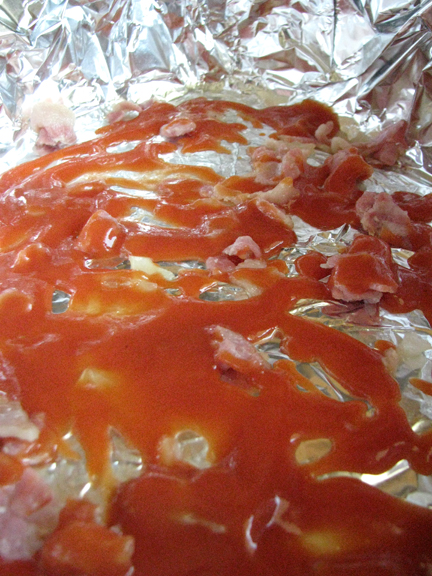 Lay aluminum foil on the bottom of a large casserole dish and spoon one layer of your tomato soup, bacon and onion mixture.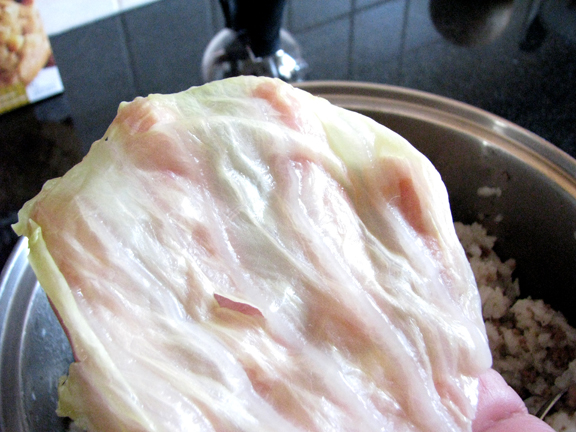 Now comes the fun part.
Take a cabbage leaf (roughly the size of your hand) and lay it flat.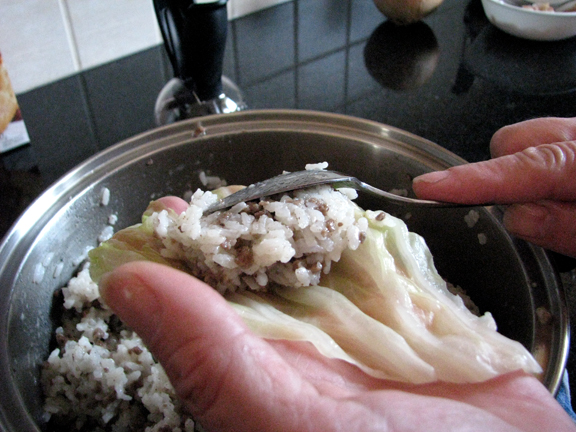 Take a small spoonful of your rice and beef mixture and place it on the top 1/3 of the cabbage leaf.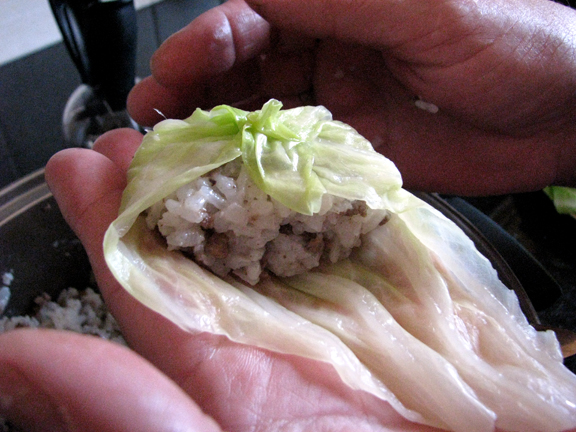 Begin to fold the edges over the rice/beef mixture. Seriously, this looks a thousand times easier than it is (at least for me!)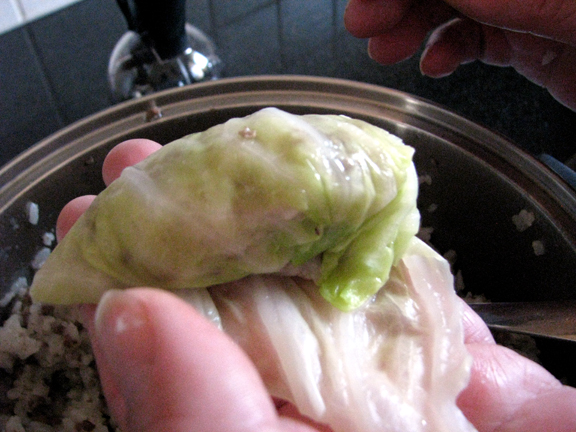 Shape and roll the cabbage leaf and rice/beef mixture to the bottom.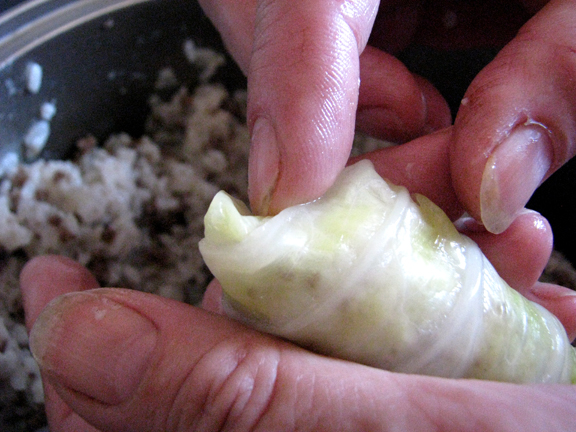 Tuck in both edges of the cabbage roll like so.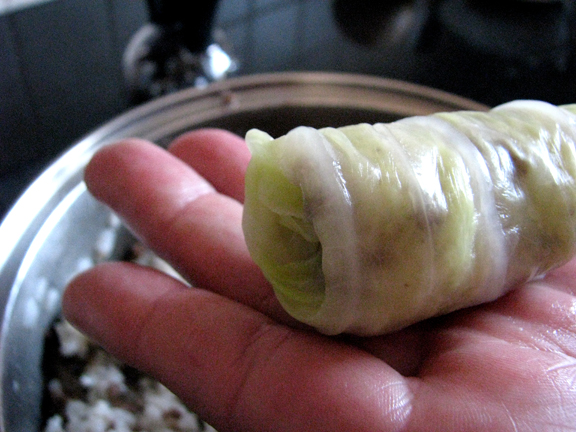 Viola!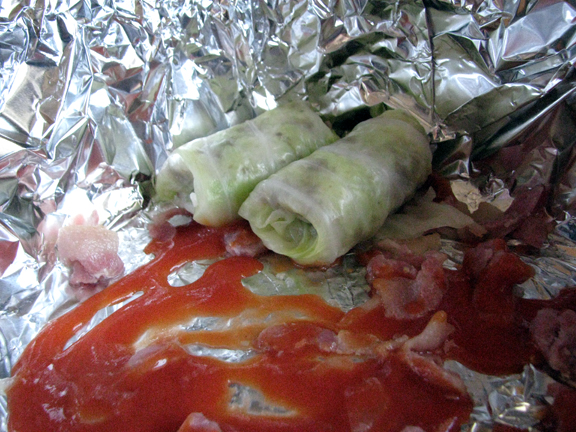 Place in your casserole dish.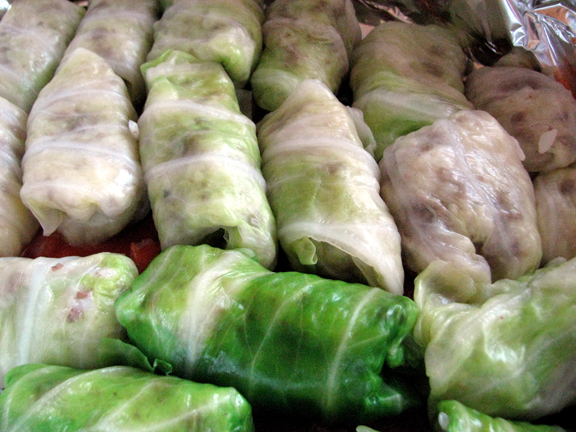 In ten minutes time, (or 30 minutes time if you're me), you have two nice layers of cabbage rolls in your casserole dish.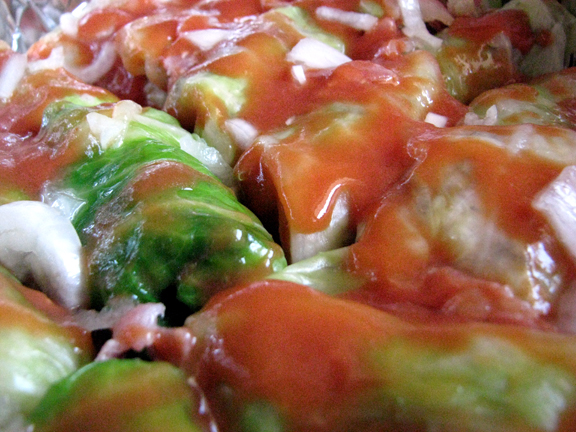 In between the first and second layer, and on top of the second layer, add more tomato soup mixture along with bacon and onion.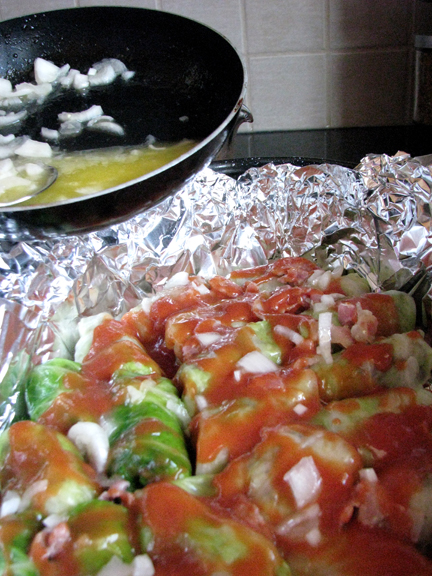 Remember that margarine (or butter) and onions we melted?
Pour it over the two layers of cabbage rolls.
Amazing.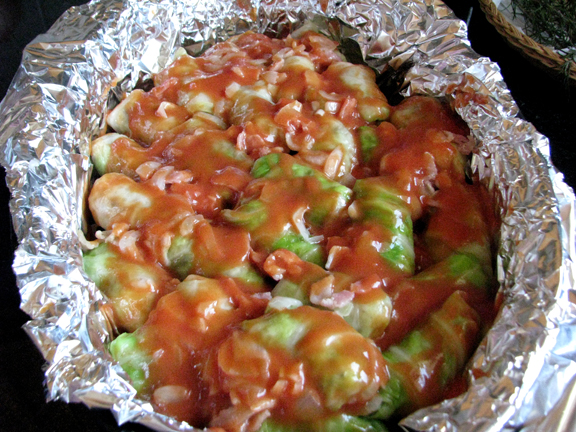 Lookin' good!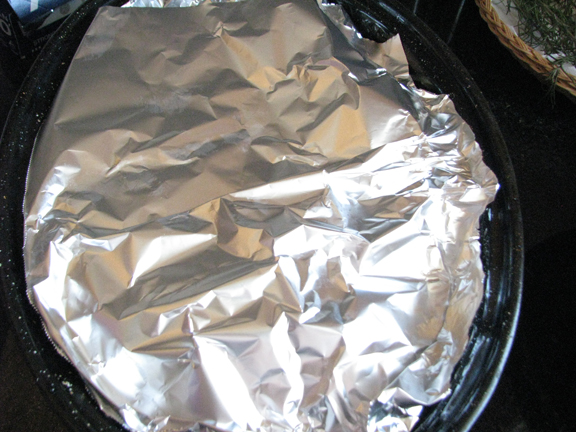 Cover second layer with a few remaining cabbage leaves and place foil over top.
Bake in a 325 F oven on the middle rack for approximately 3 hours or until cabbage is soft.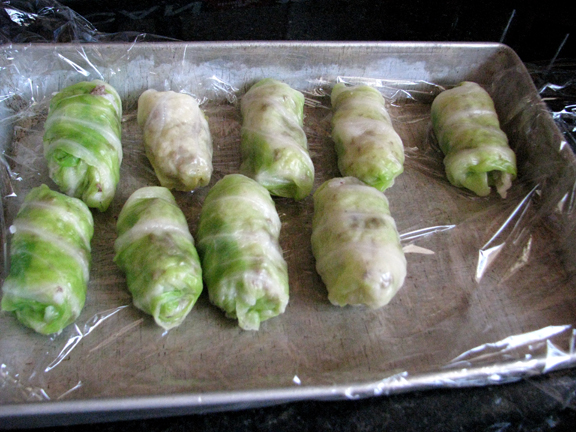 One thing Claudia requested I mention (besides the fact that she is a thousand times better at rolling cabbage rolls than I will ever be) is that you can also freeze cabbage rolls and cook them at a later date. We do this often.
Place uncooked cabbage rolls on a baking pan lined with plastic wrap. Wrap thoroughly and freeze up to a few months.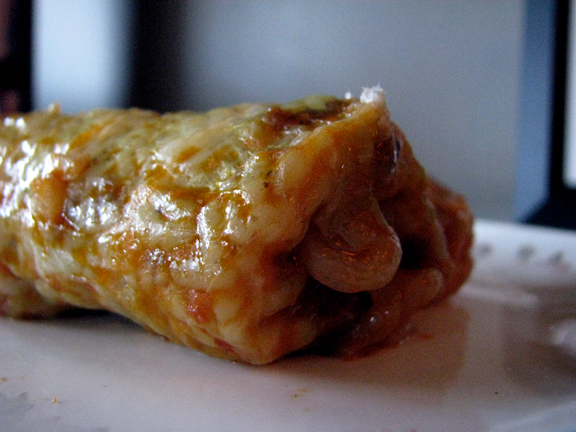 Remove from oven and enjoy!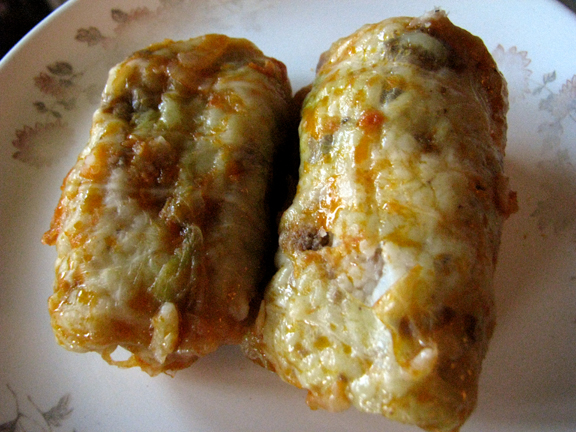 You might as well have two.
You know you want to.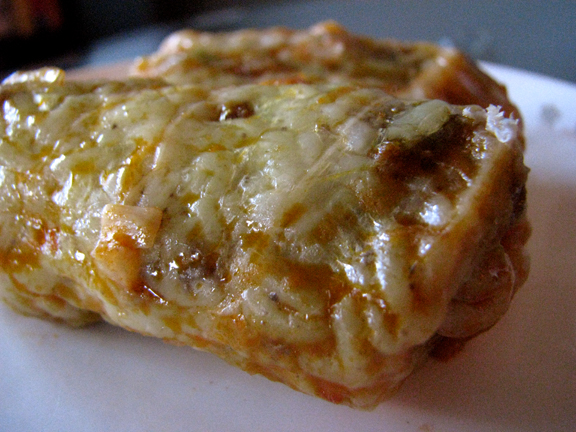 From our Ukrainian house to yours.