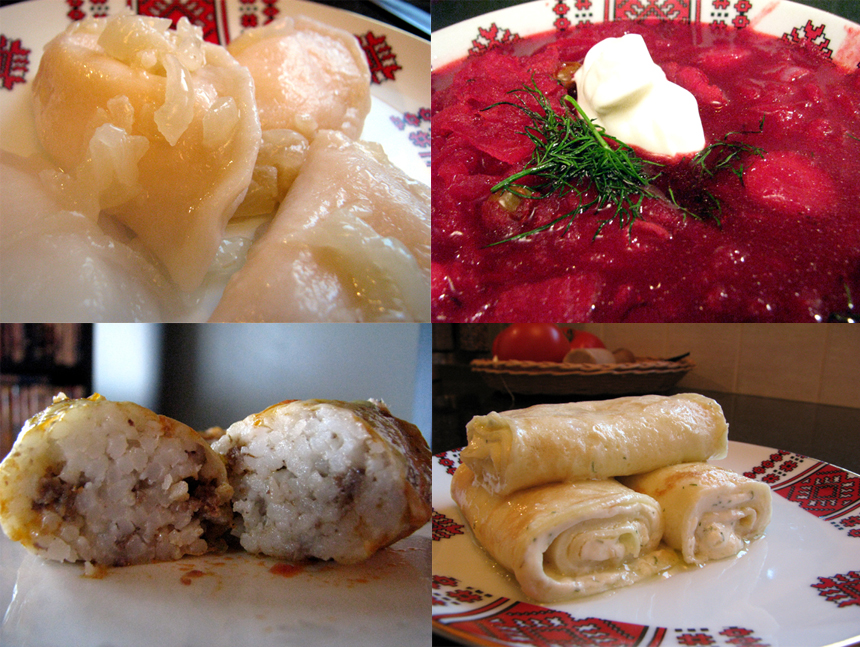 Ukrainian Orthodox Christmas is celebrated on January 7. It is tradition that on Christmas Eve (or "Sviaty Vechir") 12 meatless dishes are prepared as it mimics the Nativity Fast, which no meat, eggs or milk (including cheese) are allowed during the supper. Only fish, mushrooms and various types of grain are allowed as the main offerings.
In our family, we cheat on the cheese, milk and eggs content of our Christmas Eve dinner but still abide by the "no meat" rule with the exception of fish. We have previously blogged about four traditional Ukrainian dishes that we always have on Christmas Eve and would like to highlight them again.
Top left: Perogies – We posted these the week of Christmas and they are by far the most commonly made traditional recipe in Claudia's cookbook. They can be made with many different filling selections are are by far my ultimate comfort food.
Top right: Borsch – This "Beet Soup" can be made with meat or meatless. I have always preferred the vegetarian variety. It's hearty, warm and perfect for those winter evenings
Bottom left: Holopchi – Better known as "Cabbage Rolls", these little darlings are can also be made with or without bits of ground beef in them. Sticky rice wrapped in a steamed cabbage leaf,  topped with tomato soup, butter and onions. You simply cannot go wrong with this recipe.
Bottom right: Nalysnyky – Delicious Ukrainian-style cheese crepes which are super savoury and rich. This was our very first blog post which makes the recipe near and dear to my heart.
Stay tuned to our blog as we soon celebrate Ukrainian Christmas and share with you yet another traditional recipe. One hint – it's Claudia's absolute favourite!