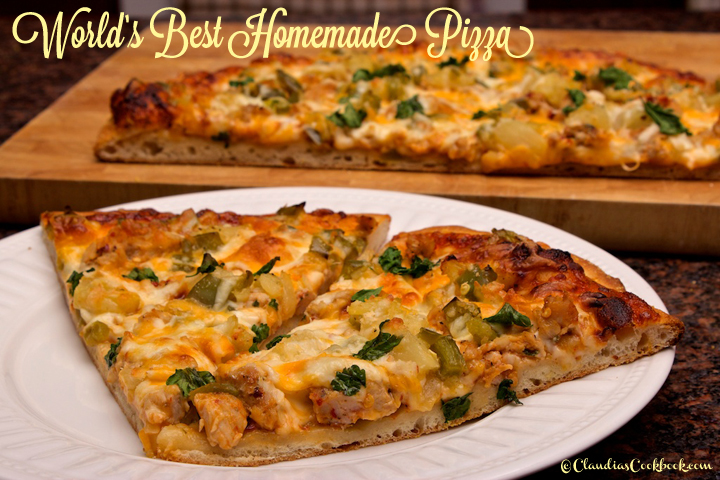 First things first – I am back from visiting Claudia in Arizona and I didn't get the flu. High five! If you follow our Facebook Page you would already know I went to town at Trader Joe's yet again. So much chocolate, so little time. The cashier even made the comment, "You got a sweet tooth, don't ya?!". I just nodded at her with a perma-grin on my face. I'm fairly certain she thought I was insane. That's cool, I had a basket full of chocolate to keep me sane on these cold Winnipeg nights. I actually already devoured my 1 bag of Ruggedly Adventuresome Cowboy Bark and have put in a request for Claudia to return home with a couple more for me. Yes, I'm obsessed. I may even try to replicate it. Stay tuned on that.
My fiancé and I have been making this pizza recipe for years. I honestly feel like it is the best pizza on the planet. Hands down. I'm not being biased either. I try to like other pizzas, especially when I go to Chicago and try their glorious Deep Dish pizzas. Somehow, I always manage to crave this one we make at home. The dough is so easy to make. I've tried tons of different dough recipes, and I always end up coming back to this simple one. I cannot stress enough – the key is using Bread Flour. Regular All Purpose Flour simply does not work as well. Trust me. It makes a huge difference. The crust turns out soft but has a perfect level of crunch to it. It's not too thick and not too thin. It's absolutely perfect. It's seriously the World's Best Homemade Pizza. I'm featuring the toppings that we love and put on our homemade pizza each time, but feel free to play around with your favourite meats and veggies as well.
You will need: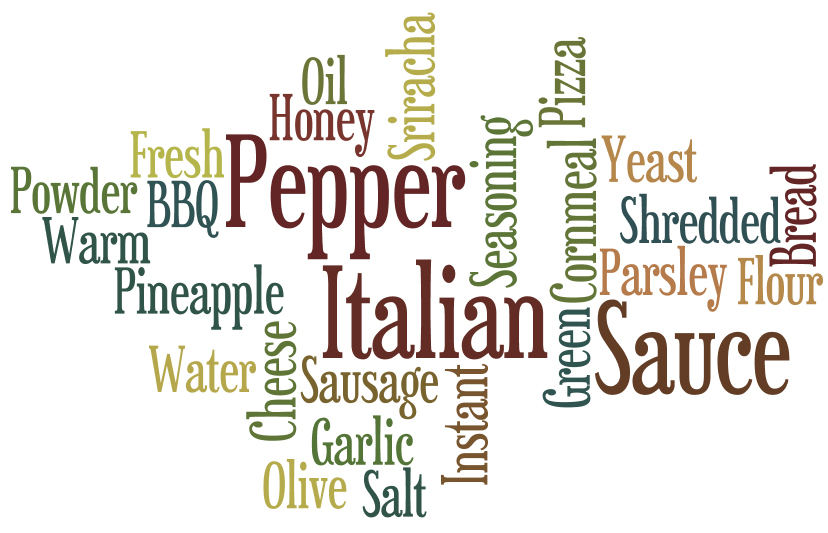 For the Pizza Dough:
1 package (2-1/4 tsp) instant active dry yeast
1 cup warm water (105-115 degrees fahrenheit)
1 tbsp. liquid honey
2 .5 cups bread flour (must be bread flour!)
2 tbsp. olive oil, divided
1 tsp. Kosher salt
2 tbsp. cornmeal
My favourite toppings:
1 green pepper, finely chopped
3/4 – 1  cup of chopped pineapple (I always use canned. Ensure you drain the juice)
250 grams ground Hot Italian sausage
2-3 cups shredded cheese (use your favourite – I use Kraft Light Tex Mex Shredded Cheese)
1 handful fresh parsley, roughly chopped
For the Best Pizza Sauce: 
1/3 cup pizza sauce (I use store bought)
1/3 cup BBQ sauce (Use your favourite – I use honey BBQ flavoured usually because it goes nicely with the pineapple)
1.5 tsp Sriracha Sauce
1 tbsp liquid honey
1 tbsp lgarlic powder
1 tbsp Italian Seasoning
Salt and pepper to taste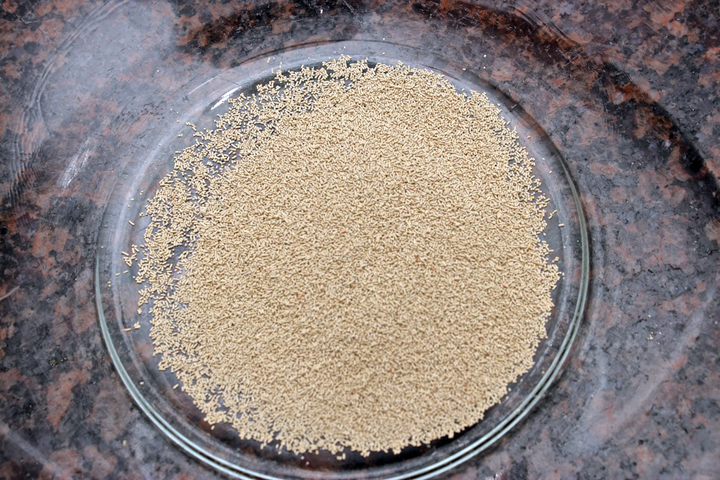 Let's start by making our super easy pizza dough.
Place your yeast in a large bowl.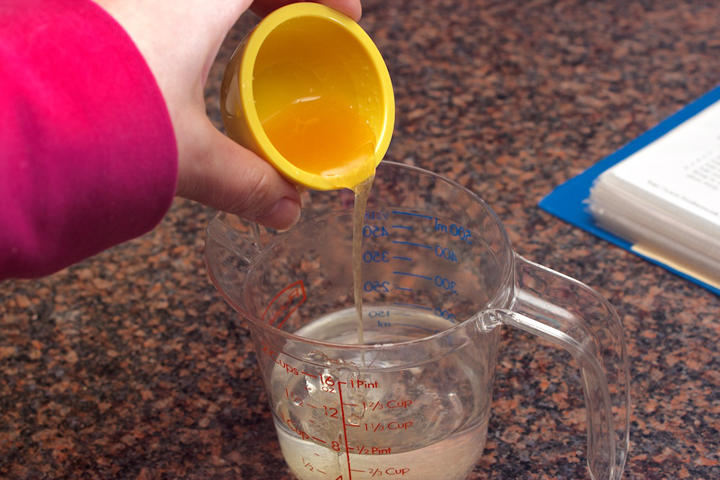 Combine warm water and honey.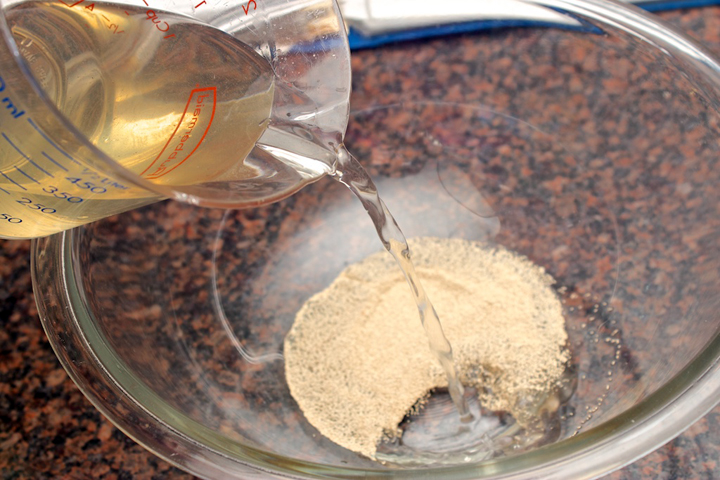 Pour water and honey over yeast.
Let it sit for 5 – 10 minutes, until mixture is foamy.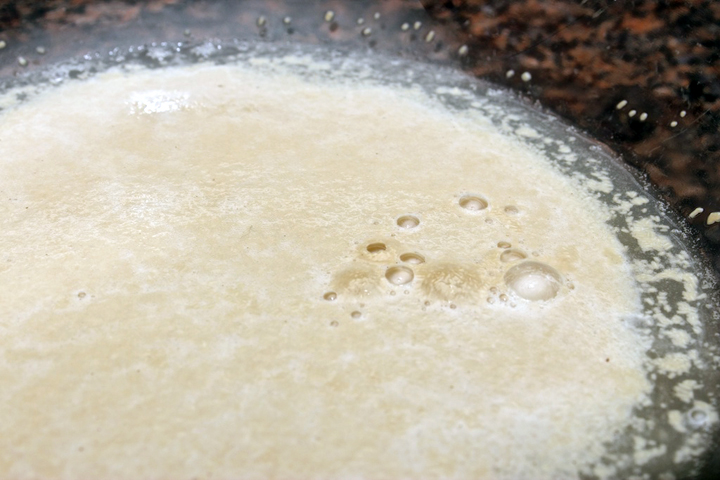 Should look like so.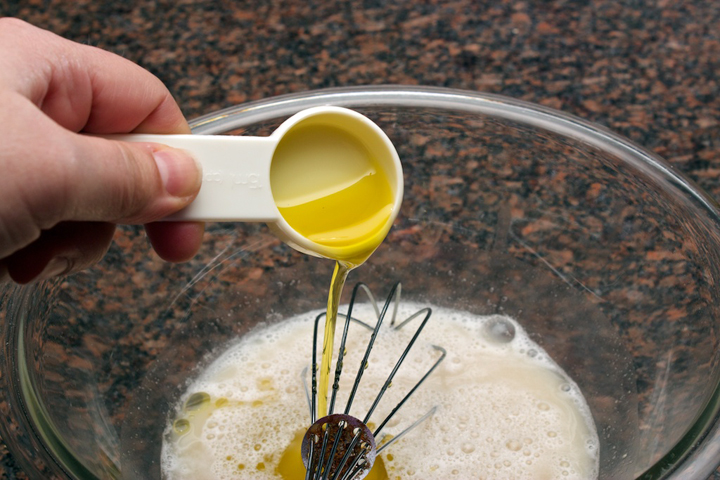 Add 1 tbsp of olive oil to the foamy yeast mixture.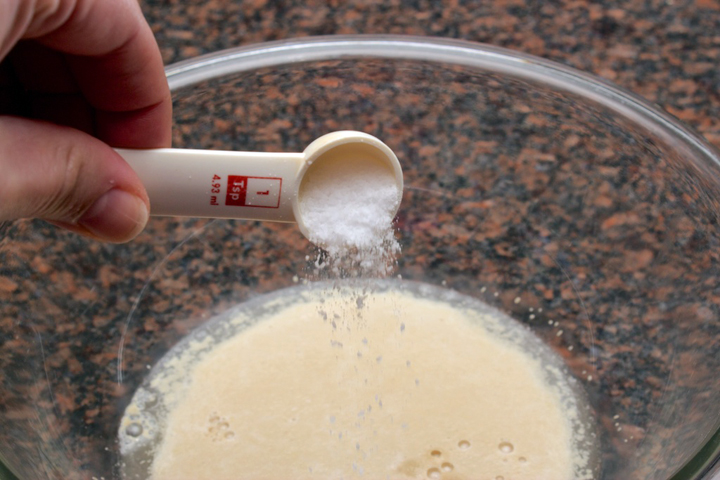 Next, add your salt.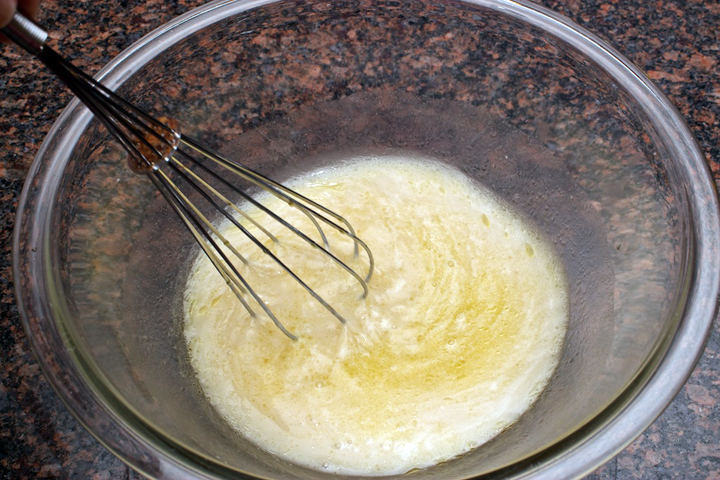 Mix well with a wire whisk.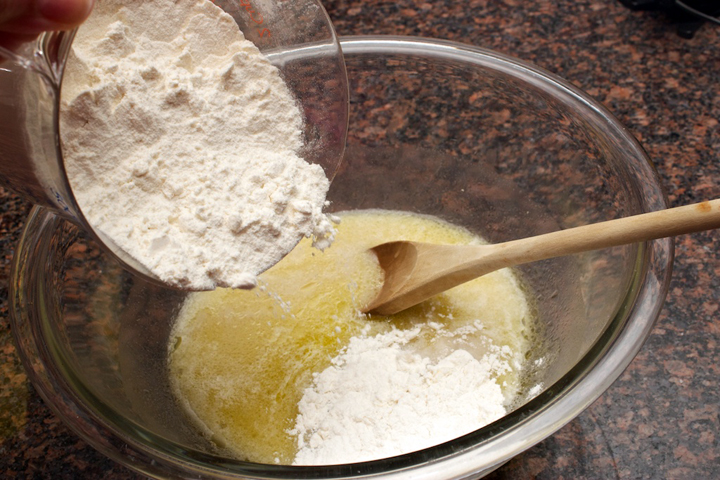 Add 1 cup of bread flour at a time to the liquid.
Using a wooden spoon, stir until smooth.
Add a second cup of flour mixture and continue to stir until dough forms a soft, sticky mass and comes away from the sides of the bowl.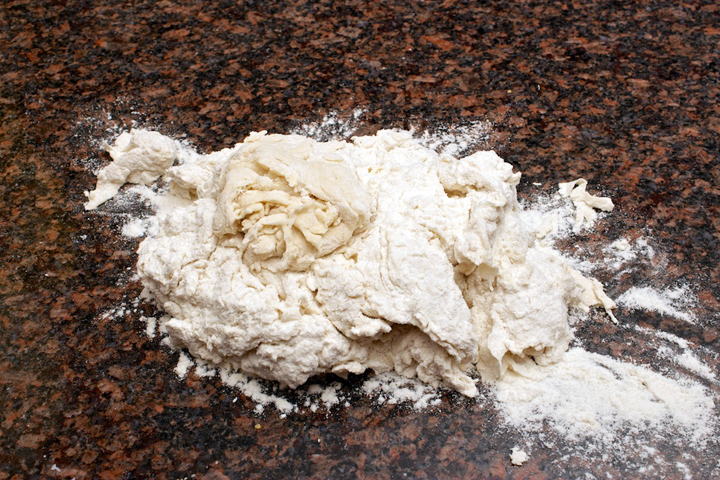 Flour your work surface and hands. Turn dough out of the bowl onto your floured surface.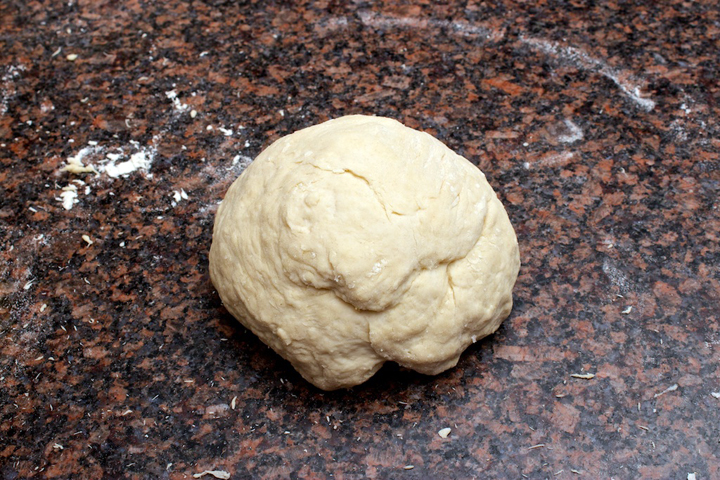 Knead until the dough is elastic and smooth.
Don't worry if you don't use up all the flour. Most of the time there are some scraps left that don't incorporate well.
Shape dough into a ball.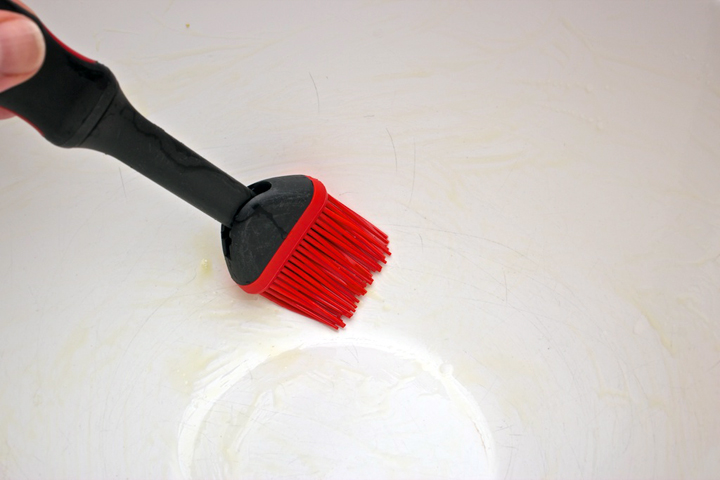 Brush your 1 tbsp on the inside of a large bowl. This will prevent the dough from sticking to the sides when it rises.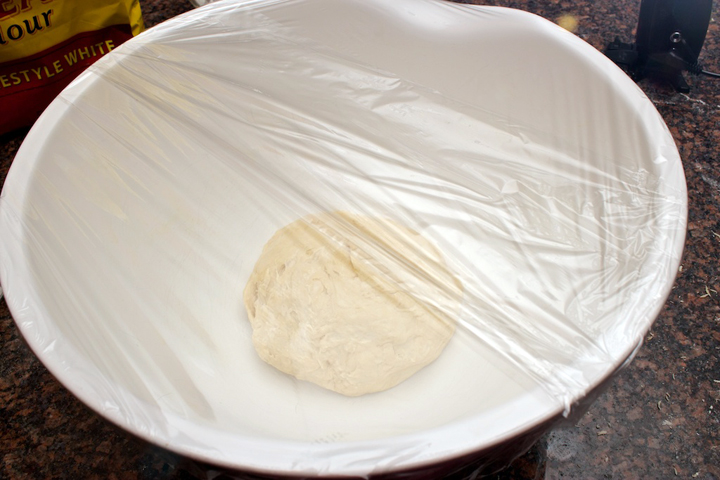 Place your dough ball inside and cover with plastic wrap.
Let it rise in a warm place for 45 – 60 minutes until it doubles in size.
A handy trick – I turn my oven on to the lowest temperature and then shut it off. I place the bowl inside the warmed oven. This works very well, especially in the winter when your house is cooler.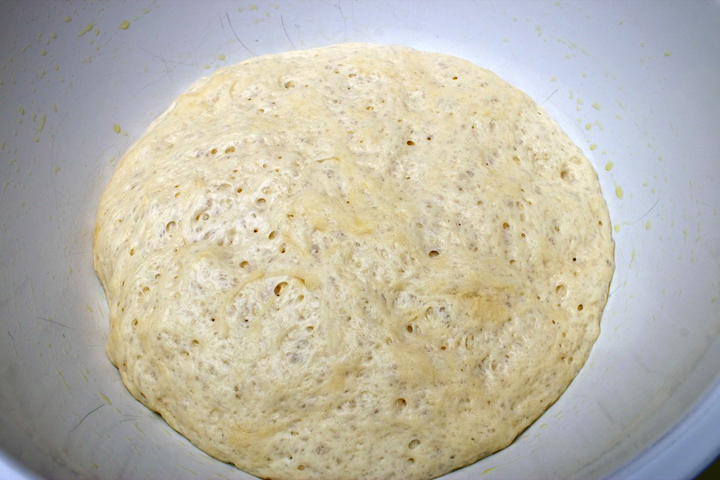 Here is what your dough should look like after it has doubled in size.
 It should be very soft and sticky.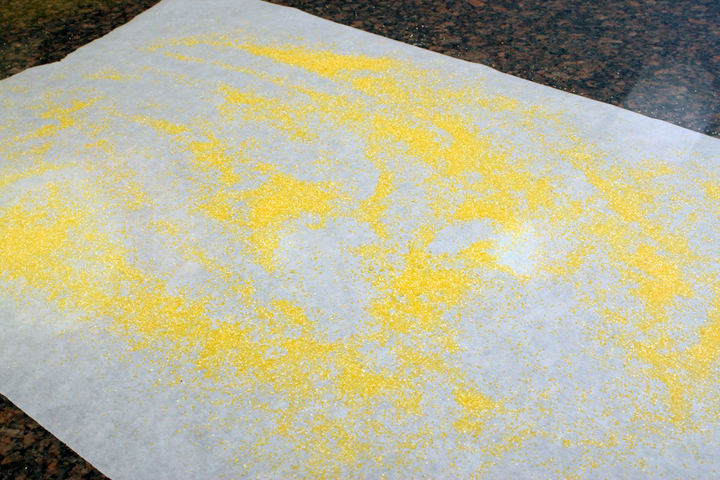 Now this next step is for those who use a pizza stone.
I HIGHLY recommend using a pizza stone for homemade pizza. It distributes the heat evenly and gives you a soft, yet crunchy crust. It's amazing.
Roll out a sheet of parchment paper, just larger than the width of your pizza stone handles.
Sprinkle your cornmeal onto it.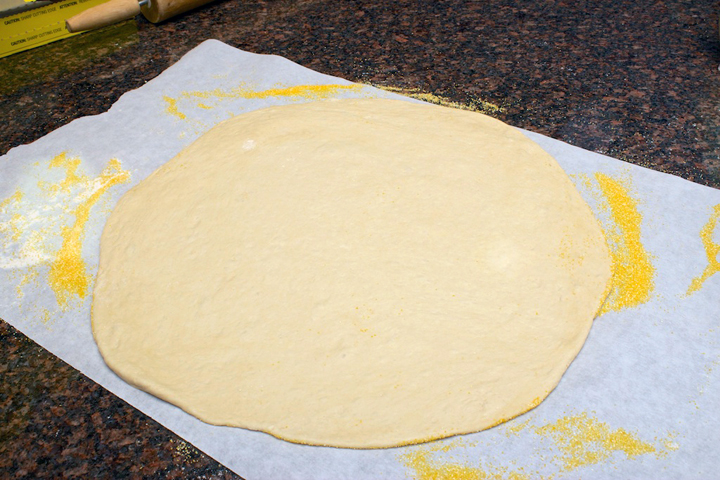 Roll out your dough onto the parchment paper.
Sometimes the dough is soft enough to simply use your hands. Most of the time I use a rolling pin that is sprinkled with flour.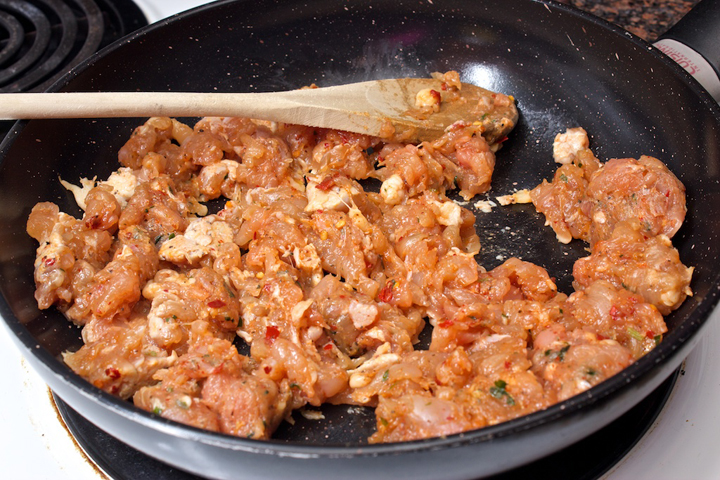 Next, cook your toppings.
Brown any meat that you are using as your topping. Again, I absolutely love ground hot italian sausage. Try to leave as much fat as you can from the meat in the pan so you can sauté your veggies in it.
Scoop meat out of the frying pan and place in a dish and set aside.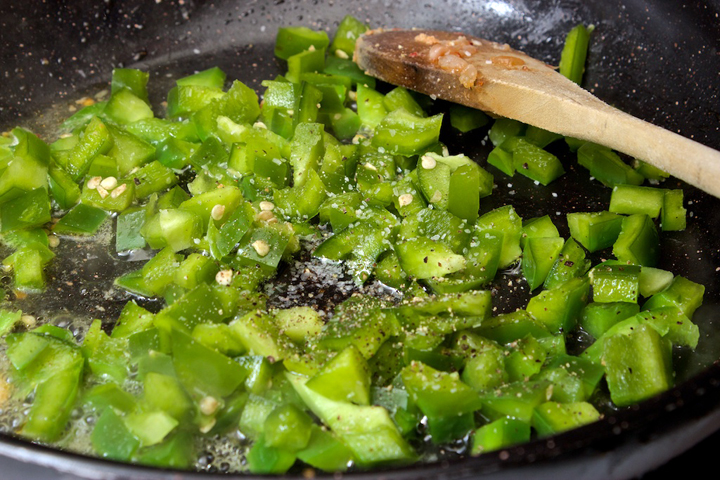 Next, cook your veggies.
Since I love green pepper and pineapple on my pizza, I sauté the chopped green pepper in the same frying pan as the meat. Sprinkle with salt and pepper to taste.
Sauté on medium heat until it softens, about 3-4 minutes.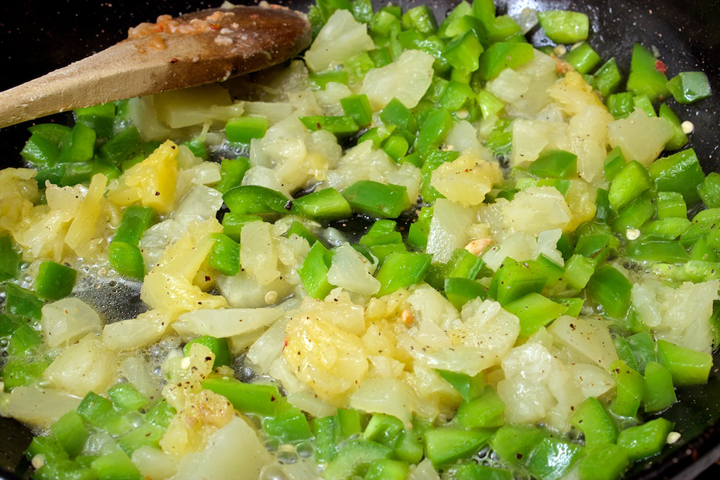 Next add any softer veggies (or fruit I suppose), like Pineapple.
Saute Pineapple for 2-3 minutes – just to get it warmed through.
Scoop veggies out of the frying pan into a dish and set aside.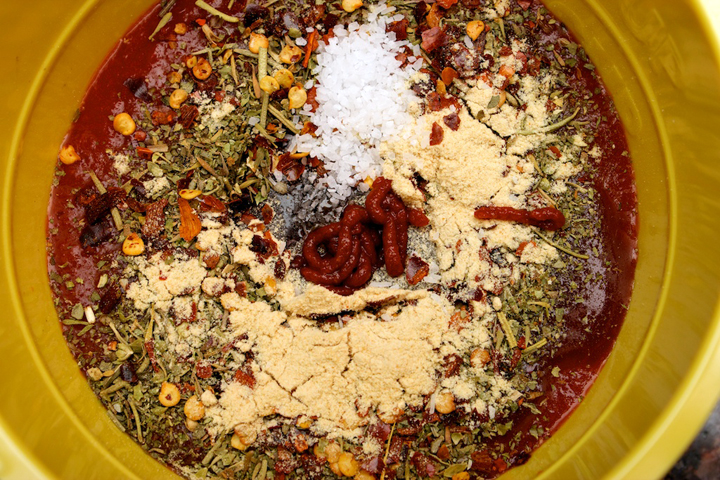 Now, let's make the World's Best Pizza Sauce! It also happens to be the simplest sauce as well.
Combine all your sauce ingredients in a small bowl.
That's it!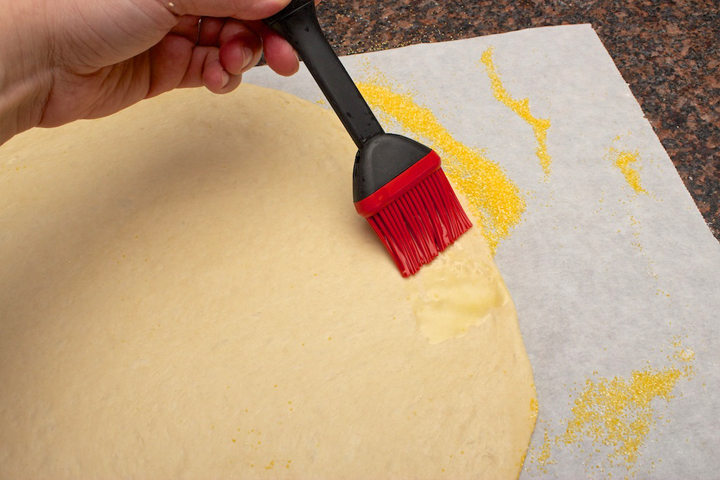 Next, you want to preheat your oven to 450 degrees fahrenheit with your pizza stone inside of it.
The key to an evenly baked pizza, is an evenly warmed pizza stone. It definitely needs to be preheated!
Now back to your delicious pizza dough.
When you are ready to assemble your pizza, brush some olive oil along the entire edge of the pizza. This helps crisp up the crust and makes it a nice golden brown.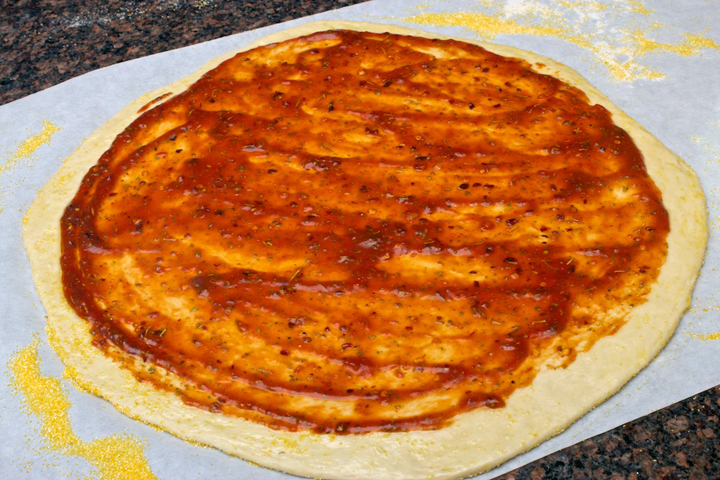 Spread your pizza sauce over your entire pizza dough.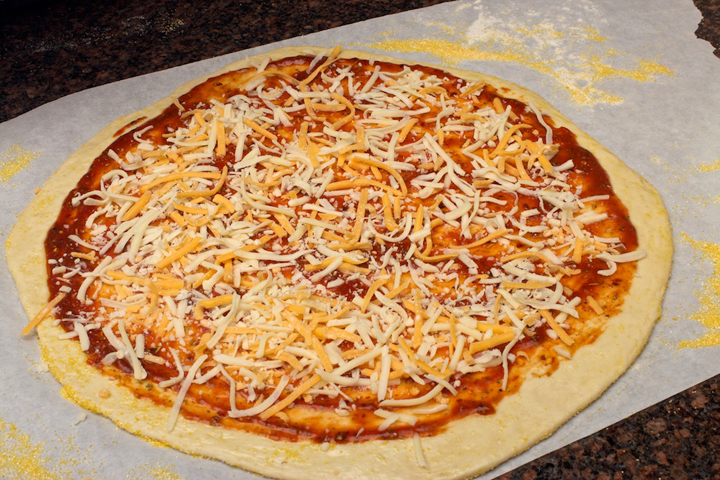 Now, I'm a fan of cheese. I like to sprinkle approximately 1 cup of cheese directly onto the sauce.
Call it my secret ingredient?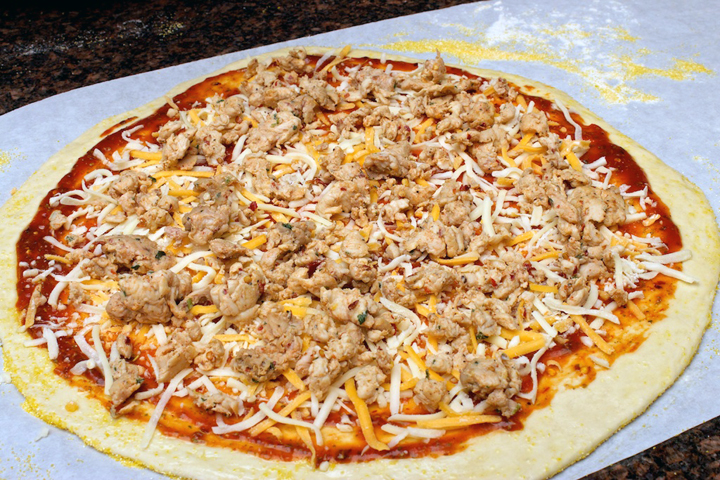 Next, layer any meat you cooked onto the dough.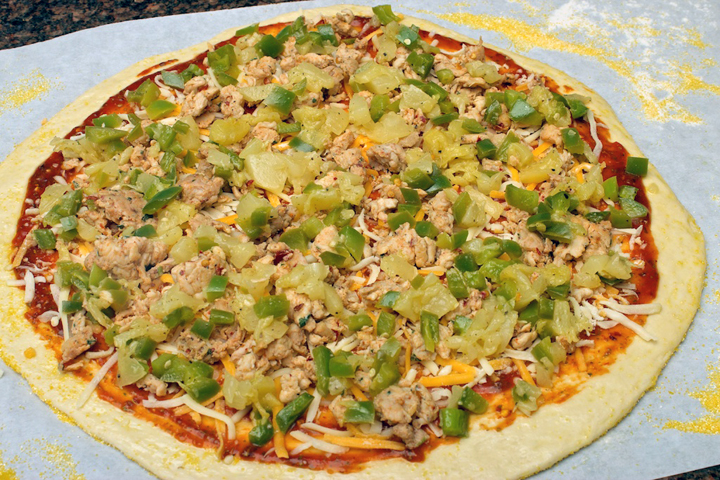 Next, add your sautéed veggies.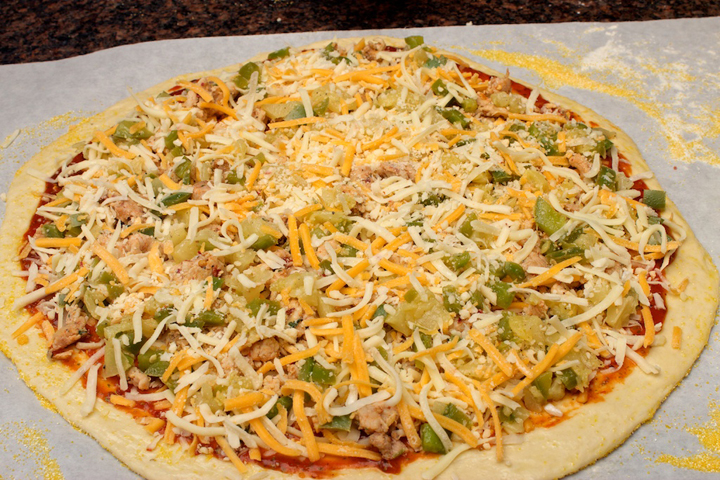 Top with the remaining cheese, as much or as little as your little heart desires.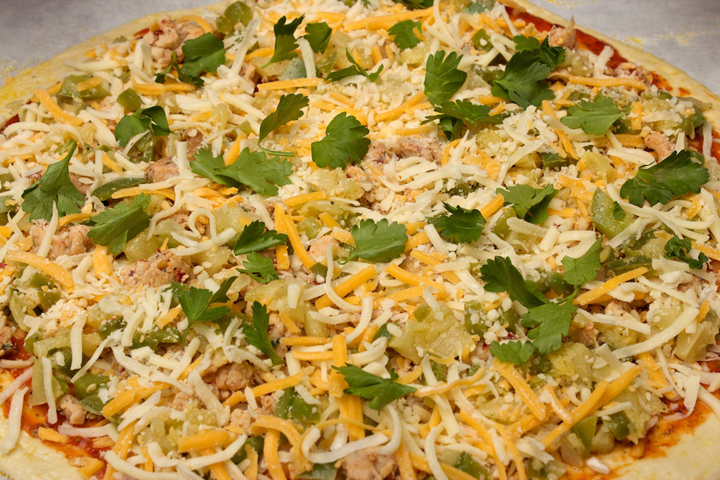 Finally, I like to top pizza was some fresh parsley.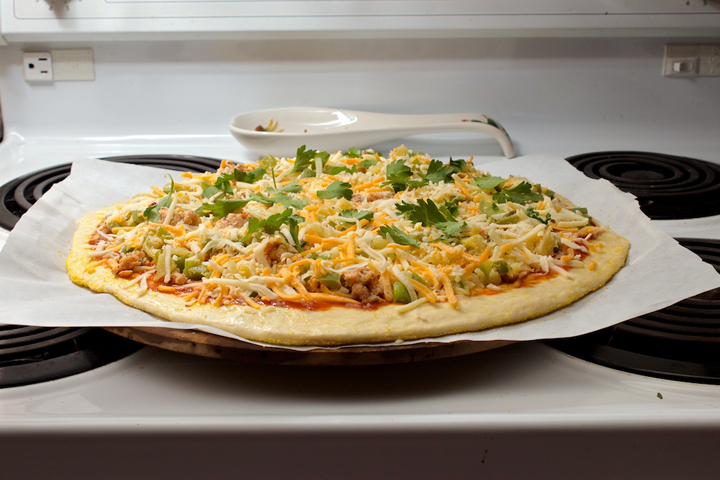 Now here's the tricky part. Remember your pizza stone heating up in the oven? Now it's time to do something with it.
I don't have any fancy gadgets in the kitchen to move pizza from the counter to a hot stove.
You can either slide a cutting board underneath the parchment for transfer, or you can find a friend to take one side of the parchment paper and you the other. That's what I do to transfer the parchment paper/uncooked pizza from the counter to the hot pizza stone.
It isn't sexy, but it works.
Place pizza into the oven and continue to bake at 450 for approximately 10 minutes, or until your crust is golden brown and your cheese is bubbling.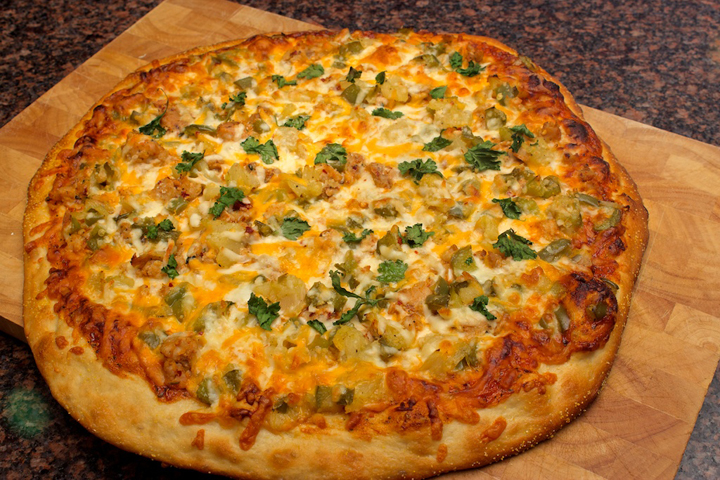 Remove pizza from pizza stone and parchment paper and place onto a cutting board or cutting surface.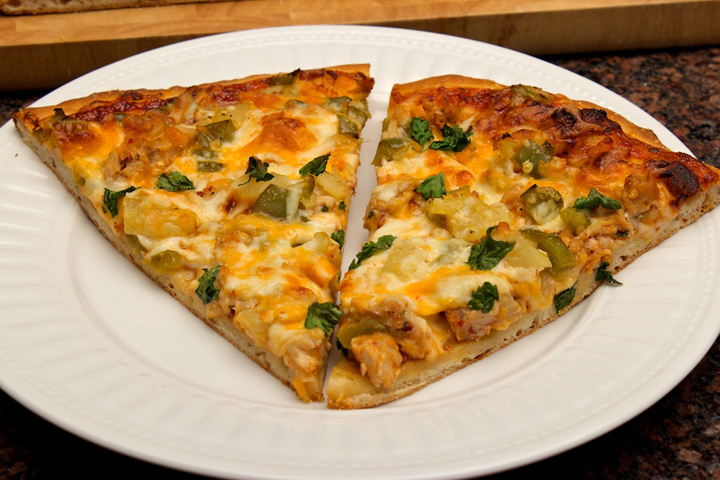 Allow to cool for a few minutes before you cut up into slices.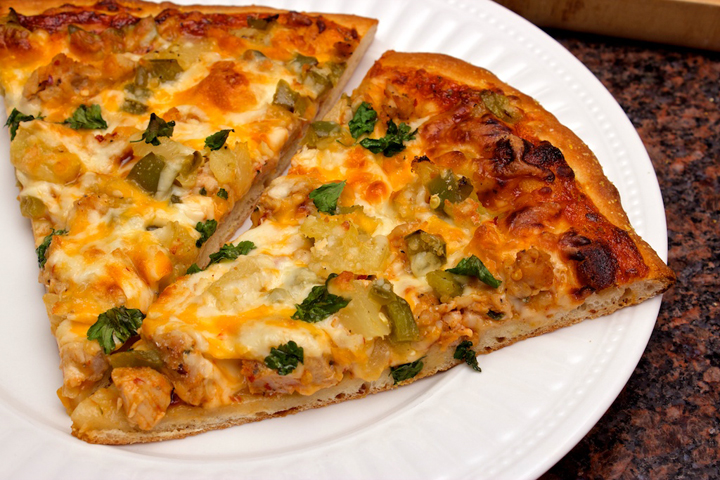 This dough recipe gives you one large pizza – I always end up with 8 very large slices!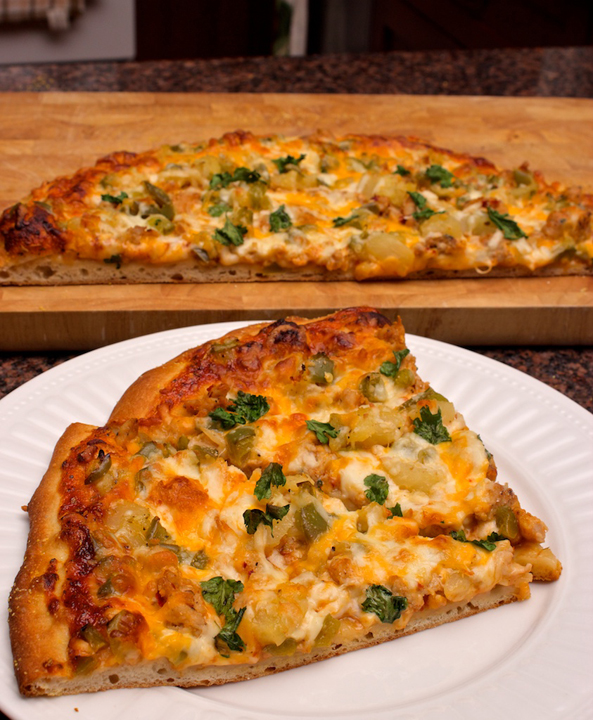 The crust is not too thick and not too thin.
It's absolutely perfect.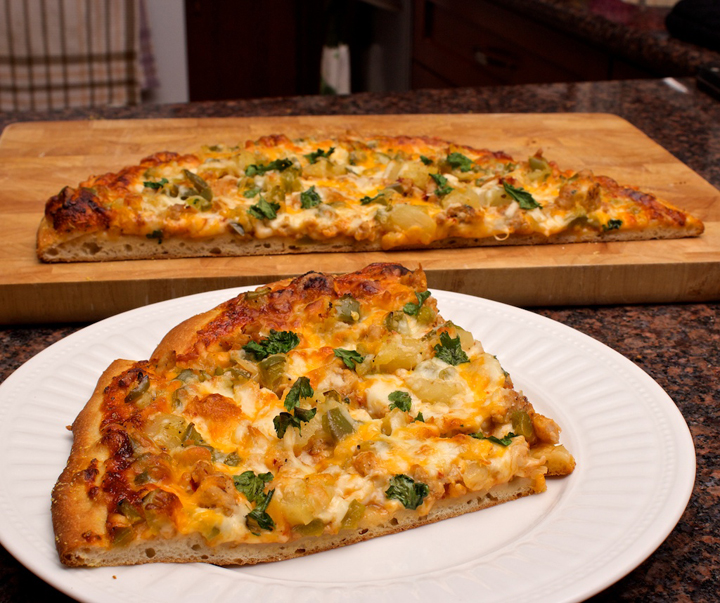 Super soft and full of delicious flavour. You will never go back to store bought pizza again – I promise.
Great, now I want pizza.
Enjoy!