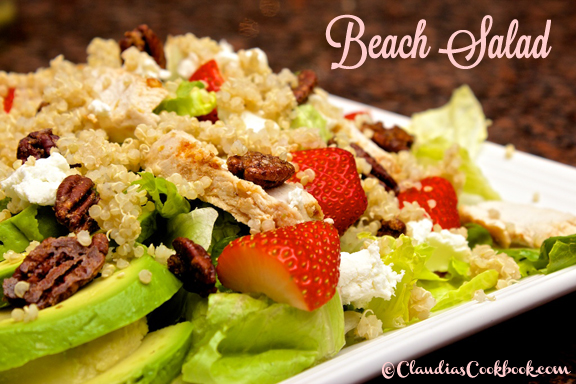 Why, hello 2014. It's a pleasure to meet your acquaintance. I have big plans for you 2014…big plans. I didn't really wait for the new year to start cleaning up my diet. I decided to start eating healthier a few weeks before Christmas. Yeah, that was awesome. I wasn't tempted by luscious Christmas candy and chocolate AT ALL. I figured if I could survive the holidays, I could survive anything. One thing I learned along the way is that healthy food actually tastes pretty darn fantastic. The key is to combine flavourful ingredients. Spices and texture are also extremely important.
One day last week while I was out shopping with a friend, I found myself craving one of my favourite restaurant salads. Yes, you read that right. Not a burger, not a cupcake, but a SALAD. I rushed home and decided to try to recreate it in my kitchen. I was so happy with the results that I had to share it. This salad has the perfect combination of sweet with the juicy strawberries and crunchy candied pecans; and also has awesome creaminess with the avocado and goat cheese. Not to mention, hearty elements like quinoa and grilled chicken. This salad is amazing on its own or tossed with this delicious Lemon Poppy Seed Dressing. I made a big batch of quinoa and candied pecans, grilled up a couple chicken breasts and enjoyed this salad a couple days in a row. It seriously makes clean, healthy eating easy.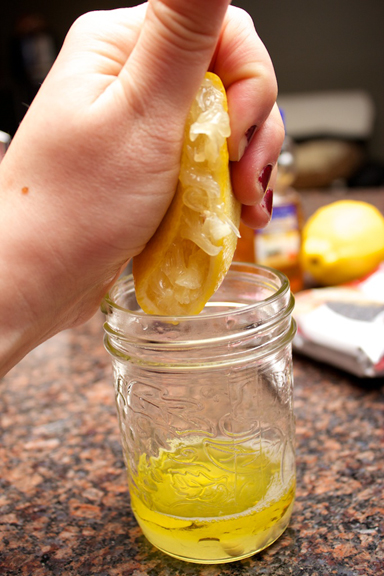 Let's start by making the Lemon Poppy Seed Dressing!
In a small jar or bowl, combine olive oil and lemon juice.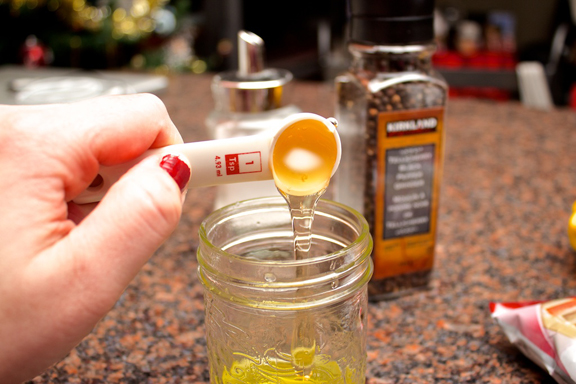 Next, add your honey.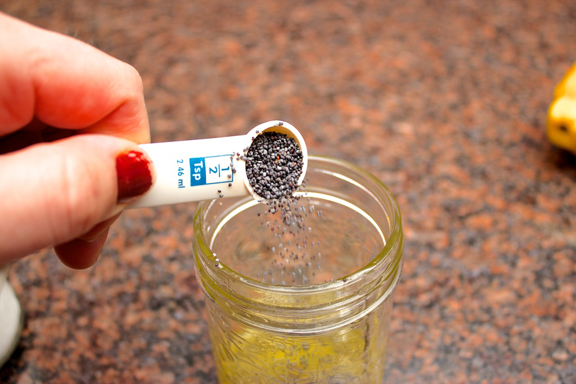 Then add your poppy seeds, salt and pepper.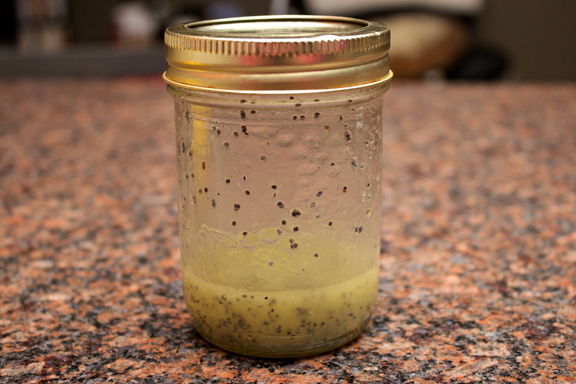 Shake it up until completely combined.
Set aside.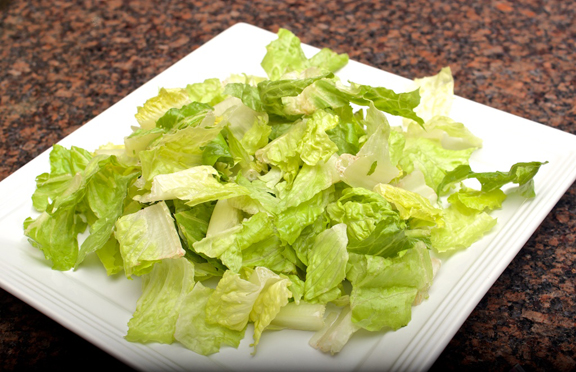 Assemble your greens on a large plate or bowl.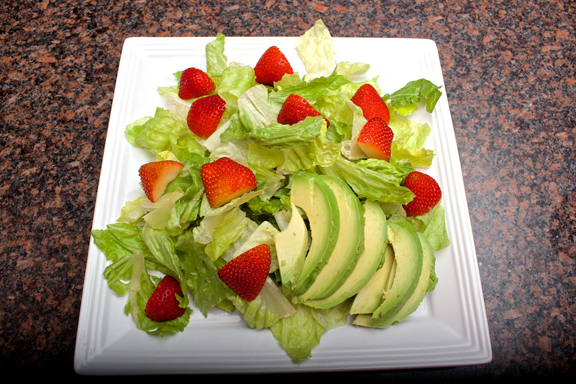 Place your sliced strawberries and avocado onto the greens.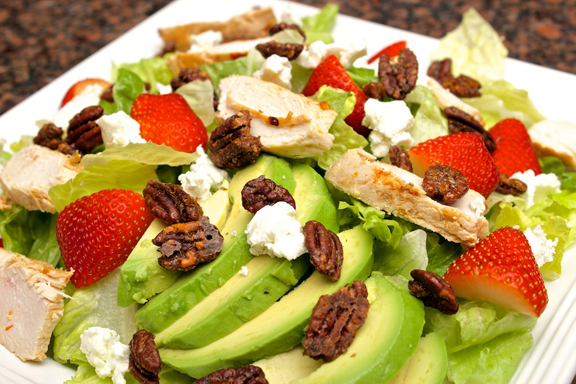 Next, add your delicious candied pecans, chicken and goat cheese crumbles.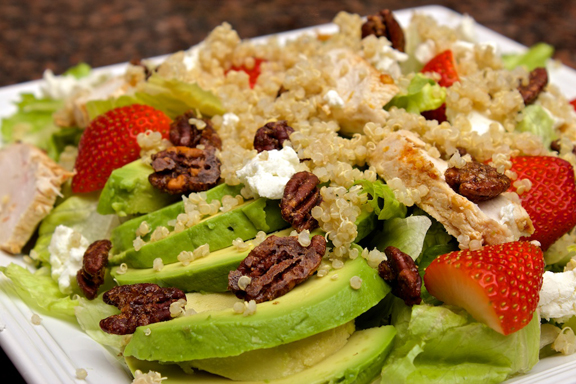 Finally, sprinkle on your cooked quinoa.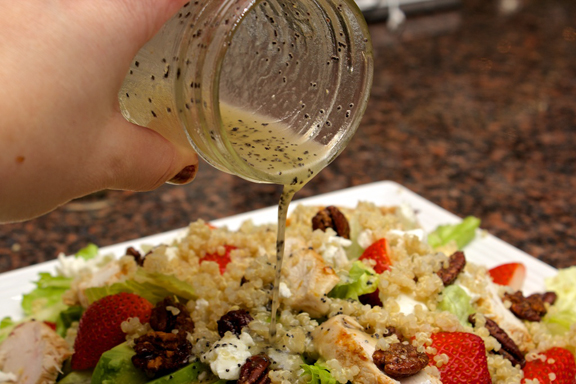 Drizzle on your delicious Lemon Poppy Seed Dressing.
I drizzle on the entire batch, but feel free to put on less.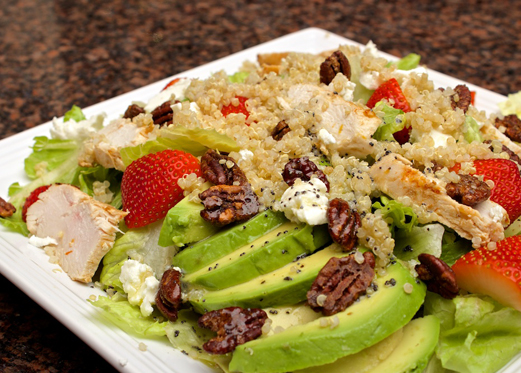 How unbelievable does this look?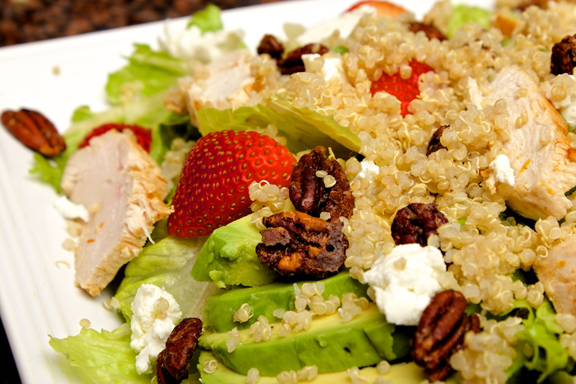 My favourite part is the candied pecans. And the avocado. And the goat cheese.
Okay, I love it all.
Enjoy!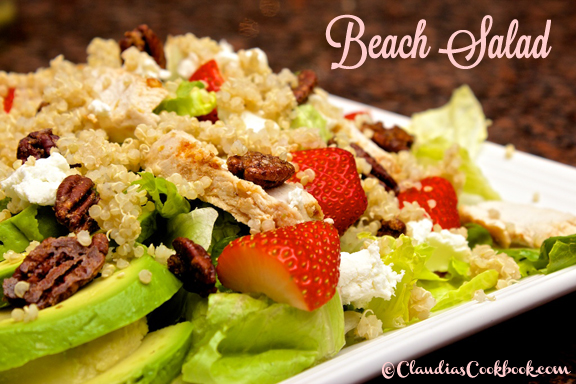 Beach Salad with Lemon Poppyseed Dressing
2016-01-05 19:09:57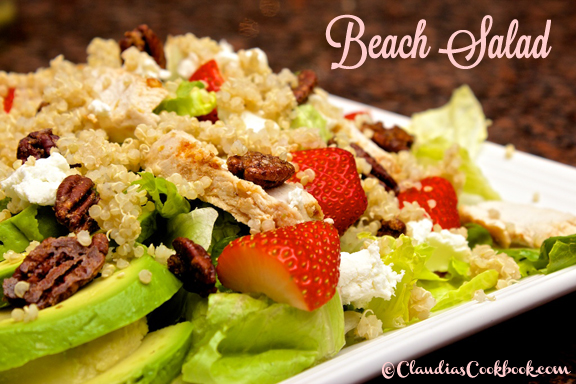 Serves 2
A healthy and delicious salad. Can me served on its own or as a side.
For the Beach Salad
2 cups greens (I used Romaine lettuce but you can use spinach or mixed greens)
1/2 avocado, peeled and sliced
1/2 cup fresh strawberries, sliced in half
1 grilled chicken breast, sliced into bite-sized pieces (I grilled mine in some olive oil, minced garlic and lemon zest for some extra flavour)
1/4 cup candied pecans (or regular if you don't have any that are candied on hand)
1/4 cup cooked quinoa, slightly cooled is best
1 oz. goat cheese, crumbled
For the Lemon Poppy Seed Dressing (pictured above)
2 tbsp olive oil
2 tbsp fresh lemon juice (about 1/2 a lemon)
1 tsp honey
1/2 tsp poppy seeds
1/8 tsp salt
1/8 tsp freshly ground black pepper
Start by making the Lemon Poppy Seed Dressing
In a small jar or bowl, combine olive oil and lemon juice.
Add your honey, salt, pepper, and poppy seeds. Mix well to combine. Set aside.
Assemble your greens on a large plate or bowl.
Add strawberries, avocado, grilled chicken, candied pecans, goat cheese and quinoa.
Drizzle on Lemon Poppy Seed Dressing.
Mix together and serve.
Adapted from Two Peas and Their Pod
Claudia's Cookbook http://www.claudiascookbook.com/