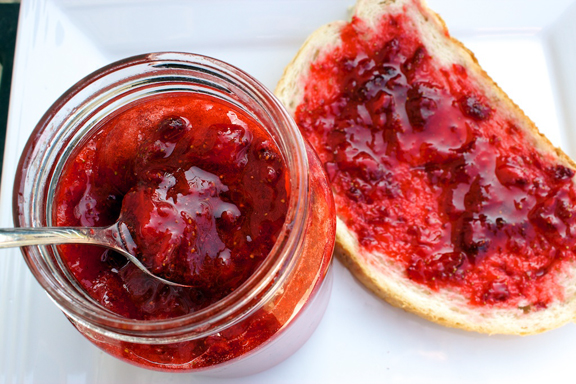 Strawberry season has arrived here in Manitoba. I love picking strawberries. As a kid, Claudia and her Mom (my Baba) would often take us strawberry picking outside the city. I had so much fun. Mainly because I ate more than I placed in the basket! There is nothing better than the taste of fresh fruit straight off the vine. When Claudia told me she was returning from a trip to Saskatchewan and was going to pick up some baskets of strawberries, I knew we immediately needed to make her recipe for Strawberry Freezer Jam that evening. This is by far my favourite jam on the planet. Friends who have tried it also agree. I actually learned while making this with Claudia last week that it's no family secret – it's literally the recipe from the Certo package! Regardless, it's beyond delicious. I much prefer the freezer no-cook jam version as opposed to the cooked version. It's also a lot easier to make.
To make 5 cups of jam, you will need: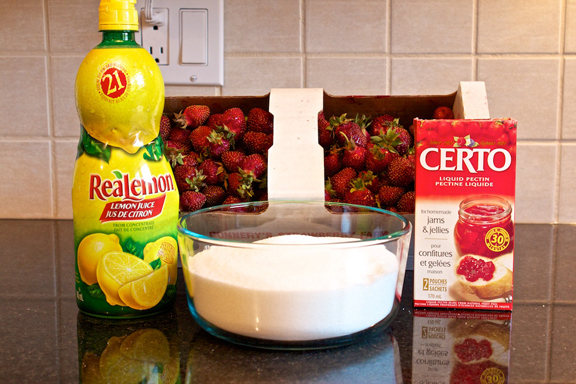 1-3/4 cups crushed strawberries
4 cups white sugar
1 pouch liquid pectin (we used Certo brand)
2 tbsp lemon juice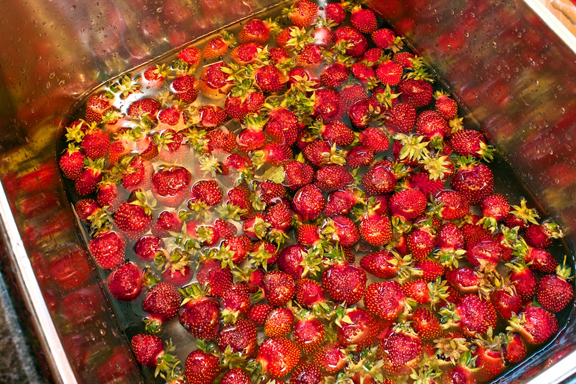 Clean your beautiful strawberries.
Now this is where me and Claudia didn't see eye-to-eye and I sadly disappointed her.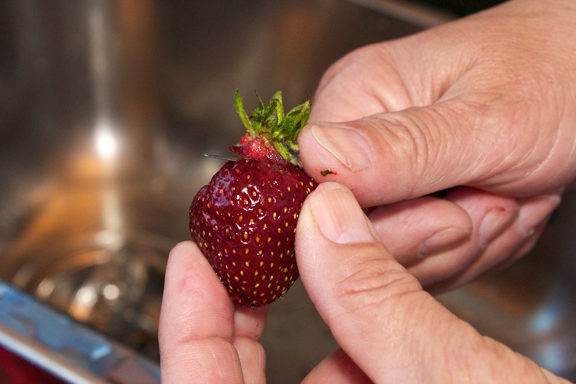 You see, the picture above is the "only" way to clean strawberries, according to Claudia.
When I asked her for a cutting board, she nearly fell on the floor.
I'm simply not that dextrous and would end up cutting off my fingertip.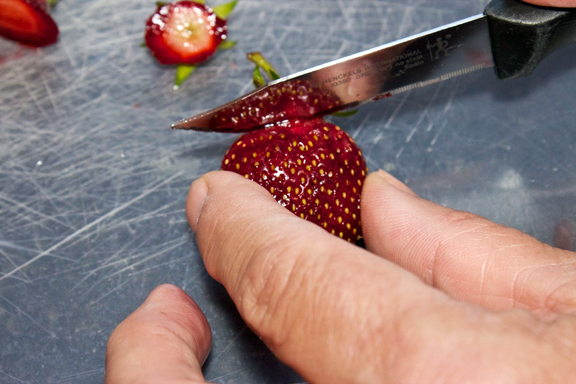 This is how I cut my strawberries. Claudia finally agreed to model my technique for the picture.
I clearly disappointed her as a daughter that day.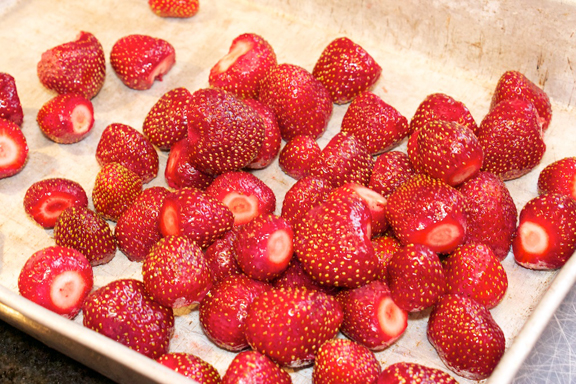 Place a single layer of your cleaned strawberries on a baking dish or baking sheet.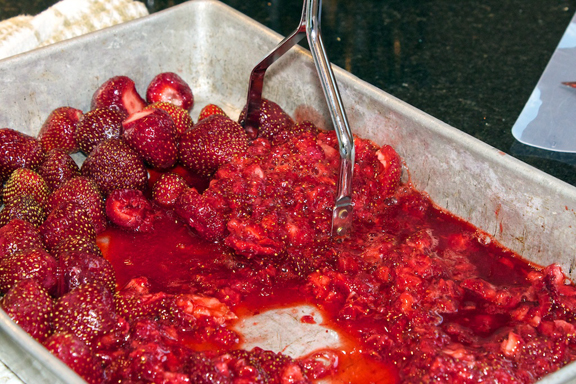 Using a potato smasher (and ONLY potato smasher – according to Claudia) thoroughly crush your strawberries.
When I suggested using a food processor and lightly pulsing the strawberries, I almost gave Claudia her second heart attack of the evening.
Ensure you leave some chunks of strawberries and not to crush them to the point where they become all liquid.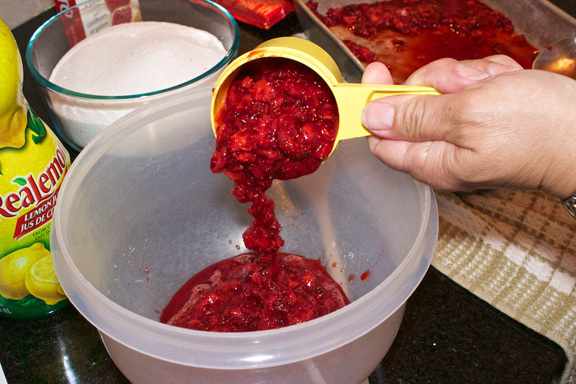 Place your 1-3/4 cups of crushed strawberries in a large bowl.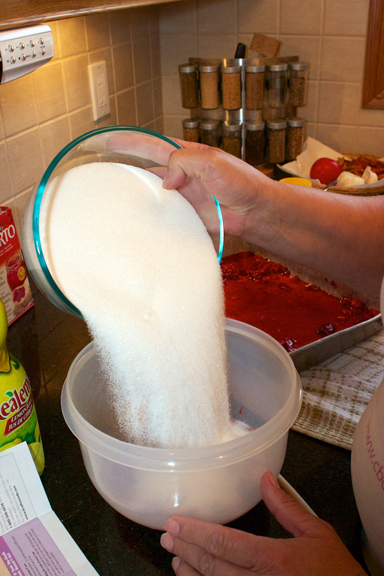 Add your 4 cups sugar.
I also didn't realize how much sugar was in this jam.
Trust me – it's TOTALLY worth it.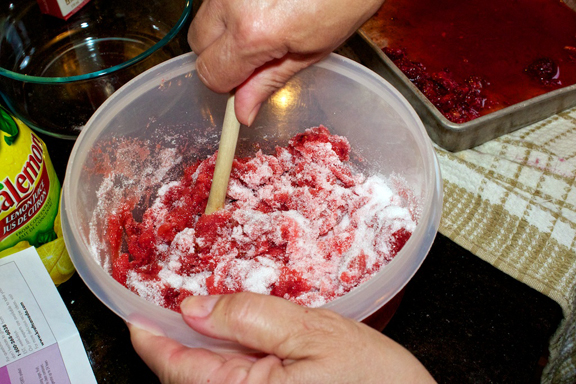 Stir well.
Let stand 10 minutes.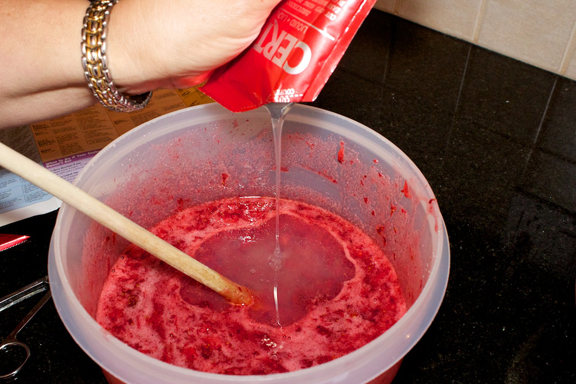 After 10 minutes is up, stir in your liquid pectin.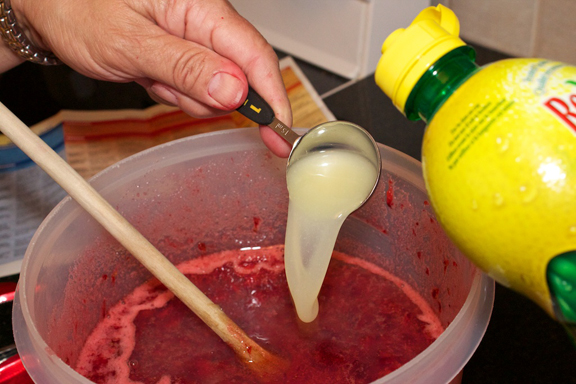 Followed by your lemon juice.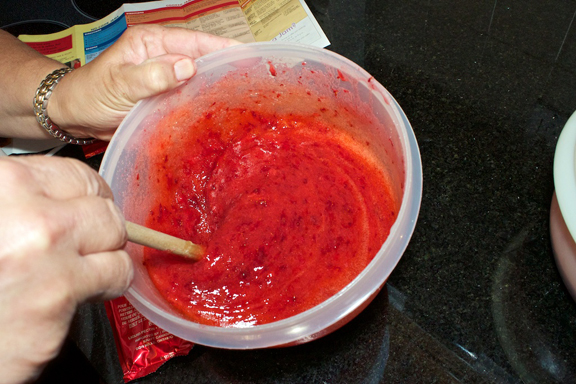 Stir constantly for 3 minutes.
This is where you get your workout in so you can enjoy the jam later.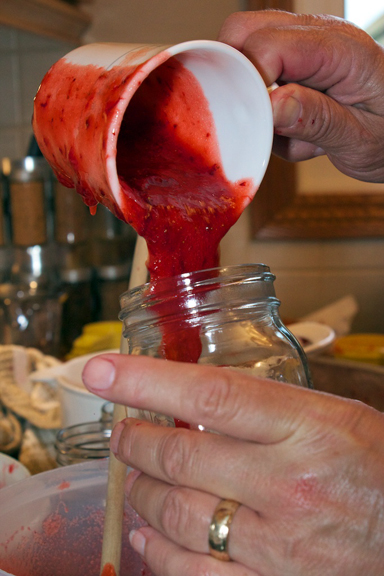 Put jam into clean jars, filling up to 1/4 inch from the rim.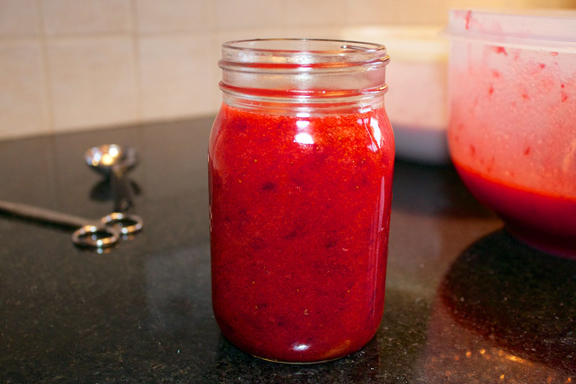 Cover jars with lids and leave at room temperature for 24 hours.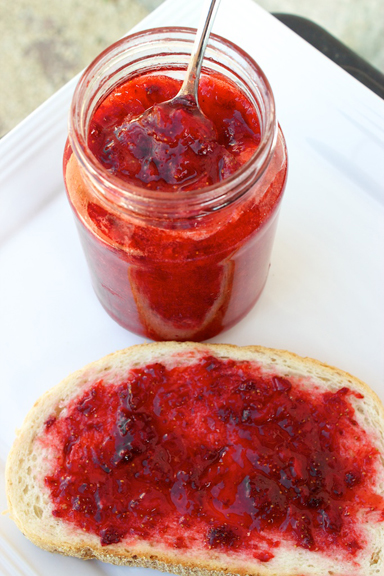 Serve on anything your heart desires.
My favourite is toast.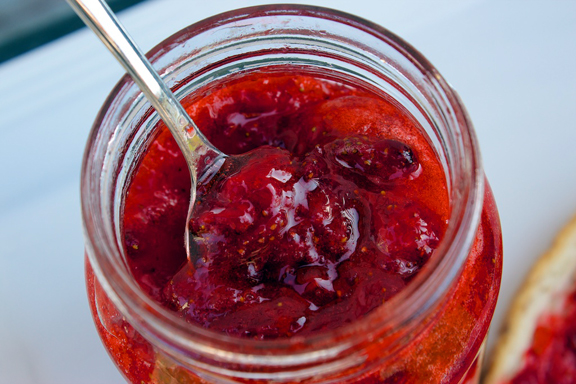 Store in the freezer until you are ready to use.
Keep in the freezer between uses. It thaws out quickly.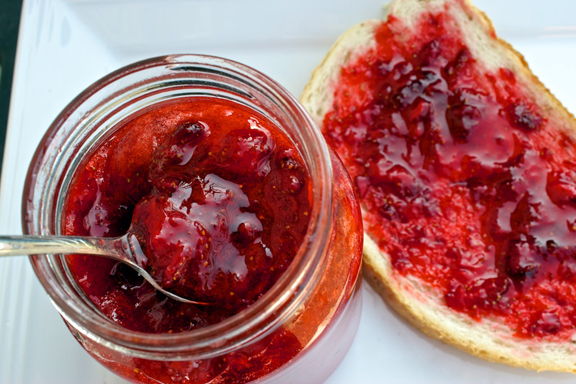 Enjoy!