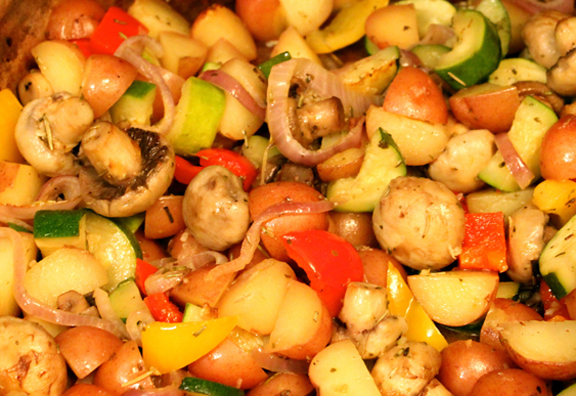 First off, Happy New Year! How many resolutions have you broken already?! Ah, don't be ashamed. Like most people, I also tend to break them within the first few days. That's why I do my best not to make them anymore.
I figured I would post one of my all-time favourite recipes that will help you keep your healthy living resolutions for 2012. This is probably one of the simplest, most delicious vegetable dishes I have tried. It is adapted from the Looneyspoons Collection cookbook by Janet and Greta Podleski. These ladies are amazing at creating delicious dishes that are super healthy and simple. I highly recommend you pick up one of their cookbooks and give some of the recipes a try. You won't be disappointed. These roasted vegetables are flavourful, hearty and totally diet compliant.
You will need: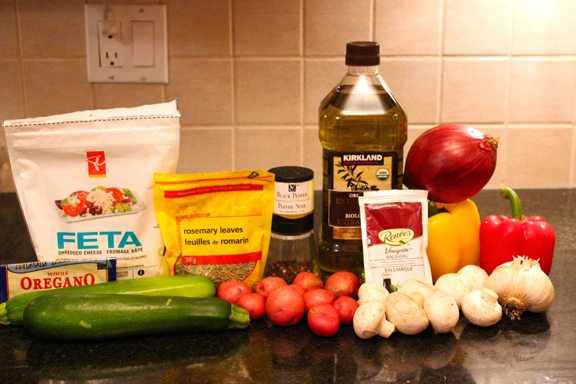 12 mini red potatoes, unpeeled and quartered
3 cups whole medium sized mushrooms
2 medium carrots, peeled and coarsely chopped
2 medium zucchini, cut into bite-sized chunks
1 red onion, cut into rings
1 red pepper, cut into bite-sized chunks
1 yellow pepper, cute into bite-sized chunks
2 tsp minced garlic
1 tbsp olive oil
1 tbsp minced fresh rosemary, or 1 tsp dried
1 tbsp minced fresh oregano, or 1 tsp dried
1 tbsp balsamic vinegar
1/4 tsp salt
1/4 tsp pepper
1/2 cup crumbled feta cheese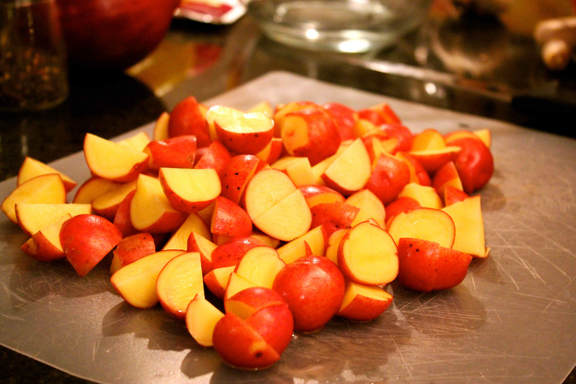 Chop all your ingredients.
Claudia and I had a healthy disagreement on each other's interpretation of "bite sized" while chopping.
Apparently my idea of  bite-sized was not as big as hers.
She's the boss – the blog IS named after her…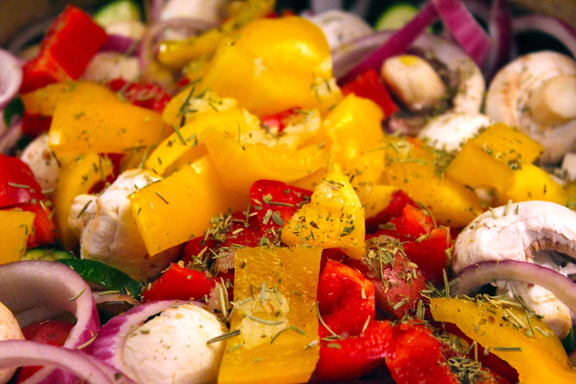 Place all chopped vegetables, garlic, oil and herbs in a roasting pan coated with cooking spray.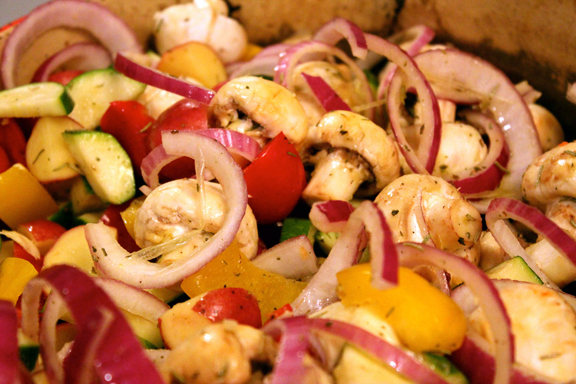 Mix well.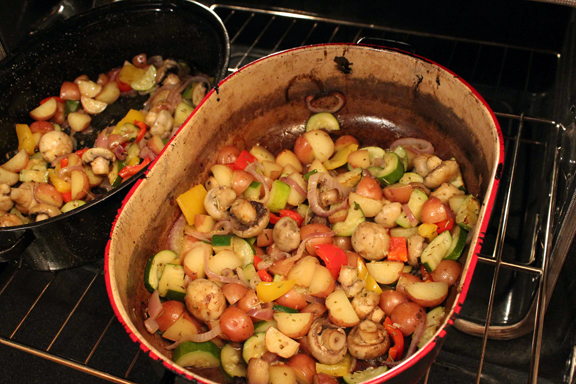 Roast uncovered in a 425 degree fahrenheit oven for 30 minutes.
Stir once or twice during this roasting time.
After 30 minutes, turn broiler on and broil vegetables for 5 minutes, until edges start to brown.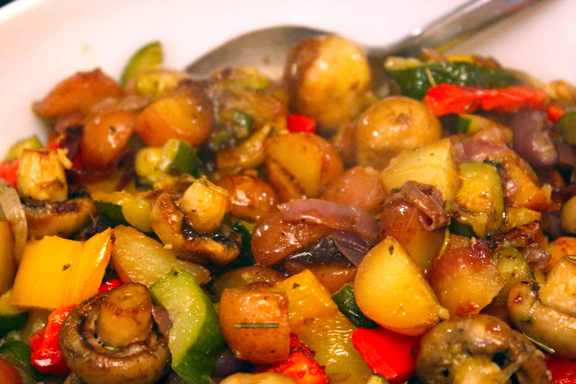 Remove vegetables from the roaster and place in a serving bowl.
How amazing do those veggies look?!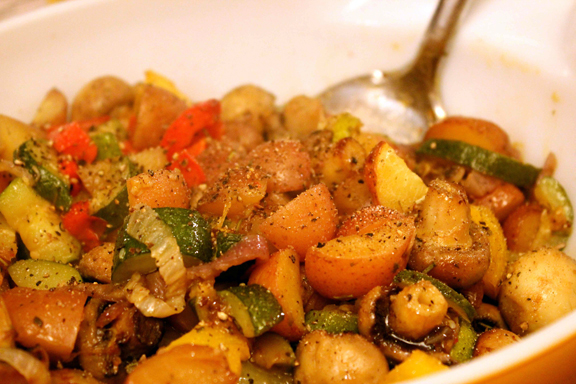 Toss with balsamic vinegar, salt and pepper.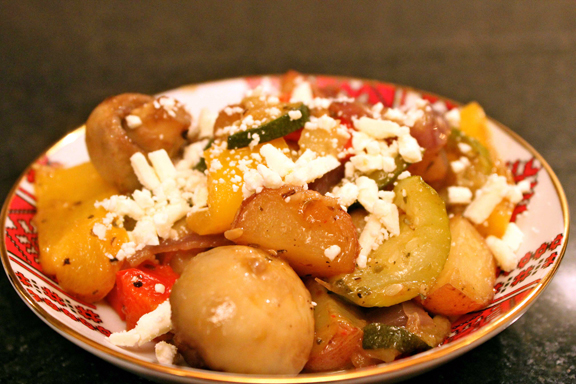 Sprinkle crumbled feta on top and serve warm (in a Ukrainian bowl if you got one!)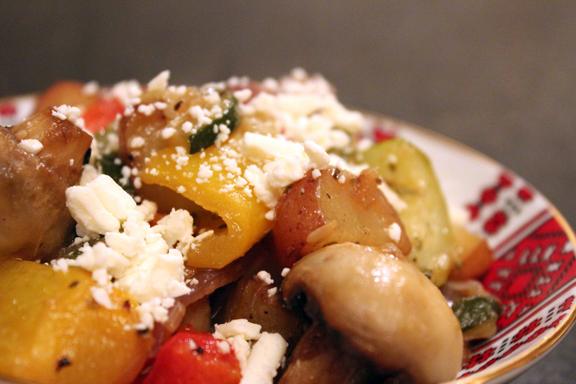 Juicy roasted veggies – perfect on a cold winter day.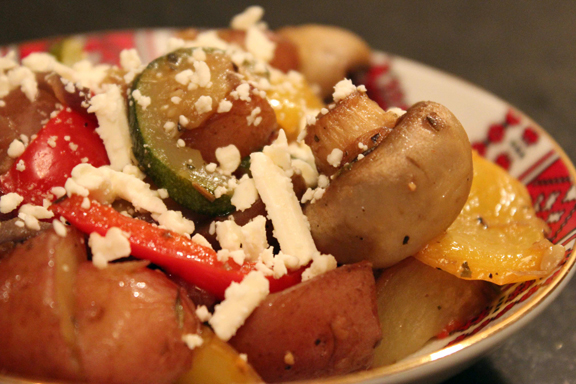 Perfect for your waistline.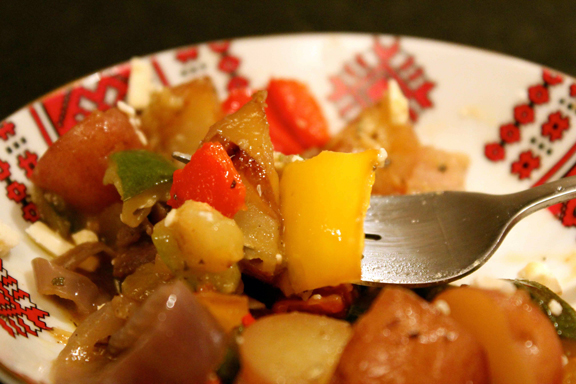 Perfect for 2012.
Enjoy!