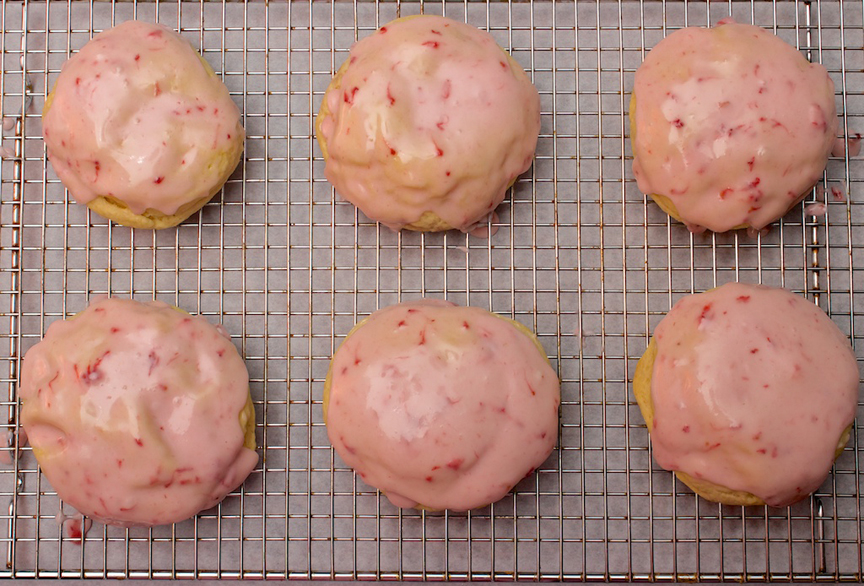 A word of advice, my friends: don't ever schedule two workout sessions in one day after a weekend of consuming beer and rich food for your birthday. It won't end well. At least that is what I have discovered today when I made my triumphant return to the gym this morning with a 1 hour weight class. I was so dehydrated, I got dizzy and thought "And I have to do this all over again at 6:30pm? No way!". Even my lovely trainer who was teaching the class commented that I looked "off". It was then and there that I regretted all my terrible (yet oh so delicious) food choices of the past weekend. Burgers, ice cream, chocolate and beer. I swore them off then and there. It wasn't worth feeling so horrible while working out. But, after 2 hours of recovery and a nice relaxing bath, I am back to my old self and craving these decadent scones.
Besides our Pumpkin Scones, these are by far the best scones I have ever made. They are so soft and buttery. The strawberry glaze gives it a fruity sweetness. Not to mention the melted white chocolate and strawberries inside the scone – so amazing. The dough comes together really easy in a food processor and is very easy to roll out with your hands.  A no-kneed dough is my kind of dough, people.
This recipe makes 6 very large scones, but you can also make smaller, mini scones as well. Just depends on how big of a cutter you have, or how big you want to cut the dough triangles. I highly recommend you give these a try soon! I know I will. Totally worth struggling in the gym for.