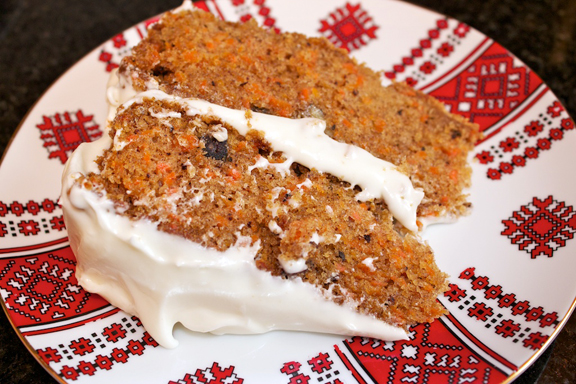 I love cream cheese. I don't understand anyone who doesn't love it. I know, there are people out there who could care less about it. But when paired with a moist, dense carrot cake, you simply cannot pass it up. This cake is probably the best carrot cake I have ever had. The winning factor – it's melt in your mouth moist. Unbelievable.
A lot of people like to combine raisins, lemon and orange flavours with their carrot cakes. Not me. I want none of that fancy stuff. I want a cake that is rich, sweet and dense with the perfect hint of cinnamon and vanilla. That, my friends, is a cake of champions.
Claudia also made a similar version of this cake while I was growing up, but used a 13 x 9 inch baking pan. You can easily adapt this recipe to do just that. I find the layer cake adds a decadence that a sheet cake simply doesn't have. Regardless, they both taste amazing.