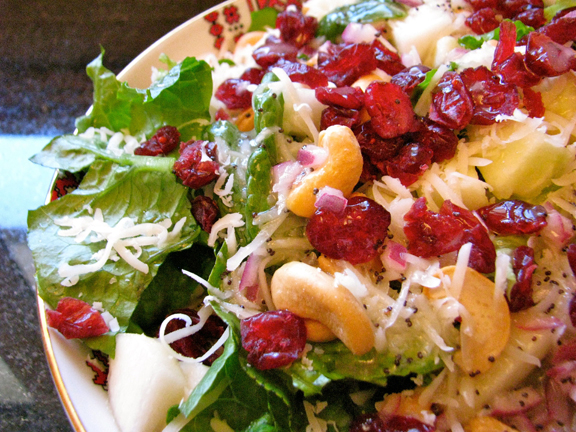 Happy belated Easter! We hope yours was as fun and food-filled as ours!  We sincerely apologize for our lack of posts over the past month. With Claudia vacationing in Arizona and my work schedule becoming a little more hectic these days, we simply lost track of time. But enough excuses…we're back and it feels great!
With all the snow gone in Winnipeg (hopefully for good this time) and the grass beginning to turn green, we decided it was time to feature a lighter dish with this post. We receive a lot of comments on our postings, mainly on the delicious, gooey desserts that we love to feature.  A huge thank you goes out to each and every one of you who have taken the time to comment and try our recipes! However, we received a particular request from my dear friend Richard in Ottawa who wanted us to feature a delicious yet healthy recipe. So Richard, this post for Million Dollar Salad is for you!
This salad is pretty much the easiest thing you could possibly make. The hardest part is chopping some lettuce and onion. The rest is pretty basic. You even get a workout shaking the salad dressing. This salad is simple but definitely does not hold back on any flavour. The fruit is sweet and the dressing is tart. It's the perfect combination.